Möet & Chandon and Balbisiana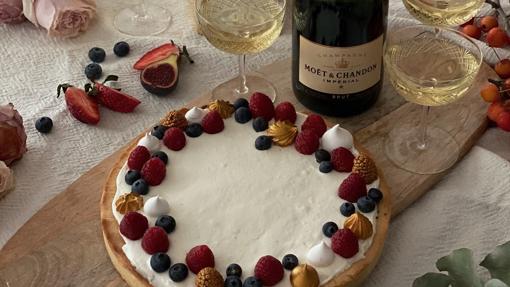 For this special occasion, Balbisiana has created an exclusive cake Sand covered with mascarpone and strawberry filling, decorated with red berries, blackberries and golden meringues that will delight any sweet tooth lover. The cake is accompanied by a bottle of the Maison's most emblematic champagne, Moët Imperial, defined by its bright fruity character, seductive palate and elegant maturity.
The Special Edition formed by the Brut bottle Imperial by Moët & Chandon and the exclusive Balbisiana cake can be purchased for 79.90€ as of December 12. It is a limited edition pack with only 200 units for sale, but it can be reserved in advance from December 3 on the website of the workshop.
Cardhu and Pan Delirio.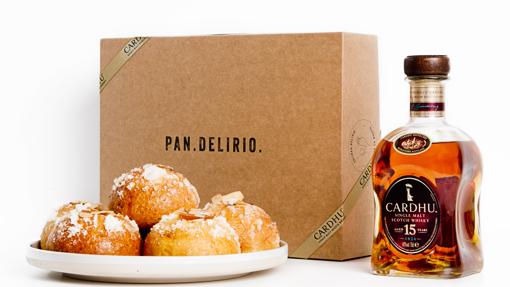 To accompany the great moments that this Christmas has prepared for us, Scotch whiskey has created a very special collaboration with the boutique workshop Pan Delirium.
For the occasion, the artisan and family workshop Pan Delirium. will make his well-known 'delusions', or small bites of roscón, to create this special pack together with the emblematic bottle of Cardhu.
It can be purchased in two formats: a pack of a bottle of Cardhu 12, soft and sweet flavor with notes of pear and fruity echoes, and six delusions (31,99€); or a pack of a bottle of Cardhu 15, with delicate and fresh aromas, and notes of fresh fruit, and six delusions (52,99€). Both are already available on the website of the workshop, at its points of sale in Madrid and at the new Gourmet Experience at El Corte Inglés Castellana.
Dom Pérignon y Albert Adrià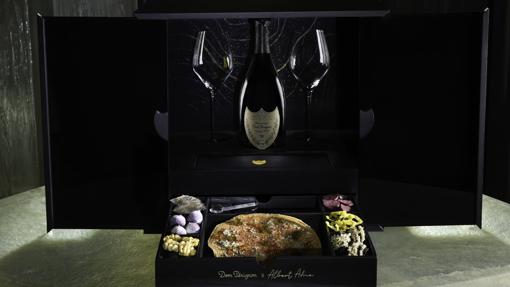 Dom Pérignon y Albert Adrià combine their know-how to create the experience "Contrasts".
A chest that is presented in an enigmatic black box protected by the shield of Dom Pérignon as an access key. Inside, one of the most exclusive pairings this Christmas. On the one hand, the Vintage 2010, a vintage singularly marked by contrasts, is sheltered by two glasses. While on the other, the iconic snacks created by Albert Adrià And also elaborated from the maximum expression of contrast, they are discovered in order: yuzu crystal, blackcurrant profiterol, lyo corn cookie, raspberry cookie, saffron puffed wheels, nori seaweed with quinoa and parmesan pizzeta.
A limited edition of 100 numbered pieces, available for sale online in mid-December for 400€.
Barceló Imperial and Moleskine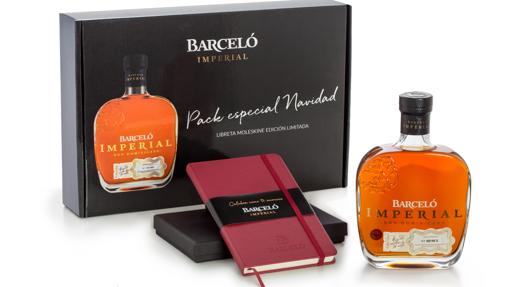 "To live the important things, first you have to write them down", under this motto Ron Barceló Imperial wanted to accompany his Christmas case with a notebook Moleskine to fill it with desires, nourish it with memories, design new projects, and draw those goals achieved or to be achieved … Because, in a situation as strange as the one in which we are having to live, we deserve a moment for ourselves, stop and put in value all those moments and details that make us happy.
With hints of vanilla and other floral spices, this roasted rum stands out for its combination of lightness and smoothness. For its part, the Moleskine He is the heir and successor to the legendary notebook used by artists and thinkers during the last two centuries such as Vincent Van Gogh, Pablo Picasso or Ernest Hemingway, among others.
This limited edition of Ron Barceló Imperial It can be purchased exclusively on the website and physical store of Lavinia with a price of 41,90€.
Ayala and La Duquesita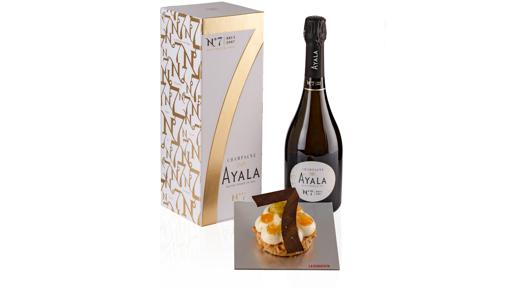 Champagne Ayala and La Duquesita collaborate in an exclusive alliance on the occasion of the launch of 'Nº7', a new reference of great personality, defined as a liquid work of art that reflects the style of the Maison and that is released on the market in Spain with just 1,000 bottles.
With the aim of offering maximum excellence to those who are passionate about haute cuisine, this exclusive collaboration between Champagne Ayala and La Duquesita was born, for which Oriol Balaguer has made a unique dessert from champagne.
Under the name 'Nº7', Balaguer proposes an explosion of flavors and textures that takes as inspiration the delicate effervescence of champagne. With a layer of Almond Cake, Hazelnut Praline; fruity notes such as Apricot Compote and Vanilla Cream to finish with tempered 70% Guanaja Chocolate and a subtle finish with grapes and dice of 'Nº7'. The Little Duke incorporate champagne during the Christmas season Ayala 'Nº7' (price 79,90€) in your store and the dessert in the establishment's menu (price: 6,60€).

www.abc.es