1. Cecotec Bongo Serie Z Red

This electric scooter from Cecotec is one of the best options if we are looking for a scooter with all possible functionalities. The Bongo Serie With Red It stands out for its great power of 1100 W, which allows you to climb even the steepest slopes without effort.
With the motor located at the rear, the scooter has a sporty and safe rear-wheel drive, which is helped by its 12-inch XL tires. This model also stands out for its double braking system, with a disc brake at the front and another at the rear to be able to stop without problem on any surface.
The battery of this model gives a 45 km range, well above the traditional models that remain in 25 km. In addition, it is easy to remove and change so it can be exchanged at any time to reach a range of 90 km. Charging this battery requires 5 to 6 hours, a longer charging time than other models, which is explained by its greater autonomy.
Aesthetics is also a strong point of the Bongo Z Series Red with red accents and a curved XL bamboo deck designed to offer greater riding stability. Together with its LED screen of the on-board computer, which allows you to see the speed, the battery level or the kilometers traveled, it is a model that is as beautiful as it is practical.
Finally, we cannot forget its three different driving modes. We can choose between ECO mode for safe driving with battery saving, Comfort mode for good urban performance with minimal consumption and Sport mode if we want to achieve maximum power and speed.
2. XIAOMI Mi Electric Scooter Essential

The XIAOMI Mi Electric Scooter Essential It is another more economical model that has arrived with force. With a minimalist and elegant aluminum design, it is a very light electric scooter, weighing only 12 kilos.
Its low-density aluminum alloy not only makes it light, but allows it to be folded in just 3 seconds. Once folded, it occupies only 49 cm, which makes it easy to transport or store when we are in the office.
With high security lithium battery, it has a autonomy of up to 20 kilometers. In addition, it has a kinetic recovery system (KERS) that makes the conversion of energy more efficient and that extends the useful life of the battery.
This model has three speed modes, depending on what we need. The pedestrian mode goes to 5 km / h, the standard mode is 15 km / h while the sport mode is located at 20 km / h, this being the maximum speed of the vehicle.
Thanks to its high-brightness 2W headlamp with a beam angle of 10 meters, it enables safe driving at night. The light has been designed to remain below the line of sight, avoiding glare.
Finally, it is worth mentioning that it also has a double braking system, with an E-ABS system on the front wheel and a disc brake for the rear.
3. Electric scooter MEGAWHEELS S10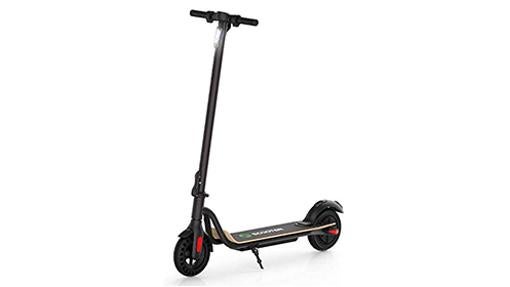 The MEGAWHEELS S10 electric scooter is one of the best electric scooters of 2020 in terms of value for money. Despite being a basic model, it has most of the functionalities that we may need for regular use of the device.
With a simple and minimalist design, this scooter stands out for having 5 layers of maple wood with a non-slip pedal, to be able to use it safely even on rainy days.
Made of aircraft grade aluminum alloy, it only weighs 13 kilos, making it perfect to transport, folding easily.
MEGAWHEELS S10 It has three different speed modes. The basic one goes at 10 km / h, the intermediate one at 20 km / h and the maximum setting at 25 km / h.
It has an LED screen in which to check the speed, the battery status and control the on or off of the headlight.
With a resistance of up to 120 kilos, it is a model with a greater resistance than others in the same price range. The battery charges in between two and three hours and has a dual brake system, both with electronic brake and foot brake.
4. Cecotec Bongo Serie A

While the Cecotec Bongo Z Series is the most advanced electric scooter, the essential model of this brand responds to the name of Bongo Serie A And it is highly recommended if we want something more basic but that presents an excellent value for money.
In this case, the Series A model has the same maximum speed, 25 km / h, the same three driving modes (eco, comfort and sport) and the same on-board LED computer, but it differs in the rest of the characteristics. .
To begin with, in this case and as in all models in this price range, the drive is front. It also differs in the maximum power of 700 W, still enough to climb any hill.
On the other hand, it is a model made of aluminum alloy, while the Z Series had both aluminum and magnesium. The size of the wheels of the Series A is 8.5 inches and the range of 25 kilometers.
The battery charges between 4 and 5 hours and can be easily exchanged, achieving a autonomy of 50 kilometers. This model also stands out because its wheels have tubeless anti-burst tubeless technology that provides greater safety and grip due to lower air pressure and the filtration of more vibrations.
5. SMARTGYRO Xtreme SpeedWay V2.0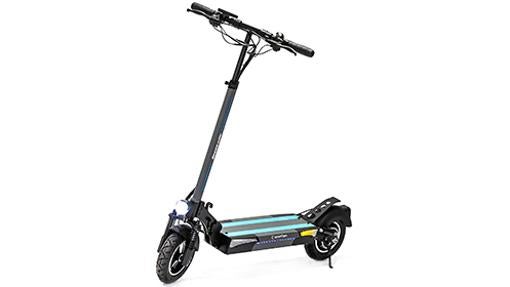 The model SMARTGYRO Xtreme SpeedWay V2.0, It is not only one of the best electric scooters but also one of the best sellers with the Bongo A Series and the XIAOMI Mi Electric Scooter Essential.
In this case, we are facing an 800 W scooter with 3 gears, reinforced double suspension and 4 indicators, favoring driving both day and night with its LED lights. Although the maximum speed of this model is 45 km / h, it is limited to 25 km / h to comply with the law, but this means that the vehicle reaches 25 km / h without problem.
The battery stands out for its duration, reaching a autonomy of 45 kilometers after a 7 hour charge.
With such a good engine and features, the weight may be its biggest drawback, since although it folds easily, its weight is 22 kilos. With three speed modes, it can hold up to a weight of 120 kilos.
6. Hiboy S2 electric scooter

The Hiboy S2 is another of the best electric scooters of 2020. In this case, we are facing a perfect model for those looking for an intermediate performance scooter.
With a long-range 270 WH engine, it can reach 25 km / h. It has a double suspension system, for greater driving stability, electronic and disc braking and reinforced fender with support.
Another key to this model is its lighting, with front, middle and rear lights, which allows greater visibility and safety if we are going to use it at night.
The Hiboy S2 It also has a mobile application that can be connected to the scooter to customize speed and cruise control through Bluetooth.
7. GYROBOARDER M12-Grey

The GYROBOARDER M12-Grey It is one of the cheapest electric scooters that we can find in 2020. Despite its low price, it has everything we need if we are looking for a scooter for occasional use.
It has three different speeds, 10 km / h, 15 km / h and 20 km / h, and has a maximum autonomy of 18 kilometers. The battery charges in 4 hours and is not interchangeable. As for the slope, you will not be able to climb slopes of more than 10 degrees of incline.
It has luces LED so that it can be used overnight.
This model is made of aluminum and has a weight of 12 kilos, being quite light. The biggest drawback is that it should not be used in the rain, but it is perfect for traveling short distances on flat ground if we want to spend less than € 200.

www.abc.es