President of Vocento
Updated:
Keep

It is not easy to write an obituary from pain and it is not easy to summarize in a few short lines a life trajectory as fruitful as that of José Joaquín Puig de la Bellacasa. As there is ample information about his brilliant diplomatic career and his always loyal attitude to the service of the Crown, to which he dedicated his life, I want to focus on less known personal and family aspects, and do it from the heart, as the poet Nicolás would say Guillén.
Puig de la Bellacasa boasted of his Catalan origin, but felt deeply Basque. He was born in Bilbao, where he spent his childhood and adolescence, made some of his soul friends and met Paz Aznar, with whom he has been married for 61 years and with whom he had six children.
From his early youth he embraced the monarchical cause. He felt a deep admiration for Juan de Borbón, but his knowledge of Spanish society made him soon intuit that the restoration of the Crown would only be possible in the figure of his son.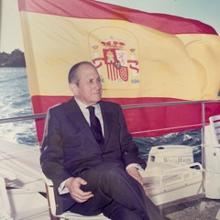 He studied Law and after entering the diplomatic career, he was part of the cabinet of then Minister Castiella for seven years, along with his great friends Marcelino Oreja and Antonio Oyarzábal. Castiella's cabinet was an excellent vantage point to see the evolution of our society, glimpse what Spain could be like at the end of the 20th century and meet many of those who would be the protagonists of the Transition. Precisely at its dawn, it served in our embassy in London, under the direction of Manuel Fraga.
In 1974 he joined the small Zarzuela team, under the direct orders of the then Prince Juan Carlos, who he advised and assisted in the transition to a Parliamentary Monarchy, supporting his cause in the conviction that it was the best for Spain.
In 1976 he resumed his diplomatic career at the Ministry of Foreign Affairs, first as Director General and later as Undersecretary.
Adolfo Suárez sent him as ambassador to the Holy See (1980-82). There he lived the attack on John Paul II, passing daily by the hospital where he was admitted to record the concern of Spain for the Holy Father. Likewise, it made a deep impression on him to meet Father Arrupe personally, in whose beatification process he recently testified.
With the arrival of the PSOE to the government, Fernando Morán proposed him as Spanish ambassador in London, where he spent seven years. An exceptional period in bilateral relations, which made the historian John Elliott express that he was our best ambassador since the Earl of Gondomar, in the seventeenth century.
London was the most splendid stage of an extraordinary professional career. Endowed with a lively intelligence and a prodigious memory, Puig de la Bellacasa combined an accurate capacity for analysis with a wide culture and an extremely pleasant conversation. This, together with his diplomatic successes in the Vatican and Great Britain, caused him to be claimed again by King Juan Carlos as Secretary General of his House, with the intention of appointing him Head of it in a short time.
He returned to Zarzuela in January 1990 full of ideas and illusions. It seemed that he was reaching the goal for which he had prepared a lifetime. However, he did not quite fit in with the team or in the new circumstances. The changes that were taking place in Spain at the beginning of the 90s affected everyone and José Joaquín did not know, could not or did not want to adapt to these changes. This caused his second exit from Zarzuela, this time with deep wounds in the soul, those that never finish healing. The most gratifying of this stage was his perception that the then Prince of Asturias, whom he accompanied on various activities and long trips, in addition to his indisputable preparation, had the human category and the necessary values ​​to become a great king. and ensure the continuity of the Monarchy.
He was ambassador to Lisbon between 1991 and 1994, but despite his brilliance, his talent for plotting complicity and his vision of the State, nothing would be the same, despite always having the irreplaceable support of Paz, who admirably took care of the logistics and that with his joy and common sense gave luster to our foreign representation, always forming an extraordinary team with José Joaquín. Later he went through the Council of State and through an elusive business experience, which did not finish filling who always considered himself a public servant.
In 2013, already retired from the madding crowd, with his vital illusions bordered and with his family and friends as the center of his activity, the death of his son Jaime occurred, surely the happiest of them all. He never got over that trance, which made him lose curiosity about what was happening around him and plunged him into a deep sadness, from which he was only relieved by his grandchildren.
Ten days ago an infection led to him being admitted to hospital, where it was discovered that the current pandemic had also reached him. At the age of 89, José Joaquín Puig de la Bellacasa, a brilliant diplomat, an extraordinary person of deep moral and religious convictions, the center of gravity of an admirable family and a second father to me, has died, in the peace of the Lord.
We are going to miss him a lot, but Benedetti has already warned us that missing is the cost of happy moments.
See them
comments

www.abc.es