Toledo
Updated:
Keep

The Toledo town of
Illescas has hosted this Wednesday the act of laying the first stone of the center that the
emperor Ehlis will install in the Iberum Central Platform of the municipality, an arrival that, according to the regional president, Emiliano García-Page, reaffirms that the success of Illescas in welcoming new companies "is not by chance" and has remarked that, when it ends talking about the Spain's industrial center, it will be "fair" to speak of a Madrid-Illescas-La Sagra-Guadalajara axis rather than simply speaking of the capital of Spain.
"A fundamental part of the growth of central Spain is being assumed by Castilla-La Mancha, we are the rib cage of Madrid and we are serving as a reasonable and logical expansion of industrial land," he said.
«We need you, this region needs more entrepreneurs who want to win and the rest of us are already here to distribute and distribute. We do not promote hatred, here you will always have us as allies ", he pointed out, thanking Ehlis for wanting to bet on Castilla-La Mancha and ensuring that the regional government also wants to bet on" everyone who wants to create. "
Finally, García-Page thanked the mayor of Illescas, José Manuel Tofiño, for the work that the City Council is doing and recalled that things "have not been easy" in the municipality since the arrival of the previous economic crisis. And he added that soon there will be more news of this type in the Autonomous Community, "in the next 20 days there will be four major announcements of companies in the region, which are responding to a climate of business confidence, cooperation and aid," he said.
Ehils "got it right"
For her part, the Minister of Economy, Business and Employment, Patricia Franco, has highlighted Ehlis that it is a family business that "they are called small but they are big in the vision" and in her opinion "they have been right with their arrival in Illescas to despite having occurred in a difficult context such as the one marked by the pandemic.
Franco stressed that they have chosen "one of the best spaces" in the industrial area of ​​Illescas to settle and that they are part of a sector that has not stopped growing even in the most difficult moments of the pandemic. "There are objective reasons to be optimistic," he insisted.
He also emphasized that despite difficult times, Castilla-La Mancha is managing the highest investment figures, since of the 20 projects that are underway, half are investment and the other half reinvestment.
The company's new warehouse is located on a 60,000-square-meter plot and this new logistics center will serve to double not only Ehlis's storage capacity, but also its company's order capacity, with the aim of improving delivery times. service to its clients located in the center, south, west and northwest of the peninsula.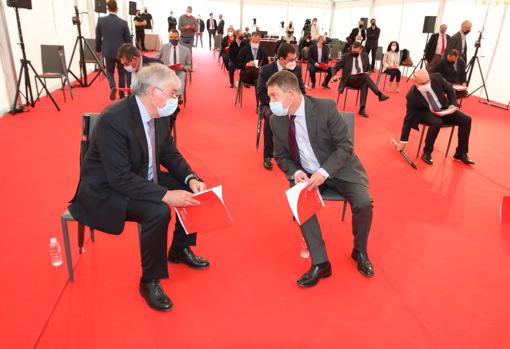 The logistics platform will have a clad-rack for 35-meter-high pallets with a capacity for almost 30,000 pallets, an automatic bucket warehouse with a capacity for 27,000 buckets, a conventional warehouse, and a reception and dispatch hall with 18 loading and unloading docks.
The investment will be 30 million euros and will mean the creation of 40 jobs.
"Long and delicate" project
José Manuel Tofiño, has acknowledged that the arrival of Ehlis has been a «complicated» project, which has followed a «long, tedious and very delicate» process, putting in value that for the installation of the company he contacted «a lot of owners who had very small soils that by themselves it would have been impossible for them to have a company "and that grouping has served to create the plot.
"I put it in value because in this polygon in 2008, 2009, 2010 and 2022 there were many people who suffered a lot, there was talk that only those who had large plots could have a company. It is the first social work of the many that have been later, grouping small plots so that companies could come, "he explained.
For all this process, he thanked those responsible for Elhis who have remembered Illescas and has stated that he hopes that they will serve as a "mirror so that many companies that doubt where to go have no doubt that where they have to come is to Illescas ».
On the part of the company, its Director of Logistics, Fernando Aldrey, has shown Ehlis' "joy" for being present in Illescas. "You only have to go out to the avenues of this polygon, see the dimension it has, how it is executed and the illustrious neighbors that it already houses to realize that we have made the right choice in the choice of this center," he stressed.
However, he has considered that the most important thing is not where they are "but with whom", assessing the relationship they have had both with public administrations and with the urban planning agent to address their arrival in the Toledo municipality. "We are in very good hands," he concluded.
The president of the Toledo Provincial Council, Álvaro Gutiérrez, has highlighted the continuous logistical growth that Illescas is experiencing through its Iberum Central Platform with the installation of new projects and has thanked the general director of Ehlis, Alejandro Ehlis, for having chosen Illescas , by the province of Toledo and by Castilla-La Mancha to build its second platform (the first is in Sant Andreu, 20 kilometers from Barcelona), with the objective of becoming a local supplier for its clients in the center.
See them
comments

www.abc.es