Santiago de Compostela
Updated:
Keep

«Music on the surface» is a program of micro-concerts that, from the May 10, will reach the Special Education centers throughout Galicia. It is an initiative of Afundación that aims to contribute to reduce the isolation caused by the pandemic in vulnerable groups and bring music and its benefits closer to schoolchildren with diverse abilities.
The initiative, inaugurated on the morning of May 6 at the Afundación Theater in Vigo, has been very well received, since almost 1100 schoolchildren from 19 educational centers, more than half of those in Galicia, are already signed up. The activity is aimed at all Special Education centers in the community that want to participate. It will run until May 31 and will continue next fall with the start of the new school year.
As reported by Afundación in a statement, "live music contributes to the management of emotions, the reduction of fears and tensions, sensory development or the reinforcement of communication", so the director, Miguel Ángel Escotet, assures that «Is the logical evolution of Afundación's commitment with arts and culture What personal growth engine, with attention to diversity, with equal opportunities and with social sensitivity ". The micro-concerts will be held in compliance with all the Covid prevention measures.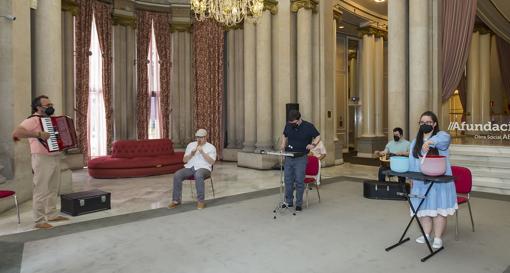 A group that the Covid marginalizes
«Music on the surface» was created as a result of the detection of specific needs of these centers, which work with people with diverse abilities. The limitations imposed on school trips and the realization of events in this area led to a reduction in the possibilities of cultural interaction of these students, for whom the digital alternative is not a full option.
Schools will be able to choose between the traditional music group From t @ pas of the Igualarte Foundation, which works with people with different capacities and proposes a concert of traditional music fused with contemporary rhythms, interactive musical auditions and a proposal for the little ones where the sensory aspects are worked on and the different instruments are approached; or a work by the musician, teacher and collaborator with puppet companies Carlos Quinta, supported by scenic and playful elements, inspired by the Galician musical and oral tradition and adapted to current creation.
See them
comments

www.abc.es