Santiago de Compostela
Updated:
Keep

When we talk about gastronomic Suns, there is no doubt that we are talking about quality. However, we also talk about price. And sometimes, you need something less 'high class' and more affordable for any time and pocket. This is how the 'soletes' Repsol, which combine bars, cafes, ice cream parlors, terraces, charming restaurants and even beach bars that, according to the guide, They have a 'I don't know what' capable of making anyone smile.
«A Solete is a place that seduces by its proposal appetizing and affordable, that you would recommend to a friend because you know that they do not fail ", explains the Repsol Guide in a statement. They come out on June 29 to light and there are 63 in all of Galicia.
«There are hospitality establishments that are doing things well, where the price is quite tight, the kitchen is noble and correct and the product is of quality, and most of these are only known as rebound ", laments Jose Luis Tapanegra, from the Umami restaurant in Orense, one of the winners. "It is very important to put ourselves on the map."
Variety and personality
The initiative includes 1,000 stores from all over Spain chosen by a team of gastronomy experts. The criteria to be followed to select the soletes are diverse: el 'fast good', or the trend for fast but honest and healthy food; the charming places and good decoration, the quality of the food, the environment in which they are situated … the philosophy is to gather "a solete for each moment of the day."
Thus, you can find original restaurants, from the food of the Umami, "With open kitchen" and "the grill as a common thread", to the restaurant Ancoradoiro, where they hunt seafood in their own cetarea and offer a terrace on the beach in the Muros estuary. But there are also more informal spaces, to have an artisan ice cream in the Ice Cream Kiss of La Coruña, the mid-afternoon cake of the Semolina, in Vigo, or the 'Poke' for dinner from Carrilana from Santiago, accompanied by a live performance.
«We were successful by mix innovation with craftsmanship and tradition», Says Estefanía Francos from the Semolina pastry shop. «Tourists discover us for the food and because it is a curious place, we have a particular design. We have the collaboration of photographers, artists, graphic designers, when it comes to marketing »explains this entrepreneur, awarded with other national awards,« who help to continue along the same lines, something that requires a lot of effort, especially to the small and artisan trade».
Also award-winning, but very different from Semolina, it is the Tavern of Marcos, from Lugo, where they have been offering quality food for 40 years without worrying about design, because "the walls don't sell," explains the owner, Pilar Mundiña. "They all know us in Lugo, and people come from different parts of Spain and abroad. We never advertised», She says proudly.
Restaurants such as La Taberna de Marcos comply with the idea that María Ritter, director of the Repsol Guide, exposes when she talks about "it is also an opportunity to value those emblematic places that we all have in our neighborhoods and towns, but that often do not appear in gastronomic and travel guides.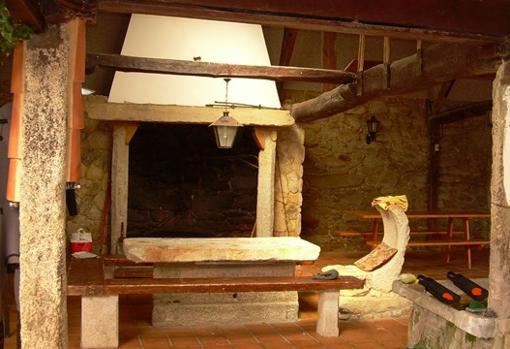 Price and environment
This initiative updated every four months, so it aims to generate «dynamism, which adapts to the desire of people to try and discover everything that is trending», They explain from Repsol. And it is that in the soletes projects with experience are collected, such as La Casa de Marcos, which has been in the ring for 40 years, but also very young venues, such as the one that Aroa Castiñeira and his sister, the Dead calm, just at the end of the race. «At the time we made a difference, because there was nothing here. Everyone was expecting a beach bar, but we have given it a spin. We have put in our own dishes, cocktails and live concerts », explains Castiñeira.
One of the pillars of its premises is the affordable price for the townspeople, because «Being in a location like this does not have to be expensive. It is not necessary to leave the salary of the month to come one day to enjoy the beach, "he confirms. And they more than meet the requirements of the Repsol Guide, because according to what they say, recognition has a «clear popular vocation, so that you can always find an option suitable for any pocket. "
See them
comments

www.abc.es