Updated:
Keep

Long before Jose Luis Moreno, now fashionable but not for the better, his uncle Wenceslao He was also a doctor and polyglot and he triumphed as a ventriloquist, although in Spain his figure has been forgotten. He acted under the name of Mr. Wences. After some dabbling as a bullfighter, he conquered the big square in New York, he was a regular on the 'show' of Ed Sullivan on television and became one of the most famous Spaniards in the United States. He performed for four presidents and was one of the highest paid stars in show business, deservedly: he mastered the technique much better than his most famous nephew, who nevertheless surpassed him in other facets.
Jack Benny Y Jerry Lewis it was other stars who brought him on their show or invited him to their specials. With the latter and with Dean Martin He went on tour, had a show with Danny Kaye and there was no casino in Las Vegas that he did not perform at. All were attracted by the popularity of the ventriloquist, a virtuoso of his art, capable of talking and arguing with his dolls at high speed. In some video he is even seen smoking and drinking while the puppet he handles does not stop singing, all without moving his lips, something that José Luis Moreno and Mari Carmen Martínez-Villasenor (the one with their dolls) didn't bother too much to hide it.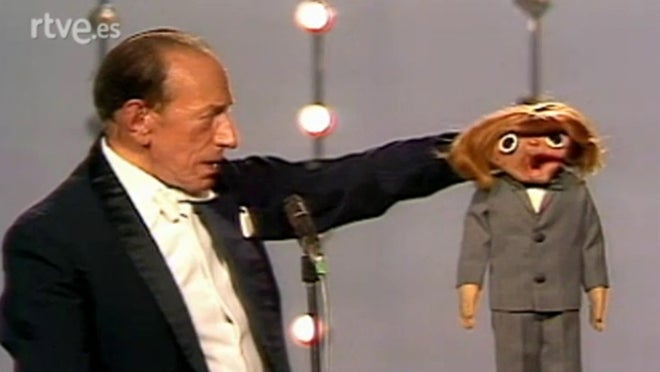 Wenceslao Moreno Centeno He was born in Peñaranda de Bracamonte (Salamanca) on April 17, 1896 and died in New York on April 20, 1999. According to his birth certificate, he had 103 years fairBecause as he liked to tell, his father was so poor that it took him three days to get the money to register him. In any case, he was not far from living in three different centuries, although one was enough to become a world star, as proof that two streets bear his name, in Salamanca and on Broadway, right next to the Ed Sullivan theater.
His colleagues admired Moreno's prodigious technique, capable of drawing laughter from his audience with the minimum of text and without the help of scriptwriters. Contrary to what one might suppose, the public could not tire of him and he appeared up to 48 times on the Ed Sullivan program, which CBS broadcast for 23 years, every Sunday. His collaboration as a guest star on 'The Muppet Show'; she was the oldest of all, since she was 84 years old.
Mr. Wences was original even in making his puppets. The head of Johnny it was made with his hand and it was nothing more than his clenched fist and painted eyes. With him he even starred in several commercials for a margarine brand. Pedro He only had a head and lived locked in a box. They were the exploited remains of a doll injured in a train accident in Chicago.
His career spanned eight decades, but according to the
New York Times In his obituary, since he was a child he took advantage of his abilities, sometimes to make the teacher believe that a classmate who had not been there that day was present. He could imitate the voices of all the people he knew.
Wenceslao Moreno was also a skilled juggler, who knew how to take advantage of the arrival of television to succeed in the United States despite his accent. Came to appear in a movie, 'Always in your arms' (1947), next to Betty Grable. His last tour took place in 1986, with Mickey Rooney Y Ann Miller, in the musical 'Sugar Babies'. His wife explained that he got the job because he convinced the producers that he was "only" 75 years old, when in fact he had already turned 90.
See them
comments

www.abc.es