Organizing large exhibitions is becoming increasingly prohibitive for museums: insurance has skyrocketed, postal trips are very expensive … To this must be added the risk that highly fragile works make transatlantic trips. During the pandemic, art galleries around the world used their imagination and technology to launch online visits to their collections in the most attractive and original way possible.
For some time now, a curious phenomenon has drawn attention, worthy of study and debate: the 'boom' of immersive experiences (so they are called) by famous artists with popular pull (Van Gogh, Klimt, Dalí …). Samples that are instagram meat (they tend to be very photogenic) and merchandising (the stores are so
crowded like the halls). In addition, the prices are not affordable, let's say: they usually cost more than the big museums (between 14 and 17 euros for general admission, most of them; if a family of five attends, check it out, without forgetting the de rigueur souvenir) . But what is an immersive experience? The art of displaying art without works of art. No more no less. It is true that within this immersive world it is played in several leagues: there are higher quality proposals and a very careful bill, with greater rigor, and there are purely commercial ones.
Usually, They are theme parks, where you have a great time: you can 'enter' a painting, 'touch' the brushstrokes of a teacher, take a selfie surrounded by images on walls, floors and ceilings; animated by soundtracks, augmented reality, holograms, 3D glasses, videomapping … A kind of Disneyland of art, where Klimt, Van Gogh or Dalí replace Mickey Mouse, Goofy and Donald Duck.
Only in Madrid Three very different proposals will coincide in the next few days. To the much discussed proposal Velázquez Tech Museum (a 'salad' of Meninas Velazqueñas) on Atocha Street, adds, from today until January 9, 2022, 'Meet Vincent van Gogh', in the Ibercaja Delicias Space (Paseo de las Delicias, 61), a new complex for cultural events with circus tents. There was already another immersive Van Gogh experience two years ago in the capital ('Van Gogh Alive. The Experience'), at the Círculo de Bellas Artes. It seems that the madman with the red hair is the most immersive artist on the planet.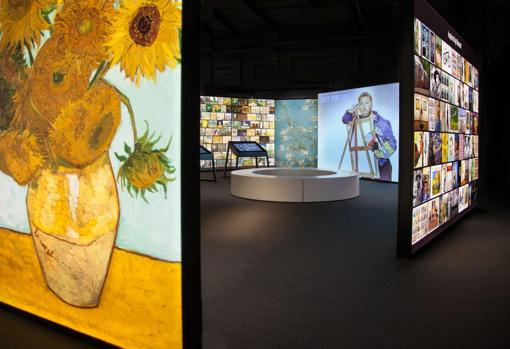 In this case, the project, produced by Proactiv (a company that produces and organizes large-format shows), is the only one endorsed by the Van Gogh Museum in Amsterdam, which in recent years has taken an excessively playful-didactic drift. A project that arrives in Madrid, after passing through Beijing, London, Seoul, Barcelona, ​​Lisbon …, and which also featured yesterday, in the presentation to the press, with the support of the Embassy of the Netherlands in Spain and from a great-grandson of Theo, the painter's brother.
Nicolas Renna, CEO of Proactiv, explains that it is conceived as a journey inside the artist's mind, which seeks "to awaken emotions and to know who Van Gogh was, what he thought, what his art is like." All this, through letters between the brothers (the Dutch museum treasures a splendid selection) and audio guides (there are for adults and children; the latter avoid the most rugged episodes, such as their madness or their suicide). A interactive and multisensory experience: you go from a Parisian cafe to the Yellow House in Arles, you enter his bedroom (his famous painting is recreated), you attend a face to face between Van Gogh and Gauguin in shadows, you can create your palette and take a self-portrait in front of a mirror, touch reproductions of his most famous works, admire details of his canvases on touch screens, listen to the shot that ended his life … and of course buy some souvenir at the store, where the tour ends: the mask with its famous sunflowers promise to be the star. Yes indeed, to see his works you have to go to museums.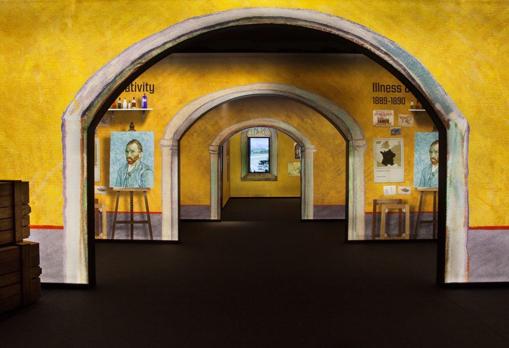 Renna warns that she has very high audience expectations. The capacity is 250 people per hour. The price of general admission: 11 euros on Mondays, 15 on weekdays and 17 on weekends (two euros more than entering the Prado). Explain to ABC that they have made a investment of two million euros between this sample and another that will reach several Latin American countries. As for the percentage that the museum keeps from the box office and store profits, it says that it is non-profit, but the truth is that the museum receives royalties, according to the percentage of tickets.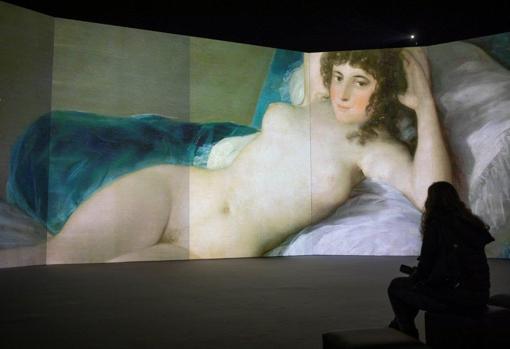 Next week Goya will take the baton at the Fernán Gómez Centro Cultural de la Villa (from October 5 to January 16, 2022). The price of the general admission: 14 euros during the week and 16 on weekends. Under the title '#INGOYA', this immersive experience is different from that of Van Gogh. More than a thousand images of the most famous works of the Aragonese painter will be projected on large screens and forty projectors. The music of Albéniz, Falla, Granados or Boccherini will sound. Around twenty museums from all over the world have collaborated, as well as private collectors. The project has been created by a Spanish company, Inside Goya – directed by Yolanda Bergareche -, specialized in immersive experiences on great masters of painting. They premiered with Goya. «Our objective is to disseminate knowledge of painters with highly rigorous projects. First of all, we met with Goya experts to advise us and we hired Juan Delcán as creative director, who has done set designs for U2, Aerosmith … »He clarifies that«it is not an exhibition, but rather an immersive experience, with an audiovisual language that is very digestible for people who do not usually go to museums ".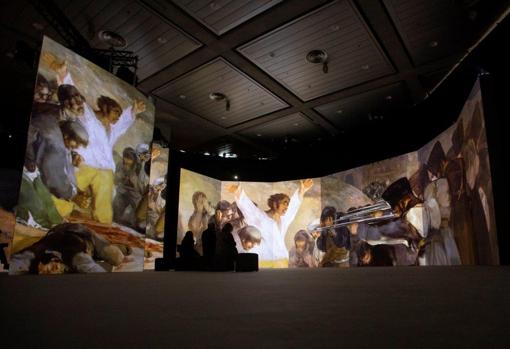 As the artist died more than 70 years ago, they did not have to pay royalties on his work, but they did have to pay their owners for the high definition images. Museums in the United States, says Bergareche, have given them free; The meadowHowever, he has charged for them. From Spain they have also collaborated with the Lázaro Galdiano, the Goya Museum in Zaragoza and the Marquis de la Romana, which houses a large Goya collection. The project started in Granada in 2020 in the midst of a pandemic (there were 25,000 visitors, triple that was expected). After passing through Madrid, it will tour other Spanish cities with more than 500,000 inhabitants. And there are talks for him to go abroad. «We want the public to learn about Goya, respecting his gaze. Goya is very modern. He would like new technologies and this exhibition. There is a very worked didactic part and an emotional one. It does not replace the experience of seeing his work, but it helps you get to know him before going to a museum. It is complementary ». Aren't these projects like amusement parks? "There are no projections on the floor or ceiling, no technological bragging; there is no augmented reality, no videomapping … We don't fiddle with his works. There is Berlanga and soap operas. We want to be Berlanga».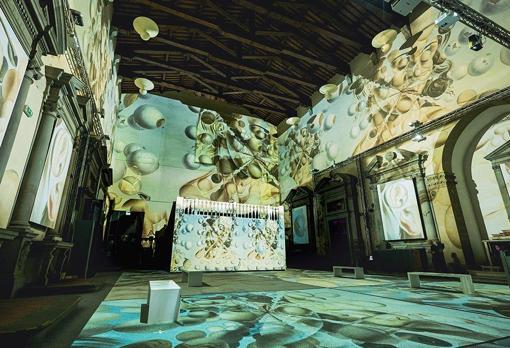 The Gala Salvador Dalí Foundation started in 2020 a new exhibition line with an immersive project, 'Dalí. The endless enigma ', which was inaugurated in Baux-de-Provence and can now be visited at the Atelier des Lumières in Paris. Since last day 15 a second project of this type has been carried out. 'Inside Dalí', The exhibition, produced by Crossmedia, runs until January 16 at the Cattedrale dell'Immagine in Florence and will then travel to Antwerp. Juan Manuel Sevillano, manager of the foundation, explains to ABC why they have entered the world of immersive experiences and clarifies that "it is not a show": "We have been studying it for eight years. We were not prepared and we entered 2020. We thought about what partners we needed, what production profile, what objectives. Technology is a tool that has allowed us spread Dalí's work around the world, reach places we would never reach with the collection, connect with a younger audience, that it is difficult to attract museums, with their language ». They are considering producing projects in Spain, but they want to study it so that there is no saturation, as with Van Gogh.
Differentiate straw from hay
Believe that you have to «catch the bull by the horns and face this matter with courage. It is a tool with a power tremenda, a great outreach and education opportunity. Of course, there is an explosion of immersive experiences and you have to differentiate straw from hay. We must seek excellence. The license agreement, says Sevillano, is very complex: the chosen company pays a percentage to the foundation for the use of the rights. «Since we have control of Dalí's rights, we impose Quality standards». It does not hide that «it is one more way of get financial resources, as with publications or documentaries, to grow sustainably. We must look for formulas that allow survival. It is a new world and the rules are being written, but we must not ignore this reality. You have to open a debate. We maintain a very ambitious program of international exhibitions. Between now and the end of the year we will inaugurate two. You can only connect with the soul of the artist before the original work.
The Prado makes exhibitions outside its headquarters, with photographic reproductions of its masterpieces ('The Prado in the streets'), always with a didactic character. "Maybe it will end up being an obsolete format and we have to go a step further. In the future an immersive art project could be done. But inside the Prado it makes no sense to do it, when we have the originals. I don't know how much life these immersive experiences will have. I think people will end up a bit fed up, "explains its director, Miguel Falomir. Also, they are very expensive. "It was cheaper to see Veronese's 'The Wedding at Cana' in the Gallery of the Academy of Venice than the 'facsimile' of the painting created by Factum Arte for the Cini Foundation," says Falomir.
Immersive experiences, no matter how spectacular and photogenic, they can never replace the emotion of being in front of a work of art.

www.abc.es