Toledo
Updated:
Keep

«I was admitted to the Virgen de la Salud Hospital for a month, without exactly remembering everything that had happened to me, "he recalls José Antonio (56 years old), who suffered a stroke seven years ago, exactly in July 2014. "When I was discharged from the hospital, the doctors didn't tell me anything. They hid and never told me that the wheelchair was going to be my companion for the rest of my life, "laments this patient, who worked as a truck driver before suffering from this disease. "They had to be cautious and put me in a psychologist to tell me that my left side was paralyzed and I was not going to recover," he recalls.
From that year on, the life of José Antonio and his wife Pilar —who live in Ocaña— changed forever. The father of two children insists that the neurologists at the hospital told him that the next 18 months would be "very important" for his recovery. So he put himself in the hands of the specialists and spent the next few months going to rehab. «They do not prepare you, nor do they teach you how to live with these consequences. In my case, the attention they offered me was bad »He repeats to complain that he is tired of this fight. «Since I left, not a neurologist has seen me, neither from Toledo, nor from Guadalajara, the city where he went to be treated in a Brain Injury center.
The story of José Antonio is one of the many lives that have been cut short by having suffered a stroke, the second cause of death in Spain and the first in women, as well as the main reason for dependency in adults. This year on the occasion of the celebration this week of World Stroke Day, professionals, family members, patients and the Iguala3 Association tell us about the consequences that the coronavirus pandemic has had on all of them: Less face-to-face care, more physical and cognitive consequences and more seriously ill …
The most affected
According to the data collected in the 2018 Ictus Atlas, this disease affects around 120,000 people in Spain each year, and in Castilla-La Mancha 3,111 new cases occur each year (54% in men and 46 % in women).
This 2018 report indicates that the prevalence of stroke in the region would be equivalent to a total of 13,793 people. Atrial fibrillation, high blood pressure, high blood cholesterol levels, diabetes, obesity and smoking are the main risk factors associated with this disease.
Experts' forecasts suggest that stroke cases will increase by 35% by 2035, according to data collected by the Conference of the European Stroke Organization.
In addition, they warn that patients who survive a stroke tend to have, in many cases, physical sequelae related to mobility, vision or speech, as well as mood, personality and cognitive disorders, which affects their quality of life. life and that of their family members, as they need rehabilitation and care.
Who are the most affected people and how has this disease evolved during the pandemic? The head of the Neurology Unit of the Hospital Virgen de la Salud de Toledo, Mar Morín Martín wants to banish, in the first place, the idea that stroke is a disease exclusively for older people and ensures that one in three cases occur of working age, that is, they are people under 65.
In young patients it is rare (only 5% of strokes occur in patients under 45 years of age). The incidence increases exponentially with age and from 55 years of age it doubles with each passing decade, according to data collected by the European Stroke Organization.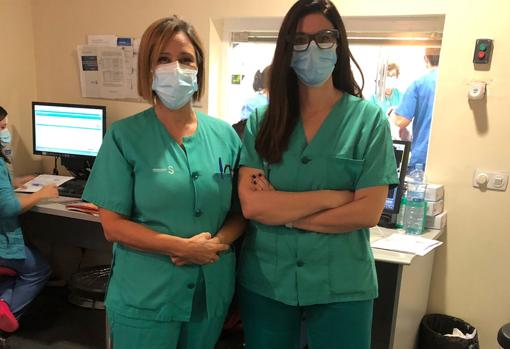 Covid and stroke
Dr. Mar Morín explains that during the hardest stage of confinement and closures caused by the pandemic, the number of patients who came to the Neurology service dropped a lot. «The patients who came to the emergency room were few. It caught our attention, but we understood that they were afraid to come to the hospital for fear of getting infected, "he says. So those who actually entered it was because they were very serious. "I think they did not want to leave the house and if their stroke was not very serious, they were trying to endure at home, stopping going to the hospital."
That is why he insists that the coronavirus pandemic has considerably affected these people, despite the fact that professionals continued to assist their patients by telephone. They called the 112 service less, their family doctors and the stroke code. "I do not have exact data on the number of deaths caused by this pathology, but the feeling is that they have occurred because they arrived at the hospital very seriously," he says.
The health company believes that prevention is very important and recommends taking these symptoms into account, which are the usual ones. If a person suddenly notices that they cannot speak well, they fall asleep or lose strength in a part of the body, that when walking they go sideways, they have sudden dizziness and that they had never suffered before, they must urgently see a doctor .
This happened to Carlos C, 45, a bank employee. He went out for a walk with his dog one day and the last thing he remembers is dragging his leg and not feeling part of his face. «It was difficult for me to move forward and I think I fell. I do not remember anything. Someone helped me get to the hospital, "he says to recall that he experienced the hardest part of the pandemic in isolation, following all the recommendations of his doctors.
Then, a long process of rehabilitation would come and a second cardiovascular heart attack that caused him to lose his vision. Currently, he dedicates his time to reorganize his life in the countryside, in Hontanar (Toledo), where he has returned to be with his loved ones to adapt to this new reality. "I am not complaining about the care, but psychological support should be offered and that they help us feel integrated into society despite our disability," says this young man, father of a child with whom he shares his day-to-day life. . His wife, Juana, works as a teacher in a nearby town.
The consequences
The sequelae left by the stroke are variable, depending on the severity of the brain damage. Dr. Morín reviews some of the consequences that remain, in some cases, forever. The most common are mobility (they lose strength on one side of the body and need a lot of rehabilitation), sequelae in language, in vision (they see worse on one side of the visual field). However, there are effects that are very fashionable and that with Covid-19 very little is said about them and in Spain they are still not taken into account, such as psychological and cognitive consequences.
«Stroke very often causes depression and other disorders of the spirit that if they are not treated well, the patient is going to rehabilitate worse because he does not have a stimulus to get ahead ", highlights the neurologist.
It is precisely this situation that Pilar, wife of José Antonio, experiences every day, who has become his shadow because he is 90 percent dependent. «The family falls apart and we are a unit, but I have to help him in everything. He doesn't move anything and I have to help him clean himself up, get dressed, everything on a day-to-day basis, "he says by phone from Ocaña, where they live with their 28 and 21-year-old children.
Pilar says she wants a life and "a joy. To be able to laugh, despite the adversities we have gone through together ", explains this woman who denounces" the helplessness and impotence "that they feel because in rural areas there are no day centers and there is nowhere to go. For this reason, he demands that the authorities allocate more resources to associations and professionals who are the only ones who can guarantee "a dignified life to these people who are the great neglected of the health system," he repeats.
In this sense, Mar Morín insists that it is necessary to offer this group a stimulus so that they can move forward. For her, cognitive disorders are more important, those that must be rehabilitated and with which "we still have a lot of work to do and it is the professionals who have to address them."
He explains that in many of the patients personality disorders can occur, which are very irruptive in the family because a patient who can move, speaks well, «suddenly he seems like another person because he has become more aggressive, he changes his way of being , because for his family environment it is as if he were another person and that is a consequence of the stroke, "says the specialist.
"Those cognitive effects are very unknown and we have tiptoed over and neuro-cognitive rehabilitation is very important." In his opinion, the patient would have to receive multidisciplinary care from a psychologist, a neuropsychologist and a social worker, among others.
It is a disease that we must treat, not only in the acute phase, but we must also take into account that cognitive rehabilitation is very important because, in addition, 30 percent of those affected are under 65 years of age, which means that there are a percentage of patients who were active, who were working and if we leave them like that, it will be years of lost work. "It is going to be a significant overload for the system and that is where we must influence. In that rehabilitation so that they can go back to work, "he concludes.
See them
comments

www.abc.es