Updated:
Keep

It is said that, in his last days, Adolf Hitler moved figures representing German divisions on a plane over a plane of Berlin about to be conquered by Soviet troops. Hitler's goal was to define a strategy to try to delay the Soviet advance as much as possible. But the big problem with this strategy was that those German divisions represented by the tank figures either did not exist, or, in the best of cases, were fformed by poorly armed children and elders to whom Hitler had asked a last and useless, in the end, sacrifice.
They say that paper assumes everything and the reality that you can draw or account can be distanced, to a greater or lesser extent, from that reality that you want to represent. Sometimes, due to ignorance of it or due to unforeseen changes that arise over time. But it is reasonable that, in matters as important as budgets of an autonomous community, those responsible for preparing them are serious about transcribing the real situation into the income and expenditure numbers that will make up the policy they wish to apply.
But that is unthinkable given the vindictive fantasy in which socialists, pro-independence and communists have fallen into what may be the last Botànic budgets. I sometimes imagine when the head of one of those last German divisions was told: "The Führer asks you to take his tanks to the West Berlin sector", and the poor man did not dare to answer: "Tanks, what? tanks? '
Well, something like this will happen in the Valencian Community when someone tries to build a school or a health center, or tries to hire health personnel. Since, and it is not news fake, the Minister of Finance himself, the socialist Vicent Soler, has acknowledged in the presentation of the budgets that he has "included 2,300 million euros in two items that do not exist, but must exist». Come on, like Hitler's tanks in 1945!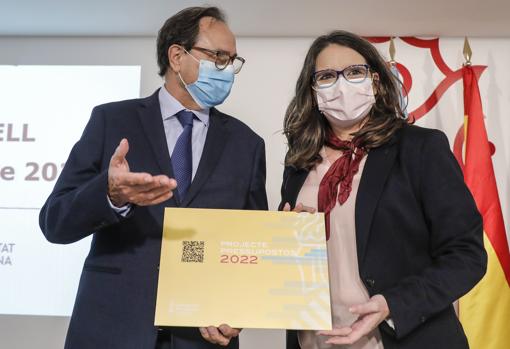 And while Soler laughs at the Valencians with their fictitious games, all those who make up the current network of power are moving before a expected end of cycle. In those moments of April 1945, Hitler was able to check the movements of some of his, until then, loyal followers, who began to make plans to replace him or, at least, survive him. This is the only way to understand the delay in the approval of the budgets that no one from the left-wing parties has managed to explain. It seems that the internal war in the Botànic has started.
However, some attribute it only to the vice president's desire for prominence, Monica Oltra, who, in his lowest hours, has tried, in a 'swan song' plan, to make his last representation of power by delaying the approval. But not only that, he also had the audacity to say that, if the budgets were not approved, nothing would happen, that those of the previous year were extended. That's right, the most important budgets in recent years due to the COVID crisis "don't matter" for the leader of Compromís.
And after the paripé, finally, everything has returned to its normal course. I can already imagine the conversation between Puig and Oltra, with the first saying: «Monica, I am going to give you two news, one good and one bad, we are going to increase your budgets by a billion, but with fictitious money», to which the The second would reply: «Great, since I am not going to spend it, as I have done this yearIt is very tiring to plan actions of interest ».
In the end, I have the feeling that we Valencians are left like those Germans who risked their lives defending Berlin, while the Nazi hierarchs who caused all that tragedy, either dreamed of tank divisions that did not exist, or tried to escape through the sewers.
Only the alternative remains that salaries of the Consell and its endless list of advisers they pay from that fictitious income item, but something tells me they won't.

www.abc.es