Born in 1992, in Hallencourt, a small French town, Édouard Louis revolutionized Gallic literature with his first novel, published in Spain by Salamandra, in which he recounted his childhood and adolescence in a family and an environment punished by violence and poverty. , and an inclement and continuous harassment and ridicule of homosexuals.
I liked it a lot, it has great strength. The two actors, Julio Montañana Hidalgo and Raúl Pulido, display enormous energy, playing the different characters that appear in my novel: my parents, my brothers… and, above all, myself. The staging is very dynamic, with music, dance, projections and visual effects …
base is the adaptation made by Pamela Carter, directed here by José Luis Arellano García, and which premiered in London a few years ago. It has been very exciting for me to hear my characters speaking in Spanish, which is a language that I especially appreciate and relate to Pedro Almodóvar and his films.
Are you interested in this director?
Very much. His films are part of my education. In my family and in my town they constantly told me that I was not 'normal', that I was a babe, that I talked and moved like a girl. That which saddened me, made me feel guilty, and I wondered why am I like this? What am I doing wrong? Later I discovered Almodóvar, Proust, Koltès, Thomas Bernhard, Didier Eribon, to whom I dedicate my novel, because his influence was vital in my life, especially his autobiographical book 'Retour à Reims'. I consider Didier as my main mentor. Through all of them I found that there were other people very different from my parents, that it was possible to be different and fight for that right.
His work precisely vindicates it …
I am attracted to literature and theater that put us in front of situations that we often ignore, when we see someone who is sleeping on the street, or may even be dying, we turn our heads. I bet on a creation, an art, that does not hide the emotions, and where poverty, differences, are not lived with shame, as it happened to me. I think the hardest literature is also the most beautiful, like Toni Morrinson's novels. I wanted to denounce machismo, homophobia, turning homosexuals into practically criminals, not leaving their place in society. After much pain to find mine, I had to escape from that environment of male domination, and I even needed to change my name, I had to leave behind Eddy Bellegueule, that person I had been destined to be, and reinvent myself.
I imagine that your parents read your novel and that they would tell you something about it …
His reaction was very different. When I published it, my father called me after having been married for five years without speaking to each other, we were very different, a gay student from the left and my father from the ultra-right, homophobic, mutual understanding was quite complicated. He said, "You are a writer now and I am very proud of you." For the first time we were able to speak. My father changed. On it I wrote 'Who Killed My Father'. I think that young people can change their parents, more than the other way around. My mother's reaction was the opposite, she was very angry and above all she reproached me for having told us that we were poor. My mother didn't want to accept it. For me it is a very important question, why people who suffer do not want to manifest it. With my books I try that people can say: I suffer, without shame, Do not present themselves as victims, nobody wants to be, but they do not hide their suffering.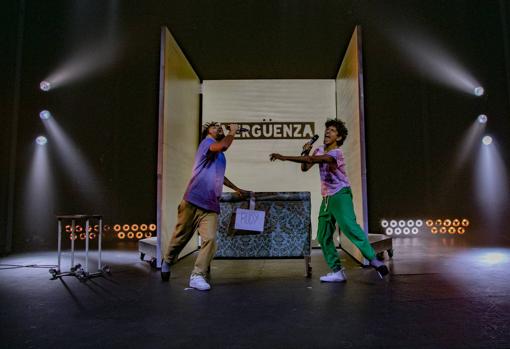 What did studying theater mean in your training?
It was decisive. Since I was a child, I tried to be accepted by others and I looked for it hard in various ways. When I joined the theater group that a teacher formed, for the first time in my life I felt loved. It was for me a wonderful space of freedom, of salvation. And suddenly I realized that I had always been an 'actor' when forced to play the role of masculinity. Later, on some occasion, I went on stage, although without pretending to be someone else. For example, when the German stage director Thomas Ostermeir staged in Paris the theatrical version of another of my books, 'Who Killed My Father', where I played myself
Did you think about adapting 'To End Eddy Bellegueule'?
I have collaborated on some of its adaptations, precisely with Thomas Ostermeir, who directed it in Berlin. I share with him his vision of theater, which should not be mere entertainment, and his social and political commitment. I am very happy that my novel has reached the stage in almost twenty countries, because I did not want to talk only about France. Nationality does not matter compared to gender, social class … A gay boy in France is more like a gay boy in Spain or in any country than a heterosexual French.
Despite the harshness, of the terrible situations that it reflects, there is humor in his book and this serves him for a certain distance. It seems very significant to me when at the end a colleague asks him: "What, Eddy, as queer as ever?" and his comment is: «The others laugh. I also".
I do not deny a sense of humor. Joking about violence can sometimes also be a way to fight it. This is seen in Almodovar's films, where dealing with very violent matters does not prevent him from joking.

www.abc.es