Madrid
Updated:
Keep

Ubisoft doesn't stop. The French-Canadian developer, who just a few weeks ago put 'Far Cry 6' on the shelves, took advantage of the last throes of October to do the same with 'Riders Republic', an open world title in which the player has the option of practicing extreme sports of all kinds. From bicycle races that run through mountainous terrain riddled with obstacles, to jetpack flights, in which the user will have to use skill to avoid ending up on a ledge, to Star Wars-type hovercraft competitions. All very insane, come on.
The proposal, clearly intended to entertain the player, has arcade gameplay. This implies that we are not looking at a realistic title, intended to trace the experience we would have if, for example, we went to Aspen to ski. Not much less. In 'Riders Republic' what prevails is the implausible and the absurd. Something that, all things considered, is quite reminiscent of other great proposals from the developer, such as the Far Cry franchise itself.
The video game does not fool anyone. From the tutorial, in which the player learns the keys to move through the great open world created by Ubisoft, all the modalities that can be explored during the adventure are clear. And these revolve around races or skills competitions in which you perform impossible tricks, whether on a bicycle, a snowboard, some skis or with a flying squirrel suit that makes you glide.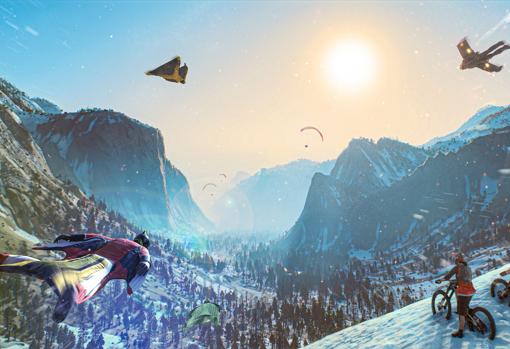 None of the competitions are particularly complex. Basically, anyone can face the tests and pass them, on many occasions, without repeating. The requirement, for the basics, is quite low. In ABC, for example, We have had a worse time at first with the skill tests in which the score depends on how good the tricks we perform are and how well we execute them. However, everything that is focused on speed is practically child's play. Unless, we repeat, that we go for everything. The title also allows to choose between automatic or manual control. With the second, the gameplay, especially when performing tricks correctly, becomes richer and more complex.
Every time a competition is entered, the title rewards the user with experience points and a star system. Just for participating in a race or event we receive one. If you want to achieve more, you will have to overcome some extra goals; for example, finish the race in a certain time or perform a specific trick during its development. As stars are earned, new competitions are unlocked and extras, such as vehicles or equipment. To this must be added the events in which we are disguised as giraffes as well as dinosaurs. There are even those in which the screen goes to black and white. All in order to take the implausibility (and fun) to the extreme.
An impressive map
There is a certain potpourri in racing. The user competes with characters controlled by the video game's AI and with other real ones connected online. Then, there are also events in which disciplines and large competitions are mixed in which about 60 users face each other. As challenges are overcome, the quality of the available vehicles and other advantages, such as the signing of contracts with companies, improve.
As we said, Riders Republic unfolds on a very large map in which the high mountain is the great protagonist. To create it, the developer relied on the geography of natural parks in the United States. In this way, we can be in the middle of a race and go, in just a few seconds, from competing on a snowy terrain to a completely arid one. Although it is possible to travel quickly between the different competitions that populate the map, the ideal – at least from our point of view – is to spend time getting lost along the way and go from point A to point B using any of the means that we have at our disposal. scope. Or rather, exchanging, for example, the skis and the jetpack depending on the situation in which we find ourselves.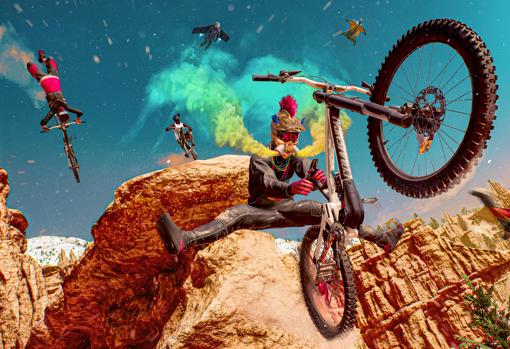 This not only makes the video game -which has a map that is quite reminiscent of proposals such as Microsoft's Forza Horizon- to gain depth (which it does), it also makes it possible to gain skill, practice tricks and, ultimately, for the user to improve their play.
A little more penalty
Although 'Riders Republic' is fun, the game is far from perfect. It even becomes annoying at times. Unlike other proposals – even those that, like this one, offer arcade gameplay – on ABC we have not had the feeling that it really penalizes mistakes. And we explain ourselves. The races are dizzying, so it is easy that, descending a canyon, for example, we go overboard with enthusiasm and end up crammed against a wall. If that happens, no problem: either you get up or you rewind the action. We've had races where we've made a lot of mistakes and even that hasn't stopped us from finishing first.
This does not make the video game lose interest at a competitive level, because, in the end, not everything happens to be first, but to scratch as many experience and stars as possible. However, the experience will continue to evolve through updates in the coming months. Hopefully, thanks to them, it ends up being something more round. Funny it is.

www.abc.es