Updated:
Keep

Cuenca, Friday, October 29, 2021. Auditorium of the prestigious Aguirre Cultural Center. The poet Ana Ares opened the ninth edition of the Poetry Festival for Shipwrecked (resurfacing triumphantly after the pandemic) with the presentation of his latest book, City, which reveals a love, sweet and at the same time acid, for the Madrid city to which the Valencian creator has given herself so much. Immediately afterwards I went up to the podium to briefly introduce the poetry of Arcadio Pardo, to which would immediately come a reading of his poems made by Arcadio himself in a recording of only a few weeks before. A couple of days later we sent him the images, including those of the listeners listening absorbedly and applauding, to which he responded sympathetically: "It seems that the audience was interested." On that day that inaugurated the festival, Arcadio Pardo was admitted (and it was the first time that, at 93 years of age, he was admitted to a sanatorium) in the hospital of Versailles, because, as he himself informed me in a WhatsApp, "a problem pulmonary that I hope will not take too long to resolve. Varsailles, Saturday, November 6, 2021. In that hospital of that princely town the poet Arcadio Pardo, without having suffered, almost jovially, passes away. As a close friend of hers tells me: "He was lucid until the end and did not know the hardships of old age."
My intervention began by tracing the striking figure of such a lavish and innovative poet, beginning to indicate to the avid audience that we were before a very enthusiastic poet, arriving exultant at the age of 93, who was driving his Citroën and continuing, indomitable, in the work of putting together poems. According to him, his passion for living did not wane at any time, reaching those considerable years, and I quote him verbatim, "in full joy of life and feeling the majesty of existence." In my dissertation I reported that Arcadio Pardo was born in the Basque Country, in Beasáin, Guipúzcoa, in 1928, although he really was from Valladolid, of Castilian parents, old Castilians, a father from Burgos and a mother from Valladolid. The family transferred in 1935 to what is today the capital of the Castilian-Leon region, he studied at the Zorrilla Institute of Valladolid, finishing high school in 1946. In 1951 he graduated in History, obtaining an Extraordinary Prize upon graduation. Since then he developed his teaching career in France, his entire teaching career, except for one course he took in Orense. Their destinations were spent at the Corneille de Rouen high school and at the universities of Aix-en-Provence, La Sorbonne and Nanterre. He was also the founder, in union with other members, of the Liceo Español de Paris.
Arcadio Pardo participated in notable movements of Spanish poetry. With Luis López Anglada and Manuel Alonso Alcalde founded in 1946 the poetry magazine Halcón, very prestigious at the time, of which the Jorge Guillén Foundation published a very careful facsimile edition in 2003. It is curious to know that the director of the Halcón magazine – the publication was required to be directed by a journalist – was a stranger Miguel Delibes, who did not even collaborate on it. Arcadio Pardo could have been assigned, by age, to the Generation of the 50s, or Group or Promotion of the 50s, as we want to call it. But this hypothesis is certainly unlikely, first because of the circumstances of residence, so many years in France, and also because of the poet's very independent aesthetic position. In 1998 he entered the Castilian-Leonese Academy of Poetry. On her poetic work, Dr. María Eugenia Matía Amor wrote a detailed and profound thesis, published by the University of Valladolid.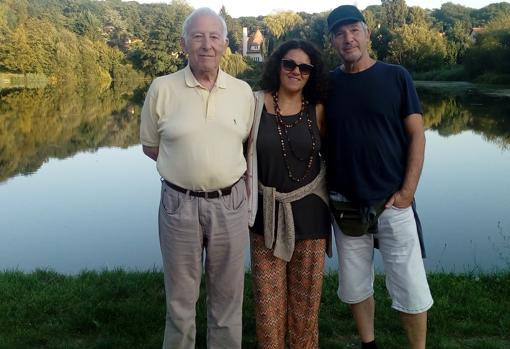 Arcadio Pardo was married to the Hispanist Madeleine Dubrasquet. They were both authors of the book Spanish metric precision (Handbook of Spanish metrics), already with several editions on the market. His wife passed away in 2017. The two of them had been living for many years in a beautiful villa (from the large garden you could see a piece of the Tour Eiffel) located in Chaville, a residential town next to Paris, on a route that begins in Sèvres, famous for its ceramics, and that ends in Varsailles, where the author, as we have said, has died. His remains rest in the secluded cemetery of Chaville (a city located in a beautiful wooded area), inside a tomb with two squares, one of them already occupied by his wife. In that session of the Poetry Festival for Shipwrecked I also briefly toured his poetry, which had been published from 1946 until now, slowly but surely. I achieved the sad honor, on that succulent day of Cuenca, of participating, with him, in the last literary act of his life. I traced some essential characteristics of his work, summarizing the extensive essay article about his incessant and singular journey that I published in 2020 in the Cultural Odyssey magazine
(https://www.odiseacultural.com/tag/arcadio-pardo/). Taking tasty quotes from an interview that I did with him, when I met him personally, for the Jerez magazine Campo de Agramante.
But this is another story. What I wanted to highlight now is the consternation, privately and publicly, that has produced his death. In these moments, as my wife expressed in a limpid obituary posted on Facebook, the feelings of memory prevail. Rafa Escobar, organizer of the Poetry Festival for Shipwrecked, told me, devastated, after hearing the news of his death: «What sadness. I did not want this sad postscript for an edition of Castaway that had turned out so happy.

www.abc.es