ALICANTE
Updated:
Keep

The realism of dolls The toy has already gone beyond the usual movements to pretend to eat, drink or dirty the diaper. The Alicante industry has reached another level and favors the "inclusive" image of children with mild disabilities, as a model that incorporates replica hearing implants which, in real life, cost more than 10,000 euros.
Visually, this device is seen with a shape similar to hearing aids and with an external processor attached to the head. For the Federation of Associations of Cochlear Implants of Spain (AICE), this bet of the manufacturer Miniland, from Onil (Alicante), represents a gesture «moving towards the normalization', Which they applaud for their symbolic value. This is how they value it on their social networks, where they add that «Miniland has dolls with a cochlear implant that are very suitable for children with HF, so that feel identified. Our fallero doll has new friends. A gift for this Christmas ».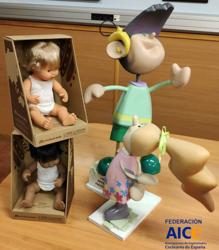 The allusion refers to another decorative figure similar to the typical "ninot" of Valencian festivals, created by AICE and also equipped with these implant shells to spread the use of this technology without complexes among families. Surgical intervention is covered by Social Security, but not maintenance completely, one of the claims of users.
Apart from this recognition from the implanted federation, the Miniland company has reaped several international awards in recent years for his commitment to stimulate the different children's "intelligences" and also to reflect all the realities of children in his creations, with "diversity».
In their description of this particular doll, and more generally of their Miniland Dolls collection, they emphasize that it «promotes values ​​of equality between boys and girls, whatever their race, gender or condition and allows them to sensitize with diversity, as well as developing social skills such as empathy and tolerance. This doll has special hearing needs, so it has an implant.
They are manufactured "in Spain in a traditional way" with a soft vinyl, with a slight vanilla aroma, which is recyclable and they are "anatomically correct, which means that they show the physical differences between boys and girls in a realistic way", they highlight .

www.abc.es