Updated:
Keep

After burying Ryan Reynolds alive, blinding Robert De Niro, and sending Uma Thurman to boarding school, Rodrigo Cortes returns to the ring. The director, one of the Spanish filmmakers with the most international projection, returns behind the cameras with 'El amor en su lugar', a historical drama, distributed by A Contracorriente Films, about survival in the heart of the Warsaw ghetto since an unprecedented perspective.
The film, which will premiere on December 3 and will be presented this week at the Seville Film Festival, tells the true story of Jewish actors who perform a musical comedy in the theater, written in the ghetto by the playwright and composer Jerzy Jurandot , of whose songs only the lyrics survived, with the intention of bringing some hope to his compatriots.
In the words of Oti Rodríguez Marchante, an ABC critic, the filmmaker's new film is a "major work by Rodrigo Cortés. A wonderful, funny and tragic story of love, theater, music and the holocaust».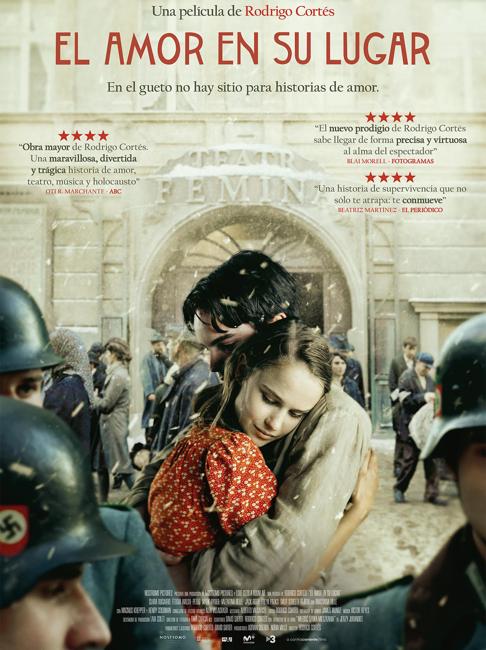 After two years paddling through thick and thin, cinema is finally beginning to raise its head. And with it appears 'Love in its place', a timely tribute to art and the efforts of all who make it possible; a cinematographic experience that, in the words of Cortés, "reveals a side of the occupation that the cinema had not yet shown: how all kinds of artists continued to act, even in the most unlikely circumstances, to light a flickering flame in the middle of the darkness ». In the same way, the director aspires to relight, with the wick of his story, the light of that ritual that is to enjoy cinema in theaters.
The script, written with four hands by Rodrigo Cortés and the renowned German novelist David Safier, recreates the staging of the play 'Milosc Szuka Mieszkania' ('Love seeks an apartment'), which was performed in the winter of 1942 in the Warsaw Feminine Theater.
Danish actress Clara Rugaard, a sensation at Sundance with the film 'I Am Mother', and the interpreter Ferdia Walsh-Peelo, of 'Coda' and 'Sing Street', lead the cast of this film inspired by real events. Magnus Krepper ('Millennium 2'), Freya Parks ('Les Miserables'), Jack Roth ('Bohemian Rhapsody') and Henry Goodman ('The New Pope'), among others, complete the cast of a film whose music has been composed respecting the tradition of musical theater of the moment.

www.abc.es