The full season of cauliflower is the cold months of the year (from the end of October to the end of March), although it can be found practically all year round, so enjoying it in different ways is very easy given its versatility in the kitchen.
The main component of cauliflower is water, which, together with the low content of carbohydrates, proteins and fats, makes it a food of low energy content. In relation to vitamins, the presence of vitamin C stands out (although a considerable part of it can be lost during cooking processes) and folates.
oxidative damage and improves iron absorption. Folates contribute to the normal formation of blood cells and the normal function of the immune system. One serving of cauliflower covers 33% of the recommended intakes for the study population. Regarding its mineral content, cauliflower is considered a food source of potassium which contributes to the normal functioning of the nervous system and muscles, in addition to maintaining normal blood pressure.
Since cauliflower can be made, as we have already seen, as if it were couscous, in addition to steam, oven, roasted, stewed, boiled, gratin or even raw, sautéed with extra virgin olive oil and garlic, we bring you a little-known recipe : in cream.
Paola Freire (@foodtropia) has published 'How to eat rich and healthy', and proposes more than 70 recipes for spring, summer, autumn and winter where, always using seasonal foods, she gives us healthy ideas to cook all year round. Among all of them is the cauliflower and mushroom cream with Parmesan. Do you want to learn how to do it?
"I love the mushroom creams, but it is difficult to get a creamy texture if we do not add potato or cream. In my endeavor to come up with a light recipe, I tried adding cauliflower and the result was fantastic. The final touch: thin slices of Parmesan that melt in your mouth when you serve the hot cream ", encourages Paola Freire.
This is the recipe that you will not stop making this fall and winter:
Cauliflower and mushroom cream recipe with Parmesan
– 20 minutes of preparation
– Amount for two people
ingredients
– Extra virgin olive oil
– 100 grams of leek
– Sal
– Black pepper
– 400 grams of mushrooms
– 250 grams of cauliflower
– Parmesan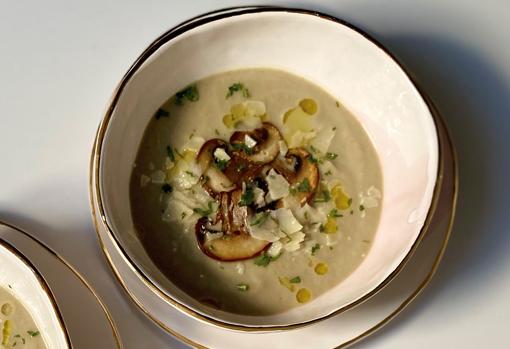 Step by Step
In a saucepan, poach the leek with olive oil and a little salt and pepper. When it begins to take color, we raise the heat, add the sliced ​​mushrooms and brown them.
Then we add the cauliflower cut into pieces, cover with water and cook for 15 minutes until the vegetables are tender.
We crush, taste, rectify if necessary and serve with some parmesan flakes and some sautéed mushrooms on top.
Expert advice: Since the mushrooms have a lot of water, it is advisable to crush the cream without adding all the cooking water so that it is not too runny. "If at some point we see that it is 'cut', we can re-emulsify the cream by grinding a few seconds with the vatidora or our kitchen robe while we add a splash of olive oil", he concludes.

www.abc.es