Madrid
Updated:
Keep

The president of the Government, Pedro Sanchez, has not wanted to clarify the use of the Falcon and Super Puma aircraft that he activated to attend the congresses of the Andalusian and Valencian PSOE the last two weekends, as reported by ABC this Tuesday. These are sixteen routes for two party events charged to the state coffers.
The Popular Party spokesperson in the Senate, Javier Maroto, has appealed to this matter during the session of Control to the Government in the Upper House, taking advantage of his intervention on the fiscal burden that Spaniards bear. With the information from ABC in hand, Maroto has asked the chief executive for explanations.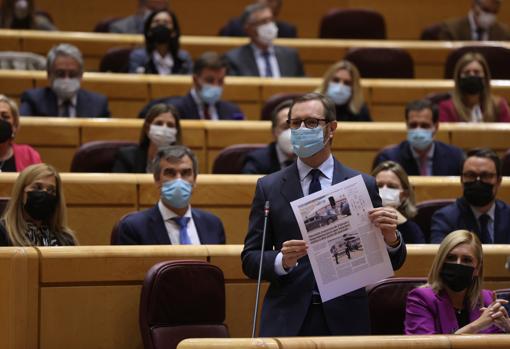 "Mr. Sánchez, is this in my hand true?" Maroto began; «16 routes of the Falcon and his Superpuma helicopter to go to the PSOE Congresses …
This is true? Because if it is, it's a shame to have a president who goes in Falcon to the PSOE rallies with the money of all Spaniards ».
The Prime Minister has avoided the issue. "You don't have a problem with me, because your predecessor has already done this with Zapatero, you have a problem with democracy," Sánchez replied; which has focused on refuting the tax issue, leaving this other aside. "They have a problem with democracy because they do not recognize the electoral result of the polls," he continued. "Not a word about his little trips in Falcon!" Maroto replied again.
[Lee la información completa de ABC aquí]
Sánchez attended the regional congresses of the PSOE in Torremolinos (Málaga) on November 7 and Benidorm (Alicante) on the 14th, using State air means. Presidency included in his agenda a visit to the Vodafone R + D + I center in Malaga as president of the Government, although the purpose of that trip to Torremolinos was the act of the Andalusian PSOE. Despite the fact that this newspaper yesterday tried to find out why the use of State aircraft for party events, the Presidency did not respond to the questions. La Moncloa has explained on other occasions that this is done for "security reasons."
The Council for Transparency and Good Government (CTBG) and the National Court have ruled on up to two occasions that the Government report on the use that Sánchez made of these official means of transport during the general campaign of April 28, 2019.

www.abc.es