Heroine, vox populi est, was no stranger to the life of Enrique Urquijo. But yes to his death. Despite what is said in the rivers of ink that have been written about the overdose that took his life, the singer and guitarist of Los Secretos did not go on horseback. His brother Álvaro had already said several times in his interviews that they were calming, but he had never revealed exactly which ones. The name of the drug you mention in your book 'There is always a price', and that from now on will enter the history books of Spanish pop, is Tranxilium (dipotassium clorazepate), a benzodiazepine with an anxiolytic, hypnotic, anticonvulsant, sedative effect,
muscle relaxant and amnesic that, in combination with a little cocaine base paste, stole one of the greatest musical geniuses of the twentieth century from us.
On November 17, 1999, Enrique's body was found in a doorway on Calle Espíritu Santo in the Madrid neighborhood of Malasaña. She had just gotten out of a detox clinic, and since she was less than the time she paid for, they returned part of what her family had paid for. It had been a year since he had seen fresh money in hand, and that was his downfall. He went to see his camel, bought the basuko, smoked it, and then to lower the high he took several 50-milligram tranxiliums, pink capsules split in half that were legally prescribed. So no syringes stuck in the arm as claimed by some media, in which it was also speculated that the overdose had occurred on the floor of someone who was scared, and who took the body out and carried it up the stairs or down the street until leaving it lying in the famous portal. "It was a combination of barbiturates – legal – and coca base that caused him to go into cardiorespiratory arrest. That, and bad luck. Nobody goes to the house of camels to commit suicide. Nobody wants to have a high, they take some pills to make it go away and never get home, "says Álvaro in his book, who at that time was out of Madrid and received the news from his wife. «He only said 'Álvaro, it's happened' and a long silence. I was devastated.
This new biography, which will be presented today along with the CD-DVD 'Since we haven't seen each other' in an act with screening and discussion at the Palacio de la Prensa, it is one of those works that owes its life to confinement. "When the concerts stopped and I had nothing to do, I decided to write the true story of Los Secretos," Álvaro explains to ABC, who found enormous motivation in "the lies and inaccuracies" that have been told about the group all these years. "I wanted to record the truth, so that if someone wants to make another book, a movie or a series, they have a place to find it," he says. And he has kept his word: in the three hundred-odd pages of the volume, he not only shares for the first time the forensic report that was delivered to them after Enrique's death, but also recounts the hardest moments of his brother's addiction without hiding from it. his own, narrating his descent into hell with hairs and signs. "Of course," says the Madrid musician. What else was I going to do, fool myself? If I have decided to write it to tell the truth, it is to tell the whole truth ».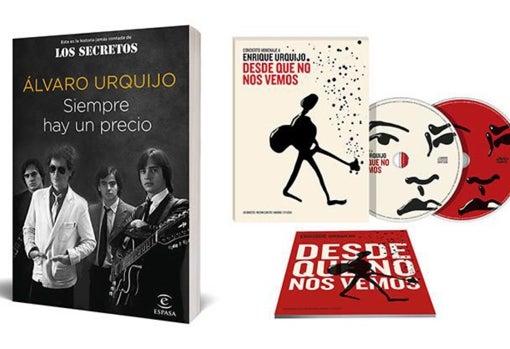 The true origin of this book must be sought a few years ago, in 2005, when the biography 'Enrique Urquijo: Adiós Tristeza' was published. «I did not agree with some things that its author said, many of them surely distorted by the loss of memory of their sources. Since then, the idea of ​​writing down all my memories has haunted me, before losing mine, "explains Álvaro. «Many texts and many documentaries have been written about Los Secretos that are not reliable, in which Enrique was sold as a manual junkie, when in reality he was not. What if he used drugs? Yes. But never to the point of interfering with your work. He composed, rehearsed, did interviews and gave concerts like any normal musician. He had a problem that he tried to put out with another problem ».
With a title that winks at a song from the 1986 album 'Primer Cruce y Continuará', the book 'Siempre hay un Precio' (Editorial Espasa) goes on sale today, one day before the release of the album live ' Since we don't see each other ', which includes the tribute concert to Enrique that was held at the Wizink Center in Madrid exactly two years ago, coinciding with the date of his death. Artists such as Manolo García, David Summers, Rozalén, Miguel Ríos, Amaral, Coque Malla, participated in the recording, which will also be available in a limited edition of double colored vinyl and standard edition in double black vinyl from next December 3. Mikel Erentxun or Alejo Stivel. The publication of that concert in was scheduled for 2020, but had to be postponed due to the pandemic and now sees the light with its film premiere today at the Palacio de la Prensa in Madrid (at 8 p.m.), the first special screening that will feature with a previous discussion moderated by the journalist Manolo Fernández, and which will continue with a second screening tomorrow, Thursday, in the same space and at the same time.
Los Secretos will resume their concerts in 2022 with a tour of fifteen Spanish cities in emblematic theaters. They will perform in Bilbao (January 6), Pamplona (January 7), San Sebastián (January 8), Valencia (January 14), Santander (February 4), Barcelona (February 11), Zaragoza (February 12) ), Santiago de Compostela (February 19) or Gijón (March 26).

www.abc.es