Updated:
Keep

The world of video art celebrates with
Festival Loop one of its key dates in Barcelona from 9 to 21 November, with its 'big week' from 16 to 18 with the celebration of its trade fair. This year, the presence of the same is retaken in a peculiar format far from that of commercial art encounters, and an enveloping journey is generated: the one that supposes La Pedrera, its headquarters this 2021, by its own architectural morphology.
The 19th edition of Loop, a video art festival and fair, is thus a unique experience for the medium, which brings together more than 200 artists and 62 spaces in Barcelona weaving a network of galleries, institutions
and very diverse rooms.
Loop visit
The fair therefore takes place in La Pedrera, the key point of the entire event and the seed of its growth as a city experience. In addition to standing out for its closeness, personality and adaptation (very suitable for a loop visit that goes like a glove to the video format), it is worth noting the high quality of the projects presented there this year. As a curated fair in which it participates by invitation, there are 27 international galleries selected by Haro Cumbusyan, Josée and Marc Gensollen, Renée Drake and Jean-Conrad and Isabelle Lemaître and that form the general section.
Loop return to an intimate environment, already forged in previous editions as a hotel fair, which, in this monumental location and thanks to an adaptation to the rooms, makes it very dynamic, abandoning the boundaries in delimited spaces or stands and creating a continuous sample. A way of proceeding that could be intuited in the 2020 edition, but that in this 2021 it is put away with a very remarkable cast of authors between the filmic and the performative.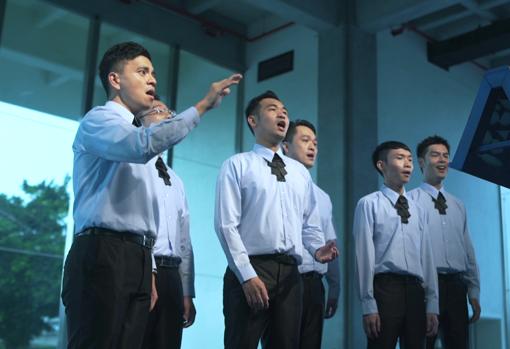 The leit motive of the entire Loop is the body and the connection between video and performance, something that is especially represented in the piece of Marina Abramovic 'Levitation of Saint Therese' (2008) represented by
Bernal Espacio, from Madrid, with his particular vision of the kitchen as the center of the universe. An iconic piece that receives a special reading in this fair environment.
For its part, this reflection on the corporeal takes on a rebellious look in Isaac julien and his 'Who Killed Collin Roach?' (2019) with the gallery
Ron Mandos from Amsterdam. A choreography of images at a frenetic pace that lead to give voice to the demonstrations that demand a revision of the pressure that the police exert on the black population. And a universal appeal that echoes a specific case from London from 1982, which, however, can be extrapolated to any time and place.
Loop claims a body that, like video, is ductile and representative of current concerns to give a critical utility to creativity with a timeless perspective. This is how it immerses us Sophia Al Maria, in the gallery
The Third Line of Dubai, in the geological movements through his two videos 'The Future Was Desert' with delusional post-apocalyptic landscapes that combine past and future in the already complex geopolitical context of the Persian Gulf. Proposals for Mabi Revolt in Vanguard, Daniel Steegmann Mangrané on
Esther Schipper, Fernando Sánchez Castillo in Albarrán Bourdais or Harun Farocki in Angels.
Loop invites us to see the video from an essential face-to-face, enveloping and experiential dimension, which also requires a physical visit for a complete enjoyment of the works. At the same time, from November 16 to 26, its contents sand they will be able to enjoy in 'streaming', thereby losing part of its impact and adding to the current need to provide events with a certain virtuality.

www.abc.es