Updated:
Keep

Jaime and Mariví have become parents at 36 years of age. They never imagined that the birth of their baby would be as it happened on September 8. That day, the doctors advised them to do an emergency cesarean section because Mariví had an infection that could affect the little girl who was on her way. The news caused a great impact and many tears; Salma was only 28 weeks pregnant and weighing 880 grams. "We have all heard about premature babies, but when they explained everything behind this concept, we did not believe it. Thousands of doubts assailed us: how is it going to be born? What will happen to it? How will her development be? … We knew that our daughter was taking many risks and she plunged us into a sea of ​​nerves and tension », Jaime confesses.
With the body still battered by that hasty decision, Jaime was able to put on a gown and attend the delivery, which was natural with an epidural. "Seeing her being born was incredible because it fit in the palm of my hand. We were warned that He would come with respiratory problems due to not having his lungs well developedBut she seemed to be breathing well and she was not rushed away, but was able to be on top of her mother for a few moments. Then he went directly to the ICU and, indeed, his breathing has not stopped giving us scares.
Jaime remembers the first day of ICU with great emotion since he was able to have your daughter on your lap, skin to skin, for an hour. "It was exciting," he says. It gave me a lot of respect. I was even afraid to take it because it was so small and delicate and, above all, because of all the tubes it had connected to, but at the same time I felt great happiness ».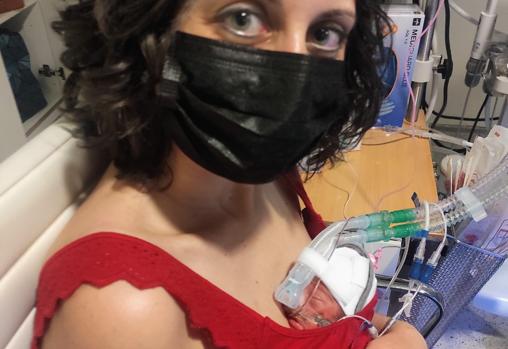 After the mother's regular three-day admission, the new parents went home. «It is very hard to arrive without your baby in your arms. You have a great feeling of emptiness and you feel guilty about not be by his side as he fights for his life». The weeks passed and the little girl managed to leave the ICU to go to intermediate care "with fewer machines around her," and where her parents entered in shifts because anticovid measures prevented the three of them from being together at the same time.
During that time, little Salma had amneas, moments in which she stopped breathing and that put all health personnel on alert. Her mother was pumping her milk from her breast and they gave it to the girl through a probe because being so small she still did not know how to suck the mother's nipple to feed herself. It started with a millimeter and now takes 45 milliliters.
Last November bridge the restrictions on visits due to Covid in the hospital were lifted and the grandparents were able to take turns in for a little while to meet her, which was an exciting day for everyone. Little by little, the girl has stabilized her breathing and, thanks to this, last Thursday, November 11, he left the hospital on the way to your new home. "We are super happy, but it is true that we also feel the tension of observing her at every moment to check that she is okay. My wife and I take shifts at night to watch over her. Gives a bit of vertigo to know, after everything we have been through, that now it is completely up to us and that we do not have healthcare personnel pending for any questions or problems as we have done before ».
These parents look with great illusion your futureBut yes, Jaime explains, "we have ahead of us a very long list of medical appointments and check-ups to see that everything is going well."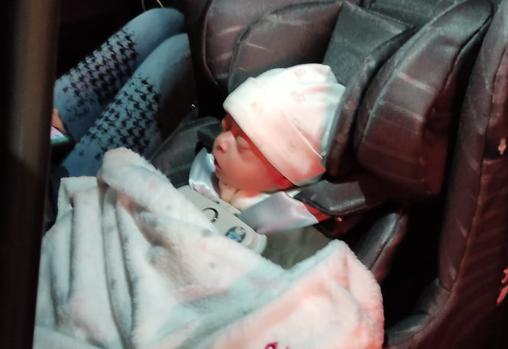 www.abc.es