Madrid
Updated:
Keep

In 1993, two children laughed in their living room watching 'The great game of the goose' on Antena 3. It was the fashion contest in all of Spain, a success that exceeded 40% of the screen share. His father was also in the living room but he wasn't laughing, he knew something that his children didn't know, a secret that was going to poison the whole family. He hit the record button to have evidence of the robbery of which he had allegedly been a victim, a millionaire scam that he has not yet been able to prove, but which destroyed their lives.
Juan Jimenez He was the opening act for the Beatles, saxophonist for Los Pekenikes for half a century, and show programmer and producer. He had it all, but his restless mind wanted more.
In the early 1990s, he devised a format for a television show, where contestants walked across a giant board, rolled an electronic dice, and took tests based on the box they landed on. called him 'parkland', but on October 2, 1993, when he turned on the television, he saw Emilio Aragón in his tuxedo and his proposal come to life. He had invested all his savings, mortgaged his house and sold his pub to record the pilot they had requested. He signed a Barter contract, according to which he assumed the production costs until the broadcast to later recover the investment. But nobody warned him that his project – with another name, the presenter he had thought of and with adults instead of children – had received the green light.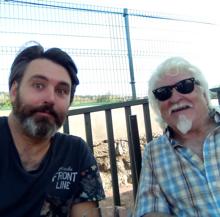 His son tells Daniel Jiménez, in 'El plagiarism' (Pumpkin seeds), a letter of love and forgiveness, of redemption and liberation, where the writer tries, through literature, "the poetic and emotional", to seek justice that they have not found by legal means. He does not give names, but he does give multiple details. His father presented the project to three directors of the public channel, TVE, appointed by Felipe González. The businessmen with whom he signed moved to another private one, Antena 3. And they took the program with them.
A Quixote against windmills
Juan Jiménez, accustomed to giving war playing the saxophone, changed the stage for the courts in an arduous battle. Obsessed and ruined, rotten with rancor for the alleged plagiarism, he unintentionally dragged his family along. The musician from Los Pekenikes, a David against Goliath, became a kind of Quixote, forgetting, as his son says, that fighting windmills is "a beautiful, idealistic idea, but fighting for lost causes ends up consuming your life."
In addition to the veiled complaint, Daniel Jiménez pretends with 'El plagiarism' leave "inherited trauma behind", close the circle with this book. «During the writing I go from being a son to being a father. It is my version of who my father has been, why he has behaved like this, what I can rescue from everything he has taught me and what he could have been wrong and teach it to my son, "he admits to ABC. His father, he explains, spent about 64 million pesetas on the recording of a pilot that he later saw, almost unchanged, on television; now, 75 years old, after being evicted and suffering the suicide of a daughter, he lives in a town of 500 inhabitants with the minimum pension, without turning on the heating because he cannot afford the bills. Faced with the inability to do justice, he claims the money he wasted, «because they are not going to restore him for the years he has lost, of battle, despair and rage. They cannot be returned."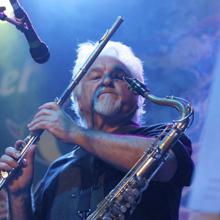 It may seem like a delusion, a hopeless case. But the writer, who has grown up with the efforts of the musician, defends him: «There is no farce or paranoia about my father, it is real». «He is right. We have documents to prove it, the property records, the recorded program. There is a demonstration in the videos that my father has, which I don't know if they will come to light at some point, of what the dynamics of the program were like, in which I participated and won, "confesses the author.
Juan Jiménez's complaint did not prosper and they even tried to bribe him to forget everything. According to him, one of the managers offered him a tape with the idea of ​​another program while he waited. He said no and continued with his crusade. After eight years of legal entanglement, the judge stated that she did not have the power to resolve the procedure and abandoned the case. His replacement dispatched it in two days because, he argued, it was inspired by the traditional board game, which is in the public domain, and was starring adults and not children, like 'Parquelandia'.
The betrayal of the lawyer
Nobody paid attention to Jiménez. Not even his lawyer, a friend of one of the directors, who submitted the expert report late. He also confessed that there was a lot of money involved and advised him to take the 300,000 euros they were offering him without knowing that Juan Jiménez, who handles instrumentals like no one else, was recording him. With that stolen testimony, he filed another lawsuit against him for malpractice, although it was dismissed as it was obtained without consent. Now the appeal is pending resolution in the Supreme Court.
While waiting, Juan Jiménez imitates his son. He has finished the book 'History of a plagiarism', a 400-page "very cumbersome, long" copy, in which he goes sentence by sentence denying it, putting his version of the facts, with the documents, with the scanned contracts . «I have tried a literary exercise, without being exposed to being sued. My father wants to go with specific people, with their names and surnames and everything that entailed, without hiding anything, "admits Daniel Jiménez. In the last pages of that unpublished book, Juan Jiménez apologizes to his wife and children "for having involved them in a project that has only brought us sadness, ruin, suffering and disappointment." 'El plagiarism' is also, in its own way, a son's apology to his father, a tribute to a family that has always complained that he didn't write nice things.

www.abc.es