The Ship of Avila
Updated:
Keep

Hyundai Motor Europe closed 2021 with very strong sales results. The company sold a total of 515,886 units in Europe last year, which represents an increase of 21.6% compared to 2020. This translated into a growth in market share of one percentage point, to 4.4%.
In addition, electrified vehicles achieved their highest sales share to date. 35% of Hyundai vehicles sold in Europe in 2021 had an alternative powertrain, including in this section hybrid systems, plug-in hybrids, battery electric and fuel cell electric. This represents an increase of 77% over the previous year. Of these, 72,509 were zero-emission vehicles –electric battery and fuel cell vehicles–, which represents 14.1% of sales on the continent.
In addition to achieving a 4.4% market share in Europe, Hyundai also recorded record market shares in 2021 in Germany, Spain, France, Italy and the UK. In Germany, Hyundai models represented 4.1% of all cars sold, half a percentage point more than the previous year, which is an all-time record for the brand. This translated into 106,620 registrations in that country.
In Spain, for its part, Hyundai reached a market share of 6.7%, an all-time high. This meant 57,508 registered vehicles. Following the launch of IONIQ 5, Hyundai's mid-size electric CUV and a benchmark model in the field of battery electric mobility, the company led sales in the country in the second half of the year. Hyundai also ended 2021 as the number one Asian automaker in Spain and fifth among all manufacturers.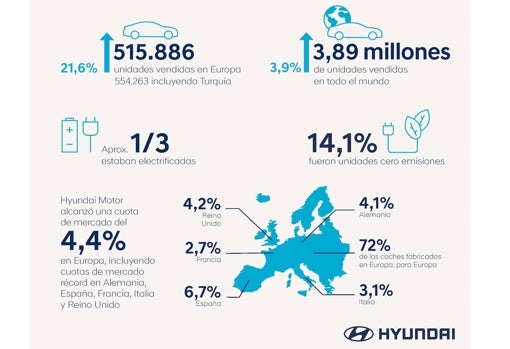 The all-round bestseller was once again the brand's compact SUV, the
Hyundai TUCSON. Following its facelift at the end of 2020, the new TUCSON saw increased sales throughout 2021. With 152,257 units sold in Europe, the TUCSON accounted for 29.5% of Hyundai's sales on the continent during the past year. Behind him were the Hyundai KONA, with 109,902 units sold, and the i20, with 60,560 units.
The good sales results achieved by Hyundai SUVs in Europe demonstrate the diversity of the company's SUV range. With products spanning the B, C and D segments, and covering all available powertrains, Hyundai SUVs are uniquely positioned to meet a host of customer lifestyles and demands.
Electrified sales increase by 77%
Sales of electrified vehicles increased 77% in Europe in 2021 compared to 2020. Last year, Hyundai sold 182,437 electrified models on the continent. A) Yes, alternative powertrains accounted for 35% of sales total number of Hyundai vehicles in Europe. Of these, 72,509 were zero-emission vehicles – battery-electric or fuel cell-. Zero emission vehicles represented 14.1% of sales in Europe in 2021, which represents an increase of 26% compared to the previous year.
In 2021, the TUCSON Hybrid was the brand's best-selling electrified model in Europe, with 43,792 units, while the KONA Electric led the list of the company's best-selling zero-emission vehicles, with 44,069 units. As proof of the quality of the model and its respect for the environment, two members of the Divers Alert Network (DAN) Europe recently traveled 25,000 kilometers across Europe in a KONA Electric to promote sustainable practices in the business world.
The newly released IONIQ 5 was also very well received. It already represents more than 3.7% of all sales in Europe.
Increase the market share of low and zero emission vehicles It is part of Hyundai's strategy to achieve carbon neutrality by 2045.

www.abc.es