Updated:
Keep

First of all, I celebrate with emotion that the Economic Debate Forum German Bernacer, the Germán Bernácer Chair and the University of Alicante, with the collaboration of the Mediterranean Foundation have decided to include this exhibition commemorating the 90 years since Germán Bernácer joined the Bank of Spain to direct the study service of the issuing bank. Therefore, from this vantage point I have nothing more than to be grateful that our dear and illustrious economist from Alicante has landed in the framework of our flagship, the Shoe Museum. A commendable decision within the organizers for including it in the circuit of exhibitions through different neighboring towns.
I am convinced that wherever Germán is located -certainly close to San Juan Beach, the Sierra de Aitana or around the Belvedere estate- he will be pleasantly surprised to see the evolution of the shoe industry, so powerful industrially and with so much well-being generated in the city and region.
Bernácer, both as an economist and as a true good man, a bomb-proof bonhomie, would have liked to know the business shed that exists in this city. In line with this presentation, explain that I have recently been abounding in Germán's publications on the Spanish economy during the Second Republic, 1931-1936, basically because he was appointed first director of the Research Service of the Bank of Spain together with his colleague Olegario Fernandez-Baths.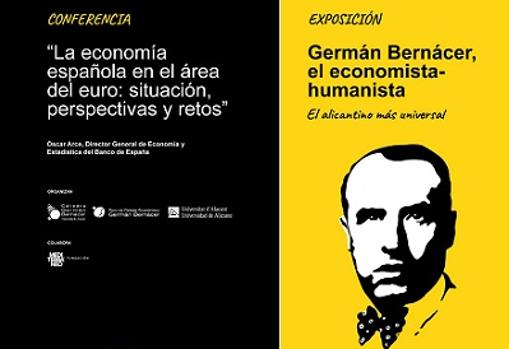 It will be there in the capital and away from his long-awaited blue of the Mediterranean Sea and his little house on the beach with his family and his intimate and inseparable friends, "brothers" as they called each other: Gabriel Miró, Oscar Esplá, Emilio Varela, Azorín, etc. From his office at the Bank of Spain, he would produce his best reports on the Spanish and international situation. Brilliant reports that related with an accessible narrative for any reader interested in reading it. Weekly reports that dealt with monetary and capital movements, the evolution of currencies in the most relevant monetary traffic in the field of macroeconomics. Changes in the exchange rate of the dollar, the pound, the French franc or even gold on international stock markets. The serene reading of these reports is not wasted to remember contemporary economic history.
Being immersed in these moments addressing the preliminaries of the history of the Bank of Elda (1933-1963), I was really interested in getting to know Bernácer's macroeconomic thinking precisely. So it has been a very illustrative experience to learn the ins and outs of monetary policy and its impact on Spanish and European banking as well as its impact on the economy.
From the briefest reports to those of greater length, he had to assess and study the personal recommendations to urge them to the authorities that would implement his economic policy for the Government of the Republic, always ensuring price stability. Another thing is what began to glimpse from the reports made in 1936, and shortly after the outbreak of the Civil war that so much discouragement and sadness caused him in his family and professional life.
It is not trivial all the economic and humanistic wisdom that Germán possessed and that, unfortunately, was never fully recognized by his colleagues in the academic world in Spain until not many years ago. Without going any further, his studies and publications on inflation and its economic and social consequences are very topical. In recent months, an escalation in inflation has been detected both in Spain (6.5 – 7%) and in the main economies. Citizens are very devastated by the economic future in the short and medium term. We are not only affected by the successive waves caused by the damn virus in its different modalities but now we find ourselves with this return of inflation that overwhelms us with concern and concern. We will have to ask ourselves if this monetary phenomenon that is inflation is going to be temporary or, on the contrary, if it will become an additional nightmare to those already suffered and endured in the last two years. Rereading Bernácer we will find some key that will help us better understand this situation.
At this point I would like even briefly to present a more humanist of Bernácer as a person: very familiar and with great cultural ambitions (music, art, poetry, etc.). In a well-known little book, evocative of great feelings and emotional for his affable personal life. I suggest you read the author Manuel Oliver Narbonne, «Human profile of Germán Bernácer». This man from Alicante was characterized by being somewhat shy and reserved with those who were not from his environment. Being absolutely familiar with his wife Maria and their three children as well as his father-in-law. Spoon Tertuliano, they enjoyed what they called «pedagogical meals», gatherings held when they met to taste the dishes from Alicante. Also, in an innate way, he behaved altruistically with his friends when they really needed him due to the vicissitudes of life.
In short, Germán was an example of a very disciplined person both in the family and academic spheres. His passion for studying and concern for the curiosity to know more aspects of life and thus help in the education of their children.
Remember that great and illustrious economists from different and diverse European and American universities sincerely and honestly praised his pioneering vision of economic science, even anticipating Keynesian theories about the business cycle, interest and money. Keynes himself on his visit to Spain in 1930 congratulated him effusively at the end of his lecture, addressing Bernácer as, "Dear colleague" giving him a hug and sharing their respective knowledge.
I encourage you to visit the exhibition at the Museo del Calzado until January 31. They will enjoy for sure.

www.abc.es