The Gran Canarian palms
Updated:
Keep

The Ministry of Health of the Government of the Canary Islands has communicated 1,110 new cases of Covid-19, a downward figure that could point to the fact that the islands have surpassed the curve of the sixth wave.
The total accumulated cases in the Canary Islands is 245,130 with 97,466 active cases, of which 91 are admitted to the ICU and 620 remain hospitalized. In the last few hours, it has been reported death of five people between 50 and 97 years old, three women and two men. Of the total deaths, two were recorded in Tenerife, two in Gran Canaria and one in La Palma, all of them had previous pathologies and were in hospital admission.
The Accumulated Incidence at 7 days in the Canary Islands is 909.58 cases per 100,000 inhabitants and at 14 days in 2,518.51 cases per 100,000 inhabitants.
for islands, Tenerife it has added 284 cases with a total of 116,121 accumulated cases and 45,053 epidemiologically active cases; Gran Canaria It has 89,633 accumulated cases, 664 more than the previous day and 39,145 active. Lanzarote adds 87 new cases with 17,547 accumulated and 5,835 epidemiologically active; Fuerteventura it has 11,852 accumulated cases, with 45 new cases and 5,665 active ones.
The Palm adds nine new positives, so it has 7,240 accumulated and 1,331 active. La Gomera adds five new cases, so it has 1,406 accumulated and its assets are 130 and The iron adds 16 new positives, so its accumulated total is 1,331 and it has 307 active cases.
More than 4 million vaccines
The vaccination teams of the Canary Islands Health Service have reached 4 million doses of the vaccine against Covid-19, specifically, 4.081.521 dose.
In the archipelago there are already 1,814,201 people who have received at least one dose, which represents the 86,495 of the target population in which boys and girls between 5 and 11 years old have been included.
In addition, until yesterday it had been possible to immunize 1,708,678 people who have already received the complete vaccination schedule, which represents 81.46 percent of the target population of the Archipelago.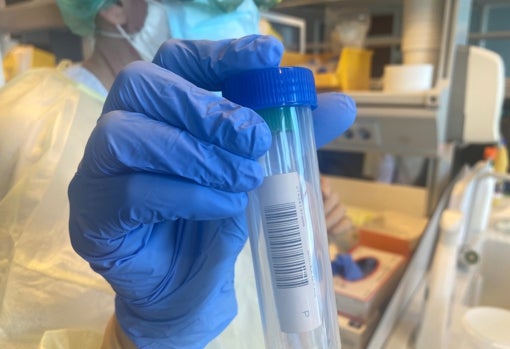 46.7% of children are vaccinated
have already been inoculated 63,947 doses of this vaccine to the pediatric population between 5 and 11 years of age, which means that the 46.71% of that age group He has already received the first dose.
At present, groups 1 to 7 (residents and healthcare and socio-healthcare staff in nursing homes; healthcare staff; large dependents and main caregivers; vulnerable people; groups with essential functions such as teachers and police officers and people with very high-risk conditions) and the 9 (population aged between 50 and 59 years that has already reached that percentage) are already vaccinated with two doses between 99.5 and 100%.

www.abc.es