Madrid
Updated:
Keep

While clinical trials aimed at developing a treatmentthe specific against covid-19 they have not yet been successful, hundreds of them are still active. The positive results have allowed the approval of a few drugs that, initially intended for other diseases, are more or less effective in containing the disease.
This reuse of existing drugs is a process known as drug repositioning. Its objective is to find new therapeutic indications for drugs already known and used. That is, using old drugs for new diseases.
This has led to antivirals for use against influenza, hepatitis or Ebola, such as remdesivir and the latest incorporated paxlovid and molnupiravir, are already used against the most serious phases of covid-19.
Nitric oxide and sildenafil
Among the hundreds of trials still under investigation are several that are specifically exploring harnessing the vasodilatory ability of nitric oxide. This has a proven action on blood flow.
The Nitric oxide, whose chemical formula and abbreviation is NOIt is a colorless gas that is soluble in water. It acts as a signaling molecule, is a messenger, and is involved in many processes related to vasodilation of the walls of veins and arteries (vascular endothelium), exerting a powerful effect on them.
It is indicated, for example, to treat respiratory insufficiency in newborns or pulmonary hypertension in cardiac surgeries in children and adolescents.
Sildenafil, the active ingredient in Viagra©, increases the vasodilatory effect of nitric oxide by relaxing muscles and improving blood flow in various organs of the body.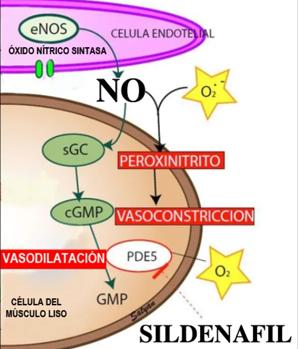 As seen in the figure, sildenafil It acts on a protein called PDE5 that is found mainly in the wall of smooth muscle cells (endothelium) in the lungs and penis, inhibiting vasoconstriction and acting synergistically with the vasodilator effect of NO.
Scheme of the role of nitric oxide (NO) as a vasodilator from the endothelium to smooth muscle cells and the synergistic effect of sildenafil. Adapted from Golombek (Neoreviews, 2017) by M. Jiménez. Golombek, et al (2017) Neoreviews (2017) 18(5):e327–e344.
For this reason, several research groups are starting clinical trials to determine the joint effect of sildenafil and nitric oxide in the treatment of symptoms, especially pulmonary, caused by covid-19.
Viagra, an accidental discovery
Pfizer was testing a drug in the 1980s for the treatment of angina pectoris, sildenafil. This active ingredient acted on the coronary arteries increasing blood flow to the heart.
However, sildenafil had a surprise in store that surfaced in clinical trials: volunteers participating in the trials reported an unexpected side effect in the form of surprisingly strong and persistent erections. In this way, a drug was discovered, totally by chance, for the treatment of erectile dysfunction.
These data were subsequently confirmed in massive clinical trials. Later in 1998, la Food and Drug Administration
(FDA) approved sildenafil, marketed as viagra, one of the biggest successes of the repositioning.
Advantages of repositioning
The repositioning strategy offers several advantages over the development of a new drug. For starters, the risk of failure, which is high in drug development, is lower. This is so because the repositioned drug has been shown to be safe, as it has passed the clinical phases and is already being used.
What's more, development times they are also reduced since most of the safety and formulation trials are already completed. Third, less investment is required.
Taken together, these advantages result in lower risk and faster return on investment. In fact, it is estimated that the cost of introducing a repositioned drug It is $300 million, in front of the 2,000 or 3,000 of a new one.
Repositioning is therefore a way to speed up and cheapen the drug development process. In addition, it allows to make their life cycle profitable.
Repositioning in the context of covid-19
The importance of repositioning drugs in the search for treatments for covid-19 is evident in the fact that, in Spain alone, in January 2022, 70.3% of ongoing clinical trials for this disease fall under therapeutic repositioning.
Not only that. Since the beginning of the pandemic, several macro essays internationally in this regard. stand out Solidarity, promoted by the
WHO, Y Recovery, funded by the
Oxford University
. None yielded conclusive results for the originally included drugs, but studies continue with new drug proposals.
Examples of the compounds that are being used are listed in the table.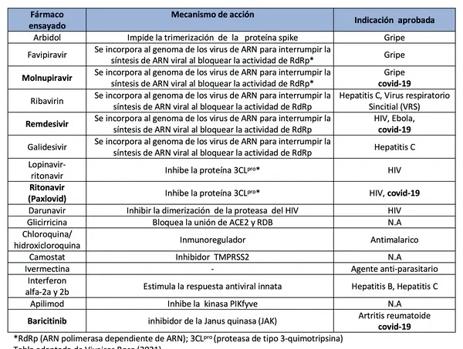 Some examples of drugs tested by repositioning for the treatment of covid-19. Adapted from Viveiros, R. (2021) by N. Campillo. Clinical trials on drug repositioning for COVID-19 treatment. Rev Panama Public Health. 2020;44:e40
More sustainable drug development process
In recent years, models have emerged to make drug development a more sustainable process and contribute to a circular economy. Among them, the 10 principles of sustainability recently published by Wynendaele applicable to the early stages of drug development.
Since medicines are a crucial part of the health system, it is necessary and socially fair that everyone has equal access to them.
diseases that they have no cure or forgotten diseases they may not be a priority considering the relationship between cost and benefit. In these cases, repositioning plays a strategic role, as in new infectious diseases such as covid-19.
The opportunities offered by repositioning, derived from real-world data and the use of artificial intelligence, can catalyze solutions for these unmet clinical needs and accelerate a socially just distribution of health care around the world.
Serendipia
Drug repositioning has occurred on many occasions due to serendipia o casualidad. In addition to the famous viagra, there are others that are also well known, such as thalidomide which is currently used to treat certain types of cancer such as multiple myeloma or as a treatment for severe erythema nodosum leprosum.
Another curious case is minoxidil, originally indicated for the treatment of ulcers. In tests with dogs, the compound did not heal ulcers, but it proved to be a powerful vasodilator and went on to be studied as an antihypertensive drug, an indication for which it was approved in 1979 with oral administration.
But during clinical trials it was found that some of the study participants had an increase in the amount of body hair and it was also reformulated as a topical treatment to reverse hair loss.
We are therefore witnessing a new attempt to reposition the sildenafil, taking advantage of its already known effect on the vasodilator action of NO, which could lead in the future to a therapy for covid-19 that would probably have a very favorable reception.
We have no doubt that the results of the trials will be awaited with great interest. But until it is verified, we must follow the recommended prescription and avoid self-medication, however glad they cause the side effects.
Originally posted on
The Conversation ES.
Maria Mercedes Jimenez Sarmiento
CSIC scientist. Systems biochemistry of bacterial division. Scientific communicator, Margarita Salas Biological Research Center (CIB – CSIC)
Maria del Carmen Fernandez Alonso
Researcher. Scientific communicator, Margarita Salas Biological Research Center (CIB – CSIC)
Nuria Eugenia Campillo
Senior Scientist. Medicinal Chemistry, Margarita Salas Biological Research Center (CIB – CSIC)

www.abc.es