Pablo Heras-Casado (Granada, 1977) has had a son, has written a book and has planted a tree (well, several). And in a few days, moreover, you will also be able to boast of having made a Wagner Tetralogy. What more can you ask of a conductor? On Wednesday, the man from Granada will premiere 'The Twilight of the Gods', the fourth and last opera of the Wagnerian 'Ring' that he has directed the last four seasons -one title per year- at the Teatro Real; his face mixes satisfaction, concentration and responsibility in equal parts. «It has been the most important project of my career… Of my life», he affirms bluntly. And it is that half of this Tetralogy has been carried out in the middle of
a pandemic, which has made escalation even more difficult.
How do you feel at the premiere gates? Did you ever think you wouldn't make it this far?
When something as tremendous as a pandemic happens, which is lasting much longer than we thought, there is no time, at least in my case, to think about the practical consequences, what is going to be possible or what is not. We all experience a huge number of cancellations; life in general was canceled, or separated or suspended. When the time came for the third opera, 'Sigfrido', we had been there for almost a year, and the Teatro Real had begun to function and had been working hard to create a system that would make it possible to work in safe conditions. But when 'Siegfried' arrived, they had to consider how to accommodate an orchestra twice as large as operas like 'La Traviata' in the pit. I am very similar to Joan Matabosch, the director of the Teatro Real; When faced with problems, I don't complain, but I think about how to solve it. And with the efforts of everyone: technicians, theater staff, orchestra, we invented the way to do it and carry out the performances. We thought that this year we would have returned to normal, but it is not. We already had the laboratory from last year, and we continue with the same pattern.
Do you use the same arrangement, with musicians in the pit and in various boxes?
We have the opportunity to have a little more rope, which is very good and relieves. It relieves when it comes to balancing the instruments. And we keep harps and percussion on one side and brass on the other. It is an unthinkable challenge. But I don't ask myself if it's difficult; They are the elements that I have and with them I work. It is as if an athlete, accustomed to running a distance under certain conditions, suddenly had an extra weight of several kilos put on him without warning him beforehand. It costs him more, but he pulls forward and runs the same distance. It is tripling the coordination work, which is very, very complex. But we work to achieve it.
The opera lasts almost five and a half hours. Is special physical preparation necessary?
I've been in this directing business for a few years now; there is a rhythm and the body is already made to it. It is also very important how you cope from the mental point of view; the response of the body also depends on it and how it channels energy. An important part of that preparation must be carried out during the rehearsal process. And it is essential to calculate very well the times of calm, rest, silence, and dose energy. This works intuitively. You get to know yourself over time and you know what the work demands, its dramatic and physical energy, and also its length. And you have to know how to find moments of disconnection.
I imagine it reduces your social life.
Very much. Yes Yes of course. I am living here, just 100 meters from the theater, and my life is practically reduced to the theater and my house. It is not a question of isolating yourself in a bubble. Absolutely. But yes to reduce social life to the maximum.
You say that you have read the libretto as much or more than the score… Are they a perfect unit in this opera?
Absolutely. It's very clear. The orchestral score is the skin, but sometimes it is also the heart of the word, of what is being said. When I work on the text, on the libretto, I try to musically have the same dramatic immediacy as spoken language. It is the language of Wagner; it is his revolution when it comes to composing something that is not opera, he destroys the artistic form itself from within. That is why step by step in such an extensive work is so important to me; Knowing word by word deeply, and how that then becomes sound and expands through the orchestra.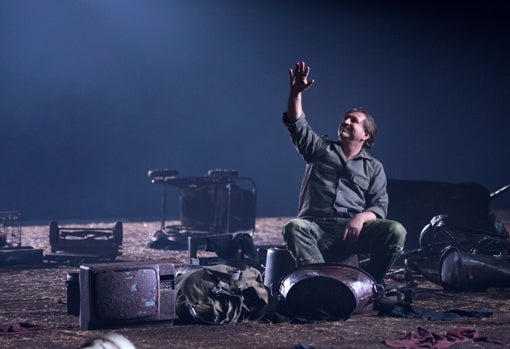 What is unique about 'The Twilight of the Gods' with respect to the other three?
It is a step further in this revolution, in this connection that it establishes from the world of the gods and the mythical world with the real world, with real, human, flesh and blood characters, with the chungos. It makes everything much more dramatic; the course of events accelerates, they unfold in a much denser, tense and darker atmosphere. And this translates to the orchestral writing as well, which Wagner continues to expand and enlarge; It continues to be extremely difficult for any musician to face this score, due to its density, intensity and extension.
And the most difficult thing is to play the notes or what is between the notes?
Both. Playing the notes is very difficult already in this kind of music. The dramatic arc is essential; it is very important to know how to lead such long scenes towards dramatic paths, to search for sound, to search for density, balance. But gesture and transparency must also be passionately pursued, so that the transparency of the script also works. The score is so radical and so modern… It is written with such a contemporary attitude that if one pursues playing the notes the way Wagner writes them – every accent, every minute difference between a piano and a pianissimo, of a slightly longer or shorter accent, stacatto, a piano that it be radical or sudden – that if everything works as it is articulated by Wagner, it is already a huge step. Then, between the notes, everything that is there emerges, and the musicians understand what is from there, the dramatic course, what is between them.
Do you sleep well or are you obsessed with the sheet music?
I sleep well, yes. You don't sleep immediately after a rehearsal, or even less so after a performance; hours pass. But afterwards I sleep well.
Has this Tetralogy come to you at the right time; Has it been made to wait or would you have preferred to do it later?
I think it's just the time. Absolutely. When an opportunity comes you have to go for it, because it will never be the right time. In almost everything in life, for any new situation, any challenge, to take a step on a personal level, to have a child… it will never be the right time. But you know when you can pull it off and you know it's going to be a challenge. But that is the wonderful thing about life, that it puts you on the path of opportunities to grow. It is true that I would not have done it before, nor have I pursued it despite the fact that I have been directing for 27 or 28 years and have done all kinds of repertoires; but with Wagner, and with Bruckner even, I was never in a hurry. But obviously when an opportunity like this comes along, when someone with the vision and experience like Joan; In a theater that I already know, you can't say no. It was the time, the place and the way to do it. And I am totally convinced that it is time to still conserve fire and energy, curiosity and freshness, but also to have an important vital and musical background to do so.
Is the 'Tetralogy' a turning point in a musician's career?
I think so. No work, no experience, leaves you the same; but of course, a work with the dimension of this obviously transforms you. And for me it is an important turning point, which coincides with a general turning point. And it is very, very gratifying to feel that everything goes hand in hand. I think it has never happened to me as much as now. I feel that there is a communion between the man and the musician. It's fantastic.
He has written a book, he has had a son, I don't know if he has planted a tree… He has directed a 'Tetralogy'; there is nothing left for him to do.
I have planted a few trees, some lemon trees and a few cypresses. I have a wonderful son and I have written a book that has given me great satisfaction as well. And I have made a Ring of the Nibelung, yes. Best of all is the perspective that each of the experiences opens up for you. This ring will always accompany me, and I will accompany my son every week, every day… He transforms me too. Having the opportunity to see those trees grow… It's not so much about getting things as about seeing them grow and accompanying them.

www.abc.es