Madrid
Updated:
Keep

As soon as you set foot in the studio Jacobo Castellano (Jaén, 1971), one is enveloped by that halo of good vibes and professionalism in equal parts that characterize this sculptor. Joking, expressive and very restless. His professional career began around the year 2000, when a recent graduate in Fine Arts from the University of Granada landed in Madrid: "I was young and I bet." He always had the support of his parents: «They guided me. It was clear to me since I was 13 or 14 years old, "he confesses.
He discovers his passion for sculpture as a result of facing a serious health problem: «I had the bad luck to get intoxicated with a series of toxic products (turpentine, varnishes…) in college and there I found the drift towards sculpture.
I started working with things that didn't smell. It was an obligation." What's more, he likes to joke that Spanish painting hasn't lost anything without him: "No one misses my paintings."
Delve into the miseries
When asked about his work, he defines it as «a search for oneself, looking at the past and at the strongest tradition; reviewing the great classics; and delving into my own miseries». He has never sought to give it a social or controversial aspect, but rather to base it on sculptural elements such as weight, shape or the search for materials. "I don't think I'm a renovator or an innovator of sculpture"says the artist. "I base myself on and recognize myself in tradition." And it is that his work does not consist of reviewing forms and sculptors of the past to understand what is happening today. It simply tries to give continuity to those artists who, in some way, have made it "change the way of existing". Despite having a fairly wide arch, the figure of Alonso de Berruguete, Martínez Montañés, Thierry de Cordier or Mark Manders.
Taking a look at the origins of Jacobo Castellano leads to a single destination: Villagordo (Jaén). It is precisely in this small olive-growing town where he discovers his fascination with wood thanks to all the materials present in his maternal grandparents' house: "That was the beginning of my sculptural praxis and understanding of materials."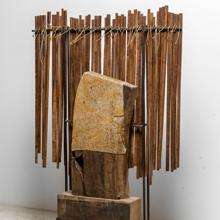 He has always worked with objects steeped in history and continues to do so even today. "I'm not interested in old objects. I am interested in lived objects and with a certain intensity». To demonstrate this, he gives as an example the incorporation in one of his works of his grandfather's old projector, owner of the first cinema in town: «I don't use the projector, I use what it meant. That is to say, that in an olive-growing town of humble and practically illiterate people, the cinema was a window to culture». He not only manipulates the historical burden and the weight of the experiences, but also the memories of his childhood in Granada. That yes, "from a point of view nothing geek or melancholy" and always "outside the religious."
For the pause and not being in a hurry
Castellano, who recently signed for
the Maisterra Valbuena gallery, has always been to go further, to look at side B of the tape. And he is satisfied that the spectators of his exhibitions do the same when they go home: «I am not trying to provoke anything in the public, but to open windows that have always been closed in other people's heads».
Honesty and dedication are emotions that never fail in any of his works Regardless of their size or theme. «In all of them there is a passion and dedication to doing things the way I think they should be done. There is an honesty that is transferred to mine as a person, "he is sincere. None of his pieces is made in a hurry and he has even given up exhibitions for not arriving on time: «The identifying element of all of them, beyond the materials, is an attitude towards the profession itself, which, in this case, is the pause and not being in a hurry».
Regarding the routine of an artist, he underlines the need to go to the studio every day —a minimum of six hours— whether or not he has contact with the materials, since many days are simply based on sitting down and reflecting. Married and with two children, he assures that "it is an easy job to reconcile if you understand that, if you slept eight hours before, now you can only sleep five."
Time pulls him out of sleep though insists on demystifying his profession: «This is as complicated as dedicating yourself to something else. Artists are ordinary people with the chores and problems of the whole world». Being a father changed both his rhythm and his way of working: «I learned to save time in the study, that is, to get rid of nonsense». If he had thrown numbers, perhaps he would never have dedicated himself to this. Even so, he confesses that "you can get to live very well with a lot of work and that bit of fortune necessary in any profession."
Whenever possible, he tries to foster a good relationship between professional colleagues because sharing experiences is something very positive. "This is perhaps not observed from the outside because they see us as lone wolves that are in their study", recognize. Highlighting the best of the profession is easy; the worst, it costs him more: "I love what I do, I see practically nothing wrong with it," he alleges with a laugh.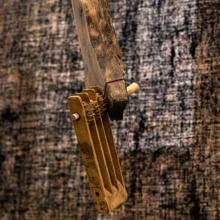 He does not pigeonhole himself as an artist because change and intuition are essential elements for him: "Many times the success of a piece is achieved after the thousands of discards that have already occurred". More than improvising, he intends "not to lose his way because it offers the possibility of changing and modulating things". Even he himself admits it: «I will never finish a piece for you the same way it started». On the other hand, he has never been one to present himself to awards and his greatest achievement has been to always be able to dedicate himself to what he is passionate about: «For me, it is a gift. Well, no; it is about the achievement of many years of work».
Throughout his career he acknowledges having been very critical of himself "at all levels". And every time he opens an exhibition, his head is already thinking about the next one: «I only see mistakes and blunders. Almost that one is ashamed when he exposes ». But he assures that, "if you want to reach high levels, of course you have to be critical of yourself."
Adversities also have a place in the world of art. One of the most difficult moments of his career, the time he considered leaving her due to economic difficulties: «There have been periods when I was unable to generate money. That's when you think about quitting. Not forever, but for a time and always with the healthy will to return to it. Fortunately, he did not have to make such a decision.

www.abc.es