Madrid
Updated:
Keep

About two million years ago, our ancestors changed: their brains grew larger, as did the rest of their bodies, which accommodated themselves so that they could stand upright and walk on two legs. arose the Standing man, the key evolutionary transition to what we are today. But what is it that prompted such modifications? One of the most powerful theories to date suggested that it was a change in diet, specifically the eating more meat, was the determining factor that 'made' us human. However, a study just published in the journal '
Proceedings of the National Academy of Sciences' (PNAS) questions this hypothesis, stating that, in fact, there is a very important bias in the research.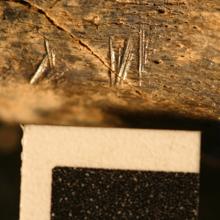 This idea bases its veracity above all on the enormous volume of animal bones with cut marks found, which would indicate that, indeed, the H. erectus ate this food. And a lot. But this ancestor was not the first to eat meat. What about the evidence that your ancestors also had that 'carnivorous' taste? The team led by Andrew Barr, professor of anthropology at George Washington University and lead author of the study, set out to compare existing records between 2.6 and 1.2 million years ago in the main archaeological sites in Africa, comparing the evidence left by not only the H. erectus, but also the H. habilis oh go H. rudolfensis, among others. And he realized that, in fact, everything indicates that the researchers focused on looking for that type of trace during that specific period, possibly guided by the belief that this specific change in diet was decisive for our evolution.
"Generations of paleoanthropologists have gone to famous sites, such as the Olduvai Gorge (one of the candidates for 'Cradle of Humanity'), in search of direct and incontestable evidence that early humans ate meat, which led to an explosion of evidence of its consumption two million years ago, says Barr -. However, when you quantitatively synthesize data from numerous locations in East Africa to test this hypothesis, as we have done, the 'meat made us human' evolutionary theory begins to unravel."
The more research, the more results
Specifically, Barr and colleagues collected published data from nine important African deposits, including 59 levels of sites dating between 2.6 and 1.2 million years ago. They used various metrics to track hominin 'carnivorous taste', taking into account the number of animal bones that have cut marks made by stone or other tools, in addition to the number of separate stratigraphic levels found.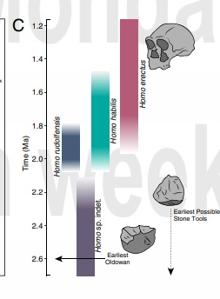 And the results were revealing: there is actually no clear and sustained increase in H. erectus ate much more meat than other species, and that the increased evidence is due to the increased intensity of archaeological work. That is, the longer and with more resources you search in a specific place, the more likely you are to find what you are looking for, in this case, animal bones with cut marks. Pointing to this hypothesis, the researchers also found that the count of modified bones was "strongly correlated" with the finding of associated stone tools.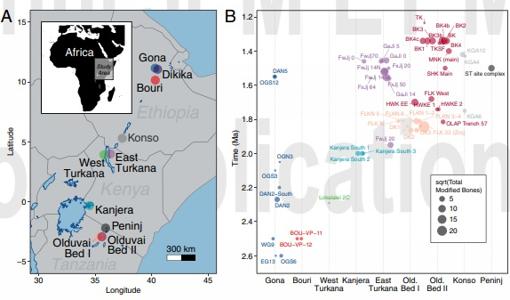 "I have excavated and studied cut-marked fossils for more than 20 years, and yet these results have come as a surprise," he says. Briana Pobiner, a researcher in the Human Origins Program at the Smithsonian's National Museum of Natural History and co-author on the study. "This research changes our understanding of what the oldest zooarchaeological record tells us about prehistoric meat consumption. It also shows how important it is that we continue to ask big questions about our evolution, as we continue to discover and analyze new evidence about our past."
What could have actually happened?
But if it wasn't the meat, what factor was it that caused our brains to grow, our intestines to shrink, and our physical appearance to turn from 'wild' to what we are today? There are several theories about it, such as increased the consumption of vegetables contributed by the collectors or that the fire development and control it was an opportunity to take advantage of the nutrients thanks to techniques such as cooking. The idea has also been considered that increasingly complex social relationships of our ancestors contributed to these changes. "However, none of these possible explanations currently have a strong basis in the archaeological record, so much work remains to be done," the researchers note.

www.abc.es