Updated:
Keep

The Minister of the Presidency, Relations with the Courts and Democratic Memory, Félix Bolaños, delivered this Thursday to the president of the Spanish Federation of Municipalities and Provinces (FEMP), Abel Caballero, a document and a 'pendrive' with the information corresponding to the assets registered by the Catholic Church for the location and subsequent restitution from the municipalities to their legitimate owners.
Of the 965 assets that will now have to search for their owner, the majority are country estates (502), followed by places of worship (179), urban farms (151), homes (98) and cemeteries (38).
[
Consulta aquí el documento con todas las propiedades inmatriculadas]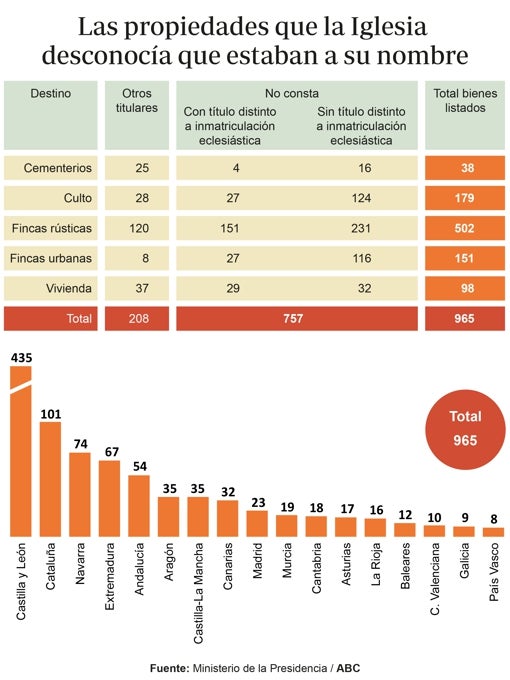 In the report that the Government has delivered to the Spanish Federation of Municipalities and Provinces (FEMP) some data stand out.
In addition to homes, in the document there is evidence of at least six schools, located in Laredo, Callosa de Segura, Puebla or Pego. In Barcelona, ​​on the other hand, there is a site registered for sports facilities by the Society of Saint Francis de Sales, known as the Salesian Congregation. A storage room, garage, cellar, hermitages and even meadows or farm fields add to the list.
This document also highlights those properties that are even submerged in reservoirs. This is the case of the hermitage of Granadilla (Cáceres), but also in Argusino (Zamora), where the reservoir flooded a cemetery, an orchard, a church and a rustic property.
By autonomous communities, Castilla y León, with 435 of these properties, is the one with the largest number of assets that will now have to be legalized. It also exceeds one hundred (101) Catalonia. The community that concentrates the least of these poorly registered properties is, on the other hand, the Basque Country, with 8.
The Church divides these errors into four types, although the total number of these does not coincide with the data handled by the Government. On the one hand, there are the goods on which data is missing for their identification, that is, records unknown to the dioceses and they add up to 608. In another section are those on which there is no registration, a total of 31 records. In addition, errors are detected in another 28 properties or there is no information about them in the dioceses. Lastly, 276 assets belong to other owners, that is, they are not property of the Church because they have already been sold, donated, expropriated, belong to City Councils or because there was some error in the property registration.

www.abc.es