London
Updated:
Keep

Data from the British consultancy You Gov shows that 62 per cent of the UK population dislikes or has a negative opinion of the Prince Andrew (61 years). However, it seems that the one known as 'favorite son' of Queen Elizabeth II is not aware of the few philias and the many phobias that he provokes, since he has requested that the trial he will possibly face for the accusations of sexual abuse be with a popular jury made up of 12 citizens and not a judge. Perhaps he considers that the American public will be more benevolent – the lawsuit was filed in New York – or simply his lawyers believe, for some legal reason that has not been explained, that this is the best way to get out unscathed from the bitter ordeal that awaits him, not only to him, but above all to his mother, who at almost 96 years old is not up to these troubles.
By officially responding to the lawsuit for sexual abuse of Virginia Giuffre, 38, one of the victims of the plot of rape and abuse of the deceased pedophile Jeffrey Epstein and of his 'Madame', Ghislaine Maxwell, and who assures that when she was 17 years old she was forced to have relations with the Duke of York, he once again defends his innocence. In addition, in the document of a dozen pages presented to the US court on Wednesday by his lawyers, led by Andrew Brettler, he also denies that he was a "close friend" of Maxwell, although he admits that he met Epstein in 1999.
Rejection
It also asks that the case be dismissed for several reasons, including that Giuffre is currently an Australian resident; that too much time has passed since the alleged events or because the plaintiff would have waived her rights after signing an agreement with Epstein in 2009 in which she agreed not to sue anyone related to the pedophile who could be considered a "potential defendant". The document, released by a New York court earlier this month, reveals that the tycoon paid Giuffre half a million dollars (about 450,000 euros at current exchange rates) for his signature on that deal.
With regard to the photograph that has gone around the world and in which Prince Andrew appears to be hugging Giuffre around the waist when he was still a teenager, and which the plaintiff claims was taken at Maxwell's house in London "before Prince Andrew sexually abused her, the lawyers respond that her client "lacks sufficient information to admit or deny the accusations contained in paragraph thirty-eight of the lawsuit."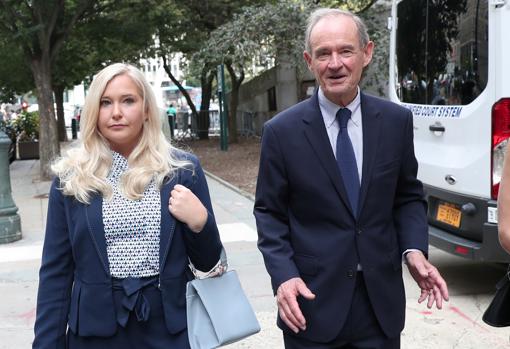 Giuffre sued the little brother of Prince Charles in August of last year and on January 12, Judge Lewis A. Kaplan gave the green light to the case, which if not resolved with an out-of-court settlement could end the monarch's third son. Englishwoman sitting in the dock next autumn, specifically sometime between September and December, provided, of course, that she decides to stand, an option that many consider impossible. However, his request for a popular jury has raised the question of whether that means he would be willing to show his face, something that some real experts see as the only possibility for him to clean up his image, although only, of course, if he were declared innocent. In any case, the data indicates that more than 90 percent of civil cases in the United States are resolved before reaching trial. Perhaps this is the hope of the accused.

www.abc.es