Madrid
Updated:
Keep

Pulling optimism in the forecasts also tends to push the economy up, simply by contagion that this situation is real. That's what some analysts say happens with the estimates and that must have thought the Government of PSOE and United We Can when they reflected their GDP calculations for 2021. Reality has been a slap in the face for the Executive's 'kitchen' since the deviation in its forecasts on the GDP data advanced by the National Institute of Statistics (INE) has turned out to be enormous.
The INE has advanced that the economy grew by 5% year-on-year last year. The data will be ratified -or not- when more statistical evidence is available on what happened in the last
quarter of the year, but it acts as a thermometer of the failures of the Executive.
The Government has had two very different forecasts throughout the past year. The initial one kept it in force until April 2021 and was for an expansion of 9.8%, with a large boost from European funds (2.6 points). The difference with respect to the INE data is 4.8 points, which is equivalent to almost 54,000 million less GDP. To put this data in context, it is more than double what the Bankia bailout cost and for which United We Can tear their clothes so much.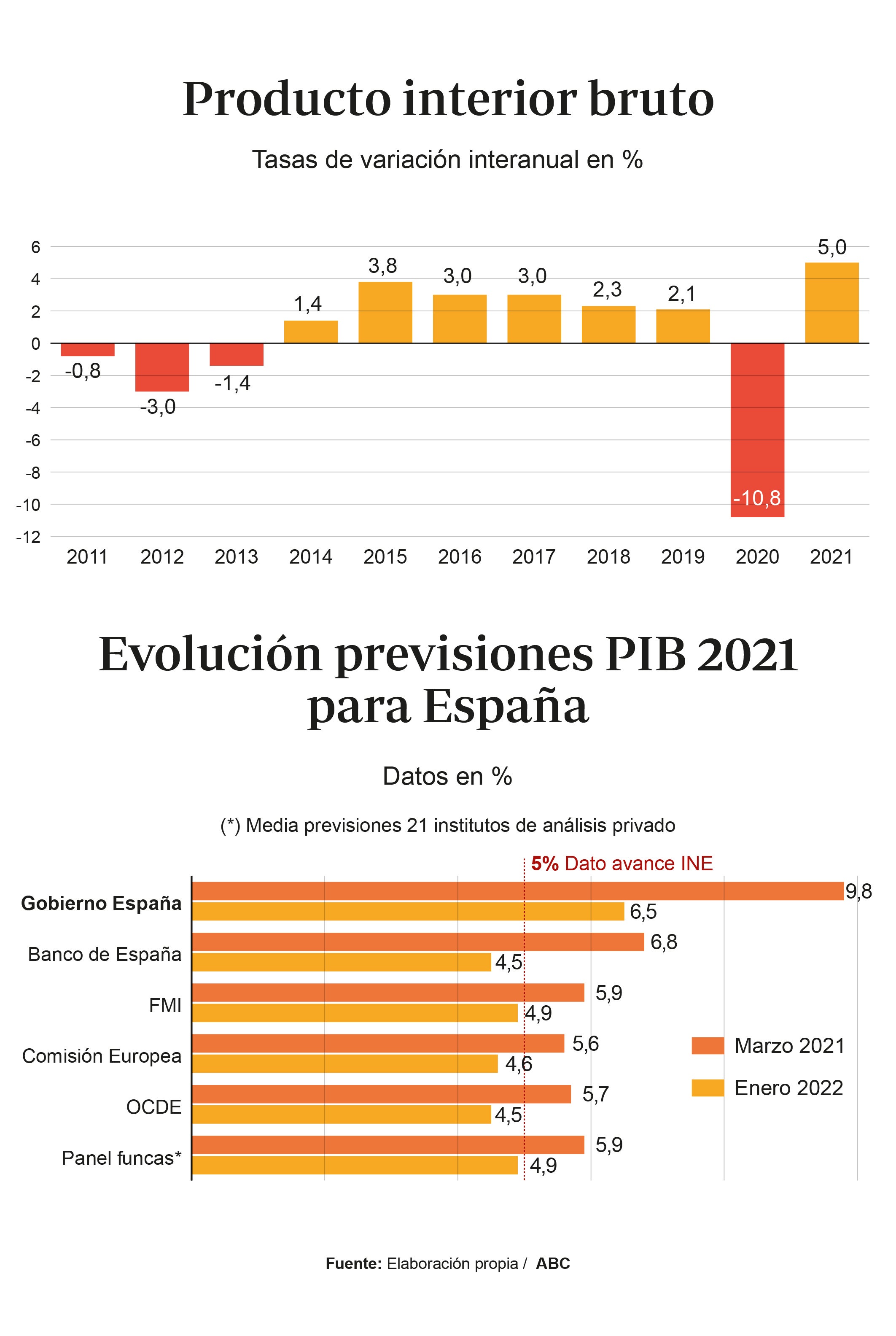 In April, the Treasury introduced the stability program update. There the optimism was already contained, although not completely. They snipped estimates up to 6.5%, which they have officially maintained to date. Even so, this figure is still 1.5 points above growth revealed by Statistics, which is equivalent to almost 17,000 million.
There is a third unofficial 'estimate' of La Moncloa. President Pedro Sánchez said in mid-January that GDP had rebounded in 2021 by more than 5%. He wasn't right either.
The problem that the Government has made such a mistake in its calculations also lies in how badly it appears in the photo with respect to the set of institutions and analysis houses. Taking the Funcas panel as a reference, the consensus of analysts in March pointed to 5.9% growth in 2021. These are 3.9 points less than what I expected then in the Executive. The European Commission forecast 5.6%; the IMF, 5.9%; and the OECD, 5.7%. Not even the Bank of Spain in its most optimistic scenario -not the most feasible- matched it, forecasting 8.6%. The Executive was the one who made the most mistakes.
Following the last available panel, from this month of January, the Government was also the one that made the most mistakes. The consensus of analysts predicted a rise of 4.9% last year. Among the set of institutions and analysis houses, the highest prediction was from the Center for Economic Prediction (Ceprede-UAM) with 5.2%; all the others were below, while the Government maintained its 6.5%.

www.abc.es