MADRID
Updated:
Keep

The little more than 3,500 kilometers that separate Madrid from Istanbul have not been an obstacle for Angela Martin (who lives in the Spanish capital) and Alicia Lopez-Ulloa (in the Turkish city) founded, and manage today, MU the Brand. Also, in the midst of a pandemic. It was precisely this health situation (and the increase in teleworking) that gave rise to these two industrial engineers to create and design their sneakers. "We realized that with the pandemic people wore more comfortable shoes," says Alicia.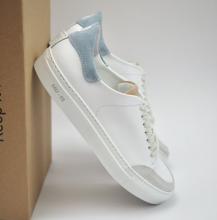 In the DNA of this startup, in addition to having that purely digital vocation and working remotely, there are two other keys: sustainability and recovering the good work of Spanish footwear manufacturers. "We want to give opportunities to the craft industry.
We work with third and fourth generations of traditional footwear manufacturers from Elche, who find it difficult to find people to work in their factories and learn a trade, which is being lost", explains Ángela.
MU the brand's sneakers are unisex, minimalist and with attention to detail. In fact, the back embroidery is made by hand. «As the traditional technique is also used by hand to assemble the sole to the body of the shoe. Leather works better sewn than glued. In addition, it is more sustainable this way because glues or glues are not used to join the sole to the shoe. It has zero chemical component, "explains Ángela.
With the skin it also develops a work of sustainability. "Our leather is one hundred percent Spanish, of good quality and durability. It is certified organic, sustainable and recyclable leather", says Alicia.
MU the brand presents five different sneaker models. One of them vegan (the MU-05 series). "We understand that the future production trend will be supported by this type of material. We want to closely follow the advances and research into non-animal alternatives and that is why this special vegan line was born. Our R+D+i line is focused on finding new alternatives such as wool, organic waste skins and microfibers».
They are now in the process of researching new textiles to produce a line of their freshest sneakers for spring and summer. At the moment, all the sale of MU the brand shoes is done through its online platform. However, they look for multi-brand stores with high quality products where they also offer their sneakers. "We want all points of contact with the client to maintain our essence," concludes Alicia.

www.abc.es