Madrid
Updated:
Keep

Coinciding with his 28th birthday, last Thursday, January 27 Georgina Rodriguez premiered on Netflix 'Soy Georgina', a docureality of ten chapters in which she exhibits her life as a mother, 'influencer', businesswoman and partner of Cristiano Ronaldo.
A documentary in which all aspects of his life are revealed, from the most public and well-known part to the most personal. In it, the 'influencer' exhibits her life of luxury surrounded by haute couture and jewelry, but also her day-to-day life as a mother and her relationship with the soccer player. "Thanks to love, now my life is a dream," she confesses in one of the chapters in which she recalls her past as a clerk in a Gucci store in Madrid, where she met the striker: "He is a supernormal, wonderful man," she says about the father of her first daughter, Alana, and fourth for the Portuguese, who has three other children –Cristiano Jr and the twins Eva Maria Y Mateo– conceived by surrogacy. A great family to which some twins will be added next spring.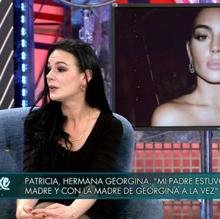 Taking advantage of the 'pull' that docureality has had, her sister on her father's side, Patricia, has sat this weekend on the set of 'Saturday Deluxe' to harshly attack his sister. «I am glad that my sister has done well but I would like her to take me into account, not to forget that I exist. He told me, for example, that he was going to help me with my children's school books and I'm still waiting", and added: "Georgina is very supportive of children in need but not with her nephews. He didn't want to bother Cristiano to sign a shirt for my son because he was on vacation." In addition, Patricia confessed that she had not seen the influencer for more than ten years and three years without speaking, although -as she claimed- there was a wonderful relationship between them and it was her father's imprisonment that separated them: «Our father was with Gio's mother and with my mother at the same time, my mother knew it and consented to it. When my father went to jail and my mother died, Georgina's mother took care of me for a while but immediately put me in a reformatory in Jaca». After the death of her father, the relationship between the two was definitely broken: «Three years ago our father died in Argentina due to heart failure and my sister didn't even pay for my ticket to fly there knowing that I had no money».
Some statements that have not fallen on deaf ears because, this afternoon it was Georgina herself who responded to her sister through her Instagram profile. "I want to thank my family. The one who hasn't let go of my hand since I came to this world. Thanks to my mother and my sister Ivana for accompanying me on the path of life, because we have always been a small family of 3, but this has made us unconditional and inseparable. Thank you mother for the values ​​you instilled in us, which today I cannot live without. Love and respect. Thank you Cristiano for your humanity, generosity and unconditional support in everything I do. We walked without looking for each other but knowing that we would find each other », he has written along with a promotional video of his docureality.
«For me it was unimaginable to be in the world top 10 in just 1 day and I couldn't be happier and more grateful».



www.abc.es