Toledo
Updated:
Keep

Almost three years have passed since the last visit to Toledo of Julia Navarro (Madrid, 1953) to present one of his novels. In 2019, due to the coronavirus pandemic, he did it with his previous work, 'You will not kill', and this Monday it does so at 7:00 p.m. in the Library of Castilla-La Mancha with 'From nowhere' (Plaza & Janés), a journey to the confines of the consciousness of two young people, Abir and Jacob, whose lives intersect in a refugee camp in southern Lebanon. Both, eternal exiles from themselves, will meet years later in Brussels with Islamist terrorism as a backdrop. The weight of the past, revenge, uprooting, multiculturalism, xenophobia, the role of women or that of the media are the ingredients of this story with an explosive ending that will not leave anyone indifferent.
The two protagonists of his novel have many things in common, but they react differently to their circumstances. Do you think that each one responds in their own way to one of the pillars of Ortega y Gasset's philosophical theory: "I am myself and my circumstance"?
I always believe in the freedom of man, who has the last word to decide his destiny, but there is no doubt that circumstances weigh and condition us. It is not the same to be born in a refugee camp in Lebanon than in Paris. Growing up in a middle-class family is not the same as being a refugee who arrives in a country with just what he wears.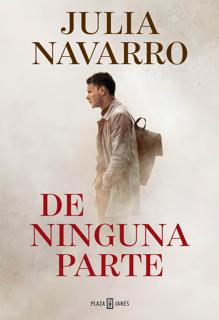 Both characters, due to these circumstances, are deeply rootless and, hence, the title of the novel. Don't you think that this feeling is more present now in a world as relocated and globalized as the current one?
This is the leitmotiv of 'Nowhere' and my novels, in general. Today there are millions of people who, because of wars or misery, have to leave their countries of origin and go elsewhere. This entails having to change the language, but also acquiring new customs, other codes of values ​​and conduct, something that is not always easy to manage. Therefore, uprooting is one of the hallmarks of this century and sometimes there is no look of generosity or solidarity towards those who come to live among us.
As some of its characters defend, multiculturalism is not bearing the expected fruit. Do you think all is lost?
We must distinguish between what is culture and what are customs. I do not believe in the clash of cultures because culture is poetry, music, painting or any manifestation of art, and we all have a more open mind towards these cultural expressions of others. But another thing is customs and values, which is where the clashes between one and the other take place.
The result of this are the messages, increasingly radical, populist, demagogic and xenophobic, to which social networks are added as the perfect breeding ground. How can you fight against it?
With education and solid values, which are what should be taught at home and at school, such as human rights, respect for others and humanism, which is the essence of Europe and we forget about it because it was disrupted after the economic crisis of the 2008. We must keep this in mind because this civilized Europe should be ashamed of hosting refugee camps within our borders, as happened after the crisis in Syria.
In this sense, what do you think of Vox's speech?
I find xenophobic messages disgusting. All human beings are equal. We may speak a different language, we may pray to a different god, we may have different customs, but in the end we share the essence of humanity. For this reason, speeches like those of Vox should concern us and we should fight them as a society, and also individually.
The role of journalism
Although there are exceptions and some brutes follow the Vox line, I think the media do not fail this subject. I have the feeling, from the newspapers I read and the messages I hear, that journalists normally try to analyze the migratory phenomenon and the human drama that immigration entails.
Another theme that is touched on in his novel is the role of women in the Islamic world. Do you think there may be some hope of change for them?
All women, no matter what country or civilization, have always had to pay a very high price to obtain quotas of freedom that allow us to manage our own lives. Thus, there are still places where customs have relegated women to a role, no longer secondary, but practically non-existent. That is why many of them, when they come to the West, discover that there are other ways of living and that we are in control of our lives. For this reason, there are women who decide to free themselves and clashes occur in the family sphere.
'Nowhere' went on sale just at the time of the departure of US troops from Afghanistan, a setting that appears in the novel as the largest training center for Islamic fundamentalists. He has already criticized it several times. But what do you think about that decision?
The departure of US troops from Afghanistan was not exactly heroic, but shameful. They have left the Afghans abandoned, since the Western presence had opened small cracks for change and freedom in the country, but overnight the United States decides to leave and the Taliban arrived in Kabul (capital) like the one they goes on an excursion
'Tell me who I am' became an audiovisual product with which, as he has acknowledged, he had a "bittersweet" feeling. Have you had any other proposal to bring any of your novels to the screen?
No. Conversations with the publisher, yes, but they haven't gone beyond that. Even so, at this time it is not on my agenda to go through that experience again.
You have always been critical of prejudices about business literature. But, what is your opinion of the Carmen Mola phenomenon?
I find it to be a very interesting phenomenon and I don't understand why they tear their hair out when they learn that there were three men behind Carmen Mola, when they are three experienced and talented authors who have been able to create stories that have captivated thousands and thousands of readers around the world. Congratulations and applause from me.

www.abc.es