Updated:
Keep

Industrialized construction has been gaining ground in the construction of houses and buildings, ceasing to be just an option for auxiliary services such as the well-known sales offices. It is a model that is based on the optimization of processes and in which some components are manufactured in production centers for their transfer and assembly at the construction site, using new technologies and specialized labor. With advantages for the professional and the client, there are already many who see a long way to go in this type of construction.
The Seville company Cimpra It is a pioneer in industrialized construction and has one of the largest factories in Spain in Utrera. "We started by manufacturing auxiliaries for traditional construction such as services, toilets, sales offices, dining rooms…", he says Anthony Aguilar, manager of Cimpra.
"From there, new systems and materials are implemented over the years, and qualities and points are added to this type of basic construction," he adds.
There are many advantages that Aguilar finds in this type of construction because «all work done in industry has quality controls that are much higher. Starting from that premise, with the implementation of new materials, a higher level of energy efficiency is achieved." More accurate delivery times are also achieved, not giving room for improvisation and obtaining closed budgets. "When working in industry, all unions are professionalized," he recalls.
Going from one construction to another was at first "a struggle with the usual projects. We eat our brains a bit at the factory to adapt it ». But nevertheless, they already work with architects who design industrialized construction. "It is a trend and a demand by the client." He believes that until recently it was considered a type of serial building, "something provisional, which was used to save on the budget." Thanks to the already existing examples, the customer has begun to value it. "In many cases you don't see the savings at an initial level, but you do manage to amortize the installations in four years because almost zero levels of home consumption are achieved," says the manager of Cimpra. The normal thing is to get 80% of the construction in the factory, but "we even have models with a finish level of 97%".
Cintra works in practically the entire country. They currently have a project for the Ports of Andalusia. «We are going to make some gourmet kiosks to give an offer to the marinas. These are buildings made up of two modules where they are given all the equipment to put it into operation in hours", says Antonio Aguilar. The minimalist touch that goes hand in hand with this type of building stands out, "with a medium, high and fairly high finish, because greater performance is sought". At first the strong part of the business was basic construction, but "it has been reversed and special projects represent 80%".
Time saving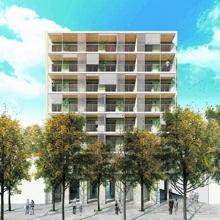 Two years ago, with the start of the pandemic, the Sorigué business group carried out its first industrialized construction project with the expansion of the Hermanos Trias i Pujol Hospital (Badalona). «We are currently executing the expansion of the Granollers hospital under the same system. The projects that we are starting now for the Barcelona City Council represent our first residential experience in this field. Environmentally, these projects will have an even more positive impact because we will work with materials such as wood for their structure, reducing the carbon footprint of the work", explains Xavier Gabarró, Building Delegate at Sorigué. One of the reasons that led this company to take the step to this type of construction was "time savings, which is decisive. You can carry out activities on site and in the workshop in parallel. On the other hand, you improve working conditions and have better control over the quality of the project."
Gabarró also highlights the rapid and environmentally sustainable response to the needs both in housing and in health or educational facilities that this solution provides. "It also represents a technological renovation in our sector, since it will imply a progress in construction systems and materials", Add. He also believes that industrialized construction must help reduce the environmental impact of the sector, with the implementation of new processes and materials. "In our case, it is what moves us in the projects we are developing."
growing interest
The architect Siegfried Herraez, dean of the Official College of Architects of Madrid (COAM), recalls that "each product needs its material and some go in the direction of industrialized construction, more and more". He doesn't defend him at all, but he doesn't agree with attacking her either. «Industrialization has to give some advantage for it to advance, it is not about changing one construction for another. What has been sold so far is that it is faster and cheaper. If true, it will go forward. But if that doesn't happen, we architects are going to defend the aesthetics that traditional construction gives you," he adds.
At COAM, the third edition of the Specialist Technician course in industrialized construction is taking place, something that demonstrates the growing interest in the matter. He believes that "there is a tendency in the public to think that prefabricated is worse, but in some aspects it has many advantages". He also points out that in emergency housing, for example, industrialized construction is a priority.

www.abc.es