Updated:
Keep

Maillo (1985), a graduate in Fine Arts from the Complutense University of Madrid, was prematurely curious about art, specifically painting: «There is no specific origin, being part of a process of childhood and adolescence».
He himself is remembered as a young man different from the rest, having a peculiar way of attending to and understanding the world around him.
"Who is the painter of the mountains?"
Maíllo recalls an anecdote from his childhood: «When I started to speak, the first thing I asked my mother was who had painted the mountains». Any question, he related it to painting.
«He was the typical one in class who drew very well», he had skill with the pencil. His teachers, observing the talent that he possessedThey encouraged him to continue in art, they even entrusted him with the end-of-year books at his school.
As a result of this, he continued his studies in art and design, completing the artistic baccalaureate and graduating in Fine arts. «Little by little, I continue to learn what art is, and even today, I still don't really know what it is», he jokes. But it is true that he is currently a promising artist, who lives exclusively from his work.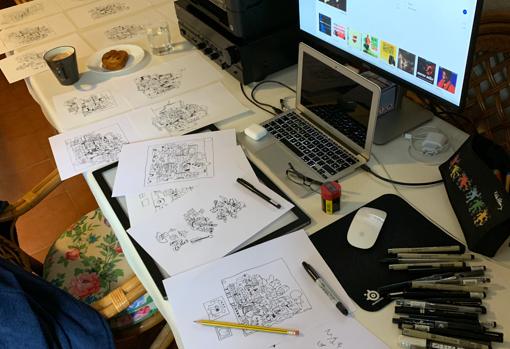 Before graduating, he was already earning some money with painting, doing some hyper-realistic commissioned works or being awarded in a contest. During the run, he got into the gallery system. «The key point is the exhibition I'n-Transit'», he remembers, that he does in 5th year, where he is selected by the commissioners Virginia Torrente and Javier Duero for an event that connected the university with the professional world of galleries. There he meets Jose Robles – gallery owner – who saw his work and suggested working with him. From then on, his professional career began, which today consists of more than ten years.
If there is someone he thanks, where he has arrived is his current gallery,
Ponce+Robles, who "support young Spanish artists, exporting their work to international fairs." Having a gallery is fundamental for an artist, especially for a young one, admits Maíllo. From his experience, he highlights how collaborate in various ways with them to develop and communicate their work; and not only are they in charge of distributing it and exhibiting it in the premises, but they also invest in publicizing the work outside of Spain, "something essential".
Get nervous
His motivation to create defines it as spontaneous: «If I'm not drawing I get nervous", it states. That is why Maíllo needs to be creating compulsively, something that he defines as "a platonic need" to constantly be doing something. His working method, his iPhone in one hand and the brush in the other, and being up to date, forcing the possibilities of canonical painting into a time "where everything happens at infinite speed".
The inspiration for his works is found in multiple ingredients: music, videos of
YouTube, the colors of the language of advertising, or his readings of poetry and essays, mixing elements of low and high culture.
Among his references are both the spanish baroque painting like different contemporary artists, before whom he tries to position himself as a mere spectator so as not to contaminate himself too much, because what he is looking for is «create to my liking, faithful to my own language».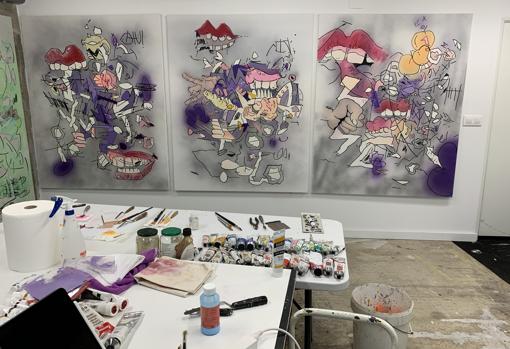 Maíllo, in his work process, simultaneously creates –in what he calls a «dadaist experience»– Very fluid nocturnal drawings, trying to capture the reality that surrounds him in ink on paper, which he later and lucidly traces like a palimpsest on a light table in a final piece. Later, with loud music, transfers the final idea to a large-format canvas, one of the things he likes the most, since it is "more corporeal and direct".
"I think that artist is born. Any human being without fear is an artist", reflects Maíllo, who defends the importance of "think creatively» regardless of the purpose of life of each one. From his point of view, the prevailing educational system repress alternative or tangential paths. The artist comments that subtle suggestions for the development of less gregarious lives can be found in contemporary art, and ends by saying that «the path of curiosity should be encouraged institutionally, but many things must be unlearned first».
If there is something that Maíllo would recommend to future generations of young artists who seek to become professional, it is to maintain their own freedom, not to pay too much attention to trends or comments from others, and, of course, «ignore frustrated teachers»; visiting galleries, museums, the studios of others and traveling to see what is being done outside of Spain… After all, he encourages them to "participate in the conversation of the art world without fear or complexes".

www.abc.es