The one of María Li Bao (Qingtian, 1971) is a success story built on the basis of hard work and tenacity. The Chinese businesswoman arrived in Spain when she was ten years old, forty years ago. She learned the trade in the restaurant that her parents opened in Aranjuez, the first ones she had to win over to take charge and let her introduce changes. He soon made the leap to Madrid and began to open more stores. His mission was to change the idea of ​​the anonymous 'neighborhood Chinese', elevate it and give it personality. He currently leads the China Crown Group, the name of its most emblematic restaurant, located in the Salamanca district, but it has another twelve in operation (among them the Shanghai Mama; the brand-new
Le Petit Dim Sum, at Galerías Canalejas, and the Japanese Tottori and Fuku) and five more that will come –he hopes- throughout this year. She does not hide the effort behind all this or the added difficulties that come with being a woman in charge. "It's all about fighting, a lot of sacrifice and the team," Li Bao sums up as his phone continuously interrupts the chat. "You have to be on top," he excuses himself. She does not rest, and after a few years back in China, where she wanted her daughters to soak up her culture, she has returned to her adopted land to redouble her growth on Spanish soil.
How were those beginnings when you arrived in Spain? What was it like immigrating here?
The Chinese community has always been welcome in Spain. Although some call us 'chinitos' I don't feel offended, I think that rather we arouse curiosity. That was hard, as it is for all immigrants, because we didn't speak the language and the food was totally different. I remember that we bought cheese thinking that it was something similar to a Chinese dish and when we tried it we discovered that it was not, and that it had a flavor unknown to us. I started very young in our restaurant, we did not consider it work, but as in any family business, everyone participates. I was a joker, my thing was from peeling garlic or potatoes to replenishing merchandise, but they didn't count me as a worker. I liked doing it.
Why did you get the idea to renovate the Chinese restaurant here?
I got to know her very well and I thought that we could position those neighborhood Chinese restaurants as good restaurants in Madrid, without further ado. Keep the Chinese roots but change the location of the premises, the atmosphere, the service and the gastronomic offer. I wanted to show that Chinese cuisine is super rich and has thousands of years of culture, but it is not for stuffing but as gastronomy. In the second generation of the Chinese community, to which I belong, we always commented that we should do 'something serious'.
What aspects of the Chinese restaurant should be adapted for the Spanish public?
The neighborhood Chinese restaurants are like clones, even with similar names, they have no personality in the decoration or in the menu, you even find the same number to list the dishes! From my experience in my parents' traditional kitchen I saw that I had to do it differently, that I had to adopt another way of treating the diner and that I had to receive them in a less crowded place. The first change I made in China Crown was to remove dragons, birds and lanterns, put everything in black and white and with bamboo, and people loved it, the clientele increased. And instead of serving those identical spring rolls, sweet and sour pork and spring rice, I put, for example, beef picaña with Sichuan sauce or rolls with more refined and original fillings. All this is equally traditional, but my parents did not do it because they were afraid that it would not be accepted here, and it is quite the opposite.
What are you especially interested in transmitting about your gastronomy?
The technique. Real Chinese cuisine, the one we do there, is a lot of fermentation, maturation and maceration, uses spices and places a lot of importance on cooking temperature. It is very complex. If it is well made and with love, it is always good.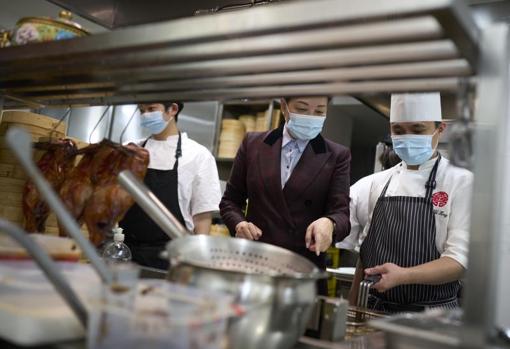 A female boss is not frequent in the Chinese company, how do you live it?
30 years ago it was certainly something surprising, but today the Chinese woman is super prepared and there are many important companies in which we are leaders. It is not like before. In Spain it was hard for me at first, when I was a 21-year-old girl who commanded a 40-year-old chef, both as a young man and as a girl. Territory is gained with knowledge. If I know more and explain what I want to do, I get it. I had to first convince my father being Chinese and much older. Now I notice it less anyway. However, the business world in which I move is tough, 75 percent are men in hospitality. Being a woman and being a boss is more complicated, you have to put in even more effort to reach your goal.
And what's yours?
Grow up. But not grow to grow, but healthy, consolidate what I have. We don't stop, but I have a very solid team by my side, with my brother Felipe Bao as a key figure in the company, at 32 years old, and also the one who pushes me. Let's go on. This year we have five scheduled openings, with super important venues, three in Madrid and two in Alicante. We want to leave the city to test how our proposal is accepted abroad, especially in Levante, a region with which we share a taste for rice.
You work a lot.
My goal is supposed to be to work five days a week, like everyone else, but it hasn't come yet, I have a few years left to be able to rest two days a week. Our world is a battle, crazy, when it's a party for everyone you have to be at the foot of the canyon and also in my case I go on vacation when I can, because in August the team leaves and I stay watching the beach bar. And that we are already beginning to delegate with all the professionals that we have signed in the last time.
How do you see Spanish gastronomy?
Is fantastic. I really like Spanish cuisine, since I was little. I have traveled a lot, I know almost all of Asia, and I think that after Chinese cuisine, the best cuisine is Spanish, because of its variety, such a good product, and technique. There is no one like that in the world.
With this local panorama, is it more complicated to compete for a foreigner?
Yes it is. In addition, Madrid is growing even more, it is changing a lot. We must fight more and better. The most important thing about a restaurant, wherever it is, is that it is good, that it offers good service and gastronomy and that it is up to date with what customers demand. That's why we really like to travel, we go outside with the team to get inspired and get ideas, always thinking about what we can improve and do or change next year. We are always that hungry.
What distances us and what brings us closer to Chinese and Spanish?
Little thing separates us now. Without going any further, right now the city center is full of flags for the Chinese New Year, put up by the Community. We are very integrated as a community, we are among the favorite immigrants. And on the other hand, we always say that we are a bit alike and that gastronomy works as a gateway. Who touches the stomach, wins.
What wishes do you ask for in this New Year?
Like the Spaniards, we are very familiar and we celebrate by eating. In a different way, because China is very big and each place has its dishes and its tradition. And we wish each other well: mine is that the coronavirus ends and returns us all to health and happiness.

www.abc.es