In 2023 he would have turned 50, but neither he nor we will get to celebrate it: a year earlier and almost by surprise, Jan (Juan López Fernández; Toral de los Vados, 1939) says goodbye to superlopez with
'Freak dreams' (Bruguera), the latest adventure of his endearing parody of Superman remixed with an average Spaniard. Gone are more than 80 albums flying through the skies of Parchelona, ​​legendary titles such as 'The hubheads' and a cucurbit napia that, who knows, may already be on its way to Chitón.
'Sueños Frikis' is announced as the goodbye of 'Superlópez. Because right now?
Actually I decided it in February 2021 and communicated it to the publisher, who understood it well.
2020. Did you already know then that it would be the farewell?
No, but it is true that I began to think about the idea of ​​stopping Superlópez. Sales did not go up and the type of readers he was looking to have, less. I wanted more readers from 12 to 18 years old, but the race is being won by mobile phones and tablets.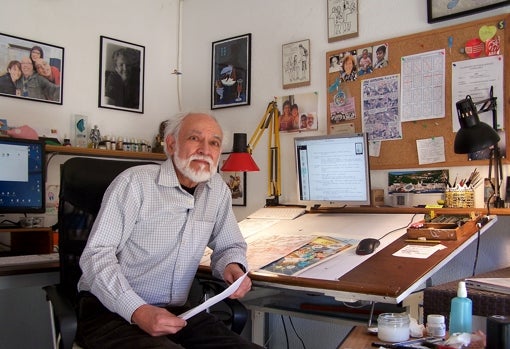 On some occasion he has said that he would not cry if Superlópez disappeared. When the time comes, what feeling remains?
Stage more than fulfilled. It is possible that he should have left it a year or two before. It's just a character. A series of generations that have grown up with him now have beards… I am aware that I have influenced them in one way or another; the generations to come are very different. I don't fall in love with my characters, but with the stories they allow me to tell.
How would you like Superlopez to be remembered?
They already do it… In the future they will remember other characters and Superlópez will only be the history of Spanish comics, as is 'Cuto', by Jesús Blasco, and many others…
Is it increasingly difficult for comics to gain a foothold in the midst of so much stimulation?
I think mine does, but there are others, new generations, who connect better… I'm not a prophet, but I am a realist. Nor does it seduce me to continue doing the same. That is why no two Superlopez stories are the same.
In this sense, what place do you think comics occupy in popular culture? Is it a medium unfairly underestimated?
That has varied over time. I am aware that there are different types and conceptions of comics. The one they call 'graphic novel', for example, I think it will end up being a luxury item at this rate. In the fifties, which was when it was most underestimated, it was also when most comics were read, and that they were coarser than now. So a Paco Roca would have been impossible.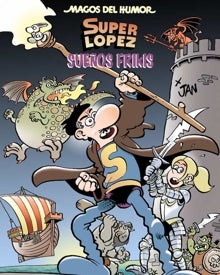 Nor should it be a coincidence that Superlópez vanishes when there are no more phone booths in Barcelona…
There are always resources for everything, the imagination is free… And it has never been easy to change clothes in the street… Have you tried?
Humor has always been something essential, although his was always different from the gags of the Bruguera school.
Because I don't belong to that school. In fact, I arrived there as a professional already trained with my own style, but Bruguera had his 'house line' and I had just arrived from Cuba with empty pockets, two children and a wife… In addition, it was the only publisher capable of providing enough I work to support a family month to month. I didn't want to do my scripts there and Conti did them for me, among others. When they finally modernized and I got freedom is when I started, with the screenwriter Perez Navarro, the Superlopez I wanted to do and the change of drawing was radical. The truth is that in collaborations outside of Bruguera I had my own style and it is verifiable.
In any case, Superlopez leaves but Jan stays, right? I think he's working on the fourth installment of 'Don Talarico'.
That's how it is. I also do other things, like the ones I've recently published [el año pasado repescó la serie de 'Cab Halloloco'] , and the ones I have pending to publish…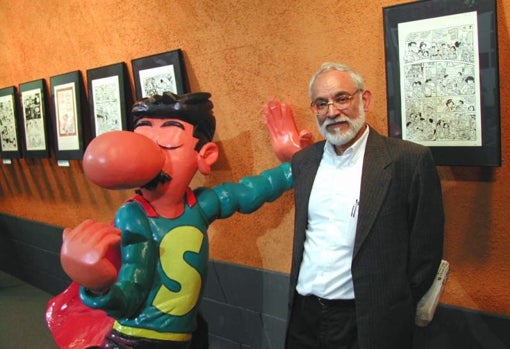 He has always said that the themes were born from the barbarities of our savage civilization that he read in the newspaper. If we have enough of something, it's barbarity, so it won't be due to lack of ideas or topics.
True, no one will make anything out of nothing, not even God. The themes are in daily life and there is no other intelligent way to make culture, be it comics or literature or cinema or music. Ideas are loose on the street.
Superlopez was born as a parody of Superman, but in each new cartoon the social weight has been reinforced. In 'Sueños frekis', for example, he tackles bullying. Is this proximity to the present the great success of the series?
I don't know, but I do think it's mainly due to the fact that it's a parody of Superman. I couldn't compete with Mortadelo and Filemón in any way, and that parody worked for me, until it ended up having its own entity. Then, the topics are the ones I always wanted to deal with. The problems that affect us are the excuse for my stories and the goal is largely educational. I like to push the boys to have their own criteria.
Last year, the magazine 'Rockdelux' chose 'Los cabecicubos' as one of the 100 best Spanish comics in history. "Slipping such a George Orwell background into a supposedly comic and children's comic only happened in 'Asterix' when Uderzo and Goscinny gave them political and social subtext," can be read in the review. Was this idea of ​​denunciation, of social commitment, always non-negotiable in the series?
Well, I didn't even know that magazine, but I agree, although that of one of the 100 best in history is a very relative concept. And it is true that the background of all my Superlopez stories is based on a social commitment, and so I will continue.
Superlópez is retiring, Mortadelo and Filemón are approaching their seventies… What will happen to comics when the classics disappear?
The classics are eternal and only a wave of ignorance and burning of books, a 'Fahrenheit', would make them disappear. Come on, what could have happened if Hitler had won the war. And I think that Mortadelo y Filemón still has some rope… Don't confuse what's being done right now with the classics, these are classics because they were done before and paved the way. For me, classics are 'Cuto', 'Flash Gordon', 'Prince Valiant', 'Krazy Cat'…

www.abc.es