Updated:
Keep

If there is a bullfighter without picks that stood out especially in 2021, that was Nacho Torrejón. The young man from Pantoja won the 'Promises of Our Land' and was a finalist for 'Silver Potter' of Villaseca de la Sagra, the two contests with the most name in Castilla-La Mancha.
In total, Torrejón bullfighted 17 celebrations with great success, achieving 36 ears and three tails. He started the season in Esquivias on May 1st, with four ears belonging to 'La Quinta', and was forced to cut them at the end of September when he suffered three fractures and the displacement of a finger when he used pithing in Cobeja, which He put him through the operating room.
This Thursday, February 3, however, he published a statement on his social networks that begins like this: "I never expected to write something like this, but I'm leaving."
«It has been a difficult decision to make, but at the same time very matured for a long time, in which life takes many turns and follows its course, "he adds, without specifying the reasons that have led him to hang up the suit of lights at 19 years old and with a future that was presumed exciting.
"I don't know if it's a see you always or a see you later," he ends up admitting at the end of a statement in which he thanks many people, including Castilla-La Mancha Media for their treatment of bullfighting information, and above all "a four people who have been main in my career: Tomás López, Cele, my father and my grandfather. The latter has been the teacher of my life and the one I identify with the most of all».
Torrejón, a student of ADE (Business Administration and Management) and Marketing, assures that "I will continue to be more united than ever to this wonderful world that is the bull" and that happens by continuing "at the foot of the canyon" in the family ranch of Sagrario Moreno (that's her grandmother's name), located on the 'El Ventorrillo' estate, in Los Yébenes.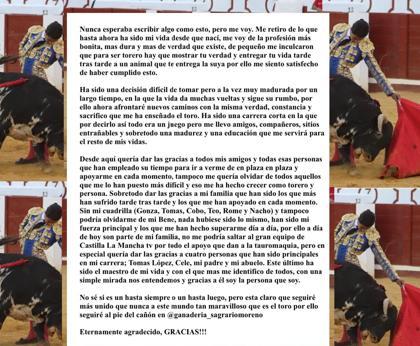 The pantojano spent a year at the Toledo Bullfighting School and was then molded by Tomás López, a bullfighter from Los Yébenes. On September 2, 2018, he made his public debut as a bullfighter in Turleque and on July 25, 2020, he made his debut as a bullfighter without picks in Añover de Tajo. A year later, on August 27, 2021, again in Añover, he offered a great afternoon by cutting four ears to two erales of Adolfo Rodríguez de Montesinos. Even the fourth, 'Chamizo', was turned around. The fans left the square delighted and eager to follow in their footsteps, but now Torrejón has decided to stop along the way.

www.abc.es