Elegant, easy to prepare and very versatile. The Salmon has always held a position on the podium of the three most consumed fish in Spain, according to the Norwegian Seafood Council. A luxury of the sea that has an infinity of cooking techniques to delight the most exquisite palates.
Grilled, baked, smoked, raw, in tartare … are some of the formats in which we can consume this fish so attractive. But not all the salmon that we find in the market meet the requirements that make this product one of the most exclusive and that is why we must always check the quality seal that guarantees us success and excellence. In this case we are talking about Norwegian salmon, caught in the Norwegian fjords and that with all the guarantees reaches the table, healthy source protein, contains vitamins, minerals, "good" fats, antioxidants and other important elements for our diet.
Its 3 main benefits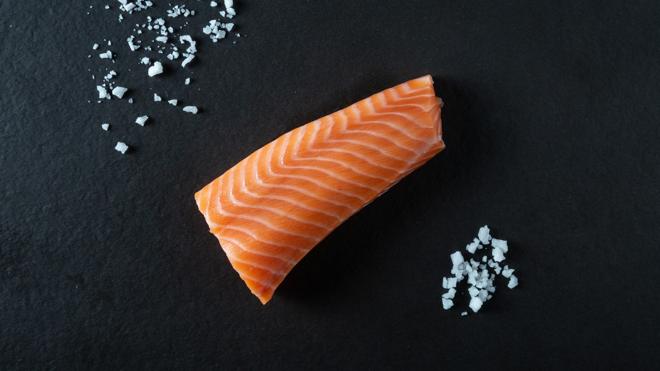 – Infinity of preparations. From a gastronomic point of view "Norwegian salmon allows us an infinite number of preparations, both raw and cooked, and for all tastes. Each part of the salmon is perfect for one dish: the loin for sushi and sashimi; the fillets for the grill or the oven and the glue for hamburgers or tartare ", explains Mario Sánchez.
– The healthiest fat you can have this holiday season. Although it is considered a fatty fish, its fat represents an important added value for health, due to its large amount of Omega-3 fatty acids, one of the substances with the most benefits for our body. A serving of 150 grams of salmon provides the recommended weekly amount of Omega 3.
– Important nutritional value in pandemic. Each serving of salmon has an important contribution of vitamin D, essential in times of less sun exposure like the ones we live in. "In this situation, and now that we cook more at home, it becomes more necessary if we can take care of our diet and lead healthy habits," says Mario Sánchez, food technologist and disseminator on nutrition and food safety at SefiFood. It is also rich in protein, essential fatty acids for health, vitamins such as B12 and B6, and contains a multitude of minerals such as phosphorus, magnesium, iodine and calcium.
Two curiosities that you did not know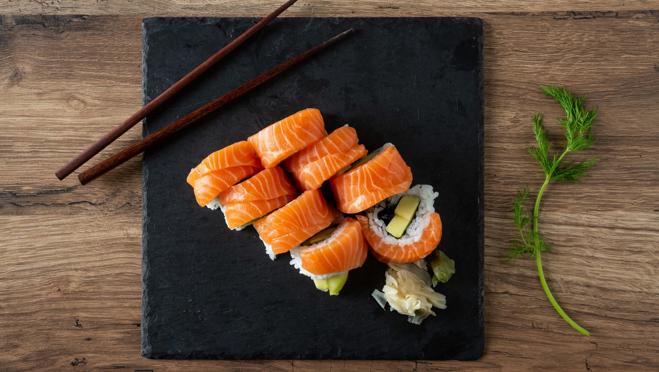 – It is the favorite fish of the Spanish and this has been pointed out by Bjorn Erik Stabell, director of the Norwegian Seafood Council, who states that "19% of Spaniards designate salmon as number 1 and half place it among their three favorite fish." Not in vain , every day 1 million meals are served with Norwegian salmon in Spain.
– Salmon sushi was invented in Norway. It is possibly one of the most recognized dishes in which we use this fish and very contrary to what we might think, its origin is not in the Japanese country. In the 1970s a Norwegian delegation, with the aim of expanding the market, was looking for new countries to export. In 1985 the "Japan Project" emerged to introduce more products in Japan and in 1995 the commercialization of Norwegian farmed salmon began. After these arduous beginnings, today salmon sushi has become a staple of sushi consumed around the world.
A recipe to surprise this Christmas
In the face of Christmas meals, Hung Fai Chiu, Chef Ambassador of the Norwegian Seafood Council proposes a Salmon Wellington, an original and delicious recipe that breaks with tradition and promises great successes.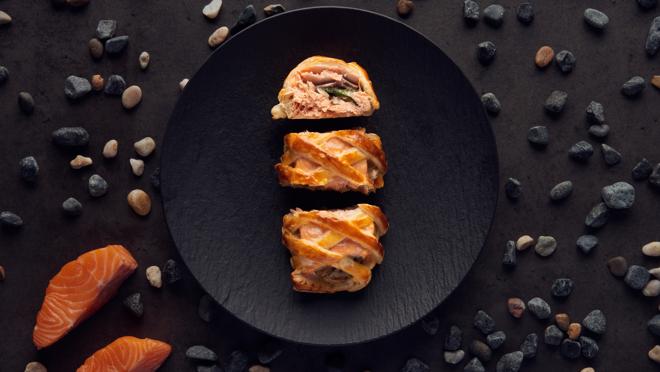 Ingredients: 2 clean Norwegian salmon fillets, without skin or bones of about 200 gr, 2 puff pastry sheets, 200 gr of raw prawns, 30 gr of flour, 1 egg yolk, 400 ml of soy milk, 150 gr of shitake mushrooms, 100 gr of snow peas, 30 gr of onion, 30 gr of grated cheese- Olive oil, salt and pepper
Elaboration: We peel and clean the prawns, chop and reserve. Cut the mushrooms and onion into fine julienne strips, and in a frying pan with a little oil, sauté the vegetables, add the snow peas and prawns, season to taste and remove.
In the same pan we add the flour and toast, add the soy milk little by little and make a sauce, add the sautéed vegetables together with the prawns and grated cheese. We booked.
We preheat the oven to 190º and in a baking tray with baking paper we add a little olive oil. We place a sheet of puff pastry and place the salmon cut into sheets, fill with the vegetables and on top of it the other sheet of puff pastry previously cut with the special lattice roller. We trim the excess, press the edges well and paint with the egg yolk. Bake for about 18 minutes and serve.
See them
comments

www.abc.es