The Gran Canarian palms
Updated:
Keep

a 26 year old He has died in the last hours on the island of Tenerife due to Covid. He had no previous pathologies associates and remained in hospital admission on the island.
In total, in the last 24 hours the virus has cost the life of four peopleTwo more men have also died in Tenerife, aged 90 and 50, and in Gran Canaria, a 59-year-old man, also without previous pathologies.
It is the same island where another young man died on August 12, in this case 27 years, without previous pathologies, and who had not received the vaccine. The death by Covid of a 28-year-old woman, who was admitted pregnant at the Hospital Insular Materno Infantil de Gran Canaria and who underwent a cesarean section days before due to the seriousness of her health.
105 new cases
The Ministry of Health has notified 105 new cases of coronavirus with which the Canary Islands accumulate a total of 92,680 cases, with 12,309 active, of which 65 are admitted to the ICU and 355 remain hospitalized.
📢Health reports 105 cases of #COVID19 in the last 24 hours.

🧪To date, a total of 2,027,786 diagnostic tests have been carried out, of which 3,248 correspond to yesterday

➡️More info: https://t.co/n6u7Gyg5lCpic.twitter.com/1MEqdyKF96

– Health Gobcan (@SanidadGobCan) September 5, 2021
The Accumulated Incidence at 7 days in the Canary Islands stands at 44.95 cases per 100,000 inhabitants and after 14 days in 111.03 cases per 100,000 inhabitants.
By islands, Tenerife today adds 28 new cases; Gran canaria it has 53 more; Lanzarote adds 11 new cases; Fuerteventura has 11 more cases; The Palm does not add new cases; The iron register a new one, just like La Gomera, which increases their cases by one.
These reported data represent a decrease of 42 positives compared to the same day last week, so the Canary Islands have 34 days of continuous decline in the number of cases.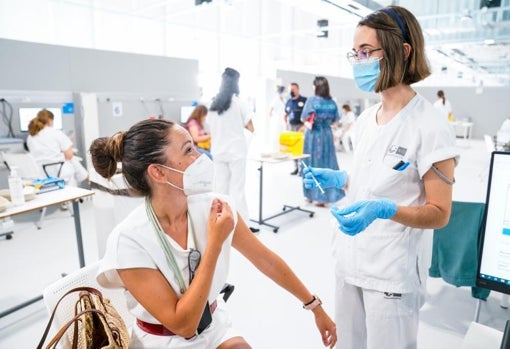 About 80% immunization
The health vaccination teams of the Canary Islands Government have exceeded the 3 million doses of the vaccine against Covid administered with a 79.55% of the target population of the archipelago (over 12 years old) already immunized with a complete vaccination schedule.
If the initial target population (those over 16 years of age) in the Canary Islands is taken as a reference, 83.35% are already immunized.
In the archipelago, the 83.31% of the target population is already vaccinated against Covid-19 with at least one dose of the vaccine. This means that 87.30% of those over 16 years of age (the target population when the campaign began) have at least one dose.
This further means that 6 out of 10 young people between 12 and 19 years old are already immunized against Covid-19 in the Canary Islands and progress continues in vaccination schedules.
See them
comments



www.abc.es