Toledo
Updated:
save

«I am immensely happy, for the merchants of Toledo capital, that the Socialist Government is copying the same commercial campaign that I have designed to Consuegra and that very good results are being given to the small businesses in my town ", the Councilor for Business Promotion and First Deputy Mayor, Remigio Díaz Martínez, has expressed in an ironic tone.
The councilor was surprised this Friday to see in the provincial press that the socialist municipal government of Milagros Tolón "has seen itself in the mirror of Consuegra, and even more so in the mirror of a mayor of Vox, to reactivate small businesses."
According to Remigio Díaz, "I am surprised that the Toledo City Council launches this campaign with the same profile as the one that I have promoted in Consuegra since the middle of the year, they could have added something of their own," he said.
"That the PSOE of Toledo literally copies a campaign designed by this humble Vox councilor is a sign and example that when a politician gets it right, you don't have to look at colors", added the first deputy mayor of Consuegra, who is happy "but for the merchants of Toledo who will see how this campaign that has the 'copyright' in Consuegra will give them the results that we have obtained here, and I anticipate that they are going to leave with it grateful ", said Díaz, who sees" a vacuum of ideas in the Toledo Socialists ».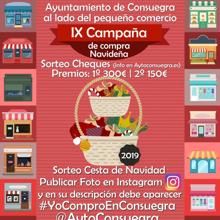 In Remigio Díaz's opinion, "the welfare of citizens is more important than any political party, so go ahead," he said.
The Department of Business Promotion and Local Development in Consuegra will invest 2,300 euros in gift vouchers in the #yocomproenconsuegra campaign, which has been carried out thanks to the sponsorships of Consuegra Empresarial, Soliss Mutua de Seguros and the Department itself, which at the last minute has drawn a special Christmas raffle with 1,000 euros in ten 100-euro gift vouchers, on January 5.
Toledo has started this Friday the campaign "taken from the mold of the Consaburense": I buy in Toledo to promote Christmas shopping in local stores.
The campaign carries out an advertising investment in local media and will carry out four raffles for 12 vouchers worth 200 euros to be consumed in the Toledo hotel industry. The bases to participate in this raffle will be published in the coming days on the portal www.toledo.es.
See them
comments

www.abc.es