Madrid
Updated:
Keep

A quartet of citizens will tonight become the first to compose a fully civilian crew in orbit. On board a ship of SpaceX, The mission 'Inspiration4' It will depart from the NASA Kennedy Center in Florida (USA) to circle the Earth for three days. They are not professional astronauts, but they all have an extraordinary story:
JARED ISAACMAN, 38: Billionaire founder of an e-commerce company
If the mission is possible, it is thanks to your money. According to the magazine 'Time', this entrepreneur paid a sum that has not been disclosed, but which may amount to 200 million dollars, for the four seats on board the Crew Dragon capsule.
Isaacman transformed the business he started as a teenager in the basement of the family home into one of America's leading financial transaction services, Shift4 Payments.
An aviation enthusiast, he flew in the Black Diamond civilian aerobatic squadron and co-founded a private air force of fighter jets for military training called Draken International, but his fortune has come from e-commerce. He is considered the 'commander' of the mission, although it is more of an honorary title.
SIAN PROCTOR, 51, teacher on the verge of being an astronaut
This geoscience professor at South Mountain Community College in Phoenix, USA with a Ph.D. in science education, is passionate about space. It is in her blood, because her father worked on Guam, where she was born, for a NASA tracking station during the Apollo lunar missions.
A licensed pilot in the Arizona Civil Air Patrol, he has completed four projects of simulated space activities, including a four-month 'mission to Mars' funded by NASA to study feeding strategies for long-duration spaceflight.
Proctor was a finalist in 2009 in NASA's astronaut candidate program, and is now set to become the fourth African-American woman to fly into space. She was chosen through an online business contest conducted by Shift4 Payments as part of the 'Inspiration4' team's selection.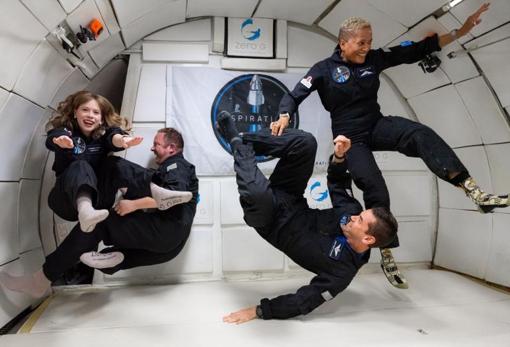 HAYLEY ARCENEAUX, 29, cancer survivor
Arceneaux is a medical assistant at the St. Jude Children's Research Center in Memphis, Tennessee, the leading pediatric cancer center where she was once a patient herself. The young woman, who lost part of her left thigh and knee to cancer at age 10, will become the first person with a prosthetic body part to go into space. She is motivated to take part in space flight to show her young patients "what life can be like after cancer."
St. Jude, where Arceneaux works with children with leukemia and lymphoma, is the main beneficiary of the 'Inspiration4' project, which Isaacman envisioned primarily as a fundraising and promotional effort for the institute.
CHRIS SEMBROSKI, 42, engineer and former Iraqi veteran
Sembroski, a data engineer at aerospace giant Lockheed Martin in Everett, Washington, spent some of his free time in his youth launching high-powered model rockets and simulated space shuttle missions. He joined the US Air Force as an electromechanical technician, and was posted to Iraq. He helped maintain a fleet of Minuteman III ICBMs before leaving active duty in 2007. He was selected to the Inspiration4 team through a lottery that attracted 72,000 applicants and raised $ 113 million in donations for St. Jude.
See them
comments

www.abc.es