Updated:
save

Three scientists from Hospital Carlos III, with the financial support of an entity located in the United Kingdom, are close to obtaining the validation of a new saliva test. Doctors Antonio Madejón and Pablo Castán, together with the technical manager, Anabel Gil-García, have taken advantage of their previous experience in the development of molecular tests applied to the diagnosis of malaria, tuberculosis or the hepatitis C virus to propose an alternative focused on the coronavirus, technically capable of detecting immunoglobulin levels (IgM and IgG) in an ultra-sensitive way. That is, through this tool they will be able to detect antibodies that indicate whether the person analyzed is in the infectious phase or if the disease has already passed and it is temporarily immune.
According to its promoters, this test, together with the rest of the diagnostic tools and future vaccination campaigns, should begin to put "a real barrier" to the advance of the pandemic in the Community.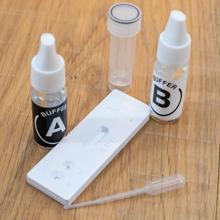 If a strong point stands out in this test it is the simplicity at the time of its realization and its speed to throw the results in only ten minutes, in addition to not be invasive. The process is as follows: the saliva is placed in a one-milliliter tube, the reagent content of the kit tube "A" is poured to release the antibodies from the saliva, and with a plastic pipette that is also included in the set, They add five drops of that mixture. Subsequently, three more are added to mobilize it, that is, for the liquid to rise through the test strip, and wait ten minutes for the results to appear.
"Scientifically, it is beginning to be shown that the future is committed to performing the analysis in saliva both for the detection of antibodies and for PCR", comments researcher Gil-García. «It is beginning to be shown that since the nasopharyngeal tract is the first point where the virus invades, is the place where it first manifests both the tissue level injury and the consequent release of immunoglobulins, as well as a high load of viral particles ", explains Pablo Castán.
The fact of using saliva, say the architects of the test, is an advance because "You are democratizing a molecular technology" making it available to anyone and "you no longer have to prick to draw blood." "That you can do the test at home gives it a lot of value and the possibility of permeating it in the population," the researchers add.
One of the aspects that has not yet been revealed is that of the exact price per unit, although they unanimously point out that it is "very cheap." This could vary depending on the quantity ordered. What is clear is the predisposition of the Medusa-19 managers to transfer part of the production to Spanish territory when the time comes.
See them
comments

www.abc.es