Arrecife (Lanzarote)
Updated:
save

The president of Vox, Santiago Abascal, has stated this Saturday that the irregular immigration that affects the archipelago "is destroying the image of the Canary Islands, a land that is bleeding and losing its economy" based on tourism.
"It is a massive immigration promoted by the powers, elites and political oligarchies of Spain and Europe. We are facing a migratory invasion "that requires a response, said Abascal in Lanzarote, where this Saturday he participated in a rally against irregular immigration, after having visited Tenerife and Gran Canaria these days.
In his opinion, "Canaries feel discriminated against in their own land", and in addition to the fact that "Canaries bleed to death, they have to endure the migratory invasion, which is not the result of chance, it has been promoted by politicians of all colors who have called for illegal immigration.
Abascal believes that these political forces "are lying to millions of people who live in Africa, telling them that the Promised Land is here and forcing them to risk their lives in the sea. "They are the racists", not Vox, which requires that borders be respected and that Spain be reached legally, according to Abascal.
He believes that "progressive politicians are destroying coexistence and prosperity, creating insecurity", because they believe that "borders, which represent the wall of our country, can also be violated", as well as homes.
In his opinion, political refugees are those fleeing the Venezuelan Government, which, however, several members of the Government defend. The president of Vox has also criticized that while "the Government pardons politicians, raise taxes on citizens."
Protest of opposing groups
Abascal's intervention in Arrecife, to which about 500 people have attended According to the organizers, it has been interrupted by a group of people opposed to Vox, and its president has criticized that its performance has not been impeded.
"Harassment, intimidation and interruption in an act of Pedro Sánchez would not have been allowed," he assured.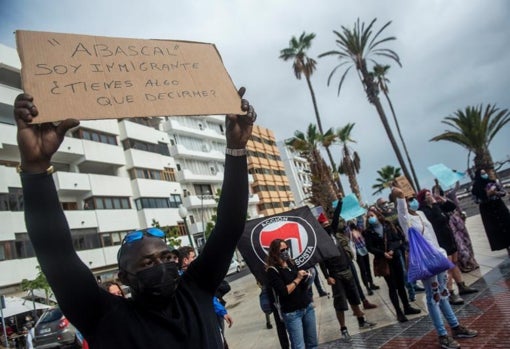 "In the acts of the socialists, communists, separatists and ETA no one appears to interrupt and take away their freedom", but the acts of Vox are attended by "the enemies of freedom and of our nation They try to shut our mouths, but they will never succeed ».
This attitude contrasts with the spontaneous expression of the people towards Vox in the street, where its representatives find encouragement, "the encouragement of the people, the gratitude of many Spaniards," who say they represent them, Abascal assured.
On the contrary, the president of the Government, Pedro Sánchez, and the vice president, Pablo Iglesias, cannot go to the street because "they show their rejection," he assured.
See them
comments

www.abc.es