Updated:
Keep

Adapted surfing is a reality that continues to add followers in all corners of Spain. A few days ago, a new Spanish Championship was held in the Galician town of Nigrán, in which one of the largest numbers of participants in memory was registered.
In a land, Galicia, where "Gallo" already knew what it was to win to revalidate his national scepter, he lived the victory with the same enthusiasm as the first. This time he did it next to his partner, a fact that he himself recognized us as something special, «Every title always has an added value. This time I went with my partner, it was the first time I did it, and winning it with her on the beach was something very special. In addition, continuing to win at my age, 51, makes me very excited and shows me that I am still… at the top! ».
In addition, the current world champion in Visual Impairment told us about the sweet moment that this discipline is experiencing, «I cannot help but recognize the great work that the Spanish Federation and others like the Galician one are doing. A great quarry is being created and many people, regardless of their disabilities, are getting closer to this sport. The ball is getting bigger and bigger and more and more adapted surfers are in the water ».
There are many factors that are encouraging this sport to have more and more followers, but, in the words of one of the leaders is that, "Great work is being done from many different points. We are making a lot of noise and giving vision to a sport that anyone can practice, whatever their problem. Today we are already respected on the beach, even the monitors and technical courses are already being trained and include how to work with our discipline. Nowadays, the same importance is given to whoever wants to practice our sport! "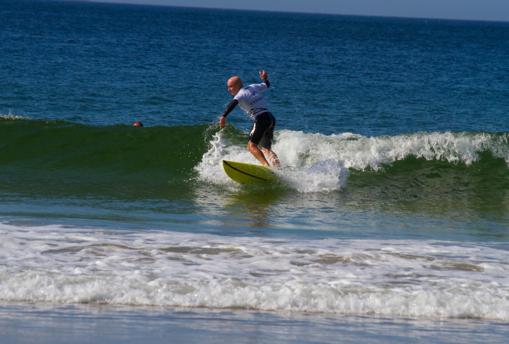 CARTEL
Spain will attend the next Adapted Surfing World Cup in Pismo Beach, California, as the current world champion. The pupils of Luis Pérez "Gigi" and Lucas García will try to revalidate the title in Pacific waters. "Gallo" will be a pillar to achieve that goal as a team, but personally he will also try to revalidate his gold.
«I am a person who, wherever I go, I always give everything. I would love to revalidate the world title, but it is getting more and more difficult… I will still go to win it! As a team, last year we did incredible and this year we will go with a much stronger team » the Zarauztarra sentenced.
A place in the national adapted surf team is increasingly expensive, so, the two-time world champion added, «Going to an international competition motivated us a lot, but having to fight for a position for the national team gives you that punch! It makes you start training, you get the batteries to fight for that opportunity. Every day we are more athletes and less hollow … hehehehe! At 51 years old for me that healthy rivalry is another incentive.
Aitor Francesena ended his conversation with us by adding that, "I'm very happy! after the work of so many people, from federations to athletes, we are seeing a great evolution and a creation of quarry. More and more super young kids are starting to practice our sport, that… it gives me a lot of joy and fills me with excitement! ».
Aitor Francesena "Gallo", an indestructible, fireproof surfer and icon of adapted sport who also combines surfing with talks and conferences throughout the national territory.
See them
comments

www.abc.es