Updated:
Keep

Nobody better to meet a footballer than one of them. Only in this way is it understood that from the mind of Mariano Aguilar -formed in the Atlético de Madrid quarry and a former level player in the 90s- an idea was born almost 20 years ago that would revolutionize the world closest to the athlete. A virtual living room in which all the professionals of the Spanish football and where they find everything they need. A kind of Aladdin lamp from the 21st century, which is rubbed with a click on the mobile and with which they can fulfill their wishes without leaving the sofa.
So is the
Sportsman's Club, a company that Aguilar runs from a small headquarters located in Pozuelo de Alarcón, the Spanish city with the highest per capita income. Where else. From there, in a small place absent from ostentation, he makes the wishes of thousands of footballers come true. A modern genius of the lamp whose equipment is capable of achieving what would seem impossible to any mortal. From reserving a table at the last minute at the trendy restaurant to finding a PlayStation 5 of those that no one can find in the store. «Our purpose is to always be next to the footballer and help him in everything he may need. For that, we put at your disposal a series of services, but it is not closed at all. Everything that can occur to him, we can try to achieve it », explains Aguilar, who when he says everything, he refers to everything. At the Sportsman's Club there is a team of specialists who have an answer for every query. «It is the footballer who contacts us directly and very simply. Through an application you can put us a message, call us or send a WhatsApp. From there our machinery starts up ».
It is the weekend when this wish management works the most. Cars, travel, jewelry, restaurants … but not only that.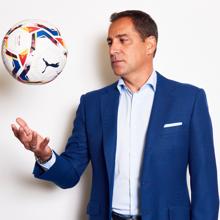 Too there is a more human part and closer to the reality of the rest of the citizens. «In full concentration, with more free time, the footballer takes the opportunity to solve the problems that arise. But let no one think that they are asking us for a green plane with orange wings. Athletes are very normal people, with normal needs, but with little time. What they are looking for is trust and a close treatment», Says Aguilar, whose relationship with the LaLiga stars is total. Many of them turn directly to him when they need to solve a problem. A relationship built over time and of which he hardly gives details. Not a single name comes out of his mouth. Secrecy that is part of your job.
"We currently have a portfolio of around 3,000 footballers, former footballers and coaches and with many of them there is a very close relationship. We become part of their circle and that complicity makes everything even easier, "he says. So close, that even birthdays or the most personal requests often go hand in hand with the Sportsman's Club. «It is those kinds of wishes that we like the most. It is not about whims. For example, they ask us for advice to find a 'salus' that helps them in the first days with their babies or more unexpected things. In all these years, if I had to choose any of the requests that have come to us, I would choose two. One of a very important footballer who asked us for help to surprise his mother with a very special matter – he says without giving more details, jealous for not invading the privacy of his clients – and another in which a player had read a news story in a newspaper of a boy who was very ill and wanted to contact him to send him a signed shirt and a message of affection ».
For a year and a half, all the company's negotiations with footballers have been done through an app called 'Players' that was created in collaboration with LaLiga. "Being part of our club does not cost the player anything. Pay zero euros. It's an advertising business, "he explains. The First or Second dressing room is rare where the Athlete's Club is not already spoken of. «The footballers themselves are our best ambassadors. Word of mouth works the most. " So much so that even when they leave the League they stop dealing with the players. "We have requests from Italy, England … even Turkey," he says proudly for having achieved that degree of complicity with the players, those he pampers as he would have liked them to do with him in his day.
See them
comments

www.abc.es