Andrés Marín (Seville, 1969) lives within a fandango of the Niño de Fregenal, the one who claims the best as that which has its own stamp. There he goes, something obsessed, really. Developing a language that belongs to him, that has a lot of references from here and there, much based on tradition, but taking as a premise a Juanramonian motto: "roots and wings." He has created something of his own. A stamp, as I wanted. But it wasn't always like that, of course. Now it arrives at the Teatros del Canal in Madrid between October 13 and 17 with 'Éxtasis / Ravel (Andalusian Show)', a work gifted with abstraction. However, he did not disembark in the complex by the shortest way. The history of the bailaor
Andrés Marín is that of a boy who heard the doors slamming from his parents, both artists, too many times when he left home. He soon understood that this trade was full of rough edges and peculiarities. He played with an Antonio El Bailarin jacket, family gift, in front of a mirror. He got to know flamenco and dance from the inside, "surrounded by old men," he says. He also had time to quit dancing as a young man and then come back. From work as a waiter before open the National Theater of Chaillot in Paris with his own show and be a dental technician apprentice. He fell in love with an American in a bar in Seville, La Carbonería. Emilia, his wife for more than thirty years, helped him reconcile with that past from which he had not let go.
As his path was not the usual one, the end result has been a bit strange, but it is what it is. So, honestly. "Where does this come from?" Asked Mario Maya. But how could someone who had the claw of youth, the luck of the beat and the possibility of the recondite dance, in addition to having been formed halfway between the academy and their own search. Well different. Things were boiling inside him and he was just pulling them out, just that. A) Yes he traced the figure of his father to later break it naturally, as children do, that we believe we are subversive and rebellious. He noticed the teachers, Mario Escudero, Antonio Gades, El Güito, Farruco, Manolete …, and led them to another stage. He distilled the movement into one of the most sober and unpopular trajectories on the current scene. Andrés Marín is not strange by habit, but by destiny. Just move your feet where they lead you. And they are already marching to the theater.
In the early 2000s, his wife hid some criticism from him of the first montage of their newly founded company. 'Beyond time', that's what it was called. And from "he commits suicide with his dance" they put him up. How does this feel in the early rungs of a career? «Well, bad, why are we going to fool ourselves. But in the end I only paid attention to my stomach. What moves there is what takes me. That is unstoppable. And my skin started to thicken on the outside so that the rest wouldn't affect me. I no longer care about destructive criticism, because my concepts are more than established. After two decades, I am a classic in my imagination. I also read the atrocities that have been written about great teachers whom I admire and I understand that the problem is not always with you. This is my job and I defend it as I feel.
Specialized in the strange
Specializing in the unprofitable, Andrés Marín entered flamenco to end up linking himself to what he himself has called 'impure', that avant-garde that is so traditional already in art. At that point, he decided to go further and do a Ph.D. in the radically unpopular. That is why a cult artist, for a few. On the other side, no longer of the commercial, but also of the singular, although with an audience that venerates him in Spain, France and the United States. It resides in nobody's territory. The best thing, and now I contemplate his half smile, is that he does not care about this joyous condemnation to which his shoes lead him: «If the world goes fast I dance slower». And that's it. It is that it does not matter to him. He is crazy with his codes, revisiting the April Fair with the costumes ("which are not costumes, they are works", he adds) by the plastic artist José Miguel Pereñíguez. Returning the reality that has seen from another prism. "If it were a painting, it would be one by Rothko," he says. "I'm classic on the inside," specific.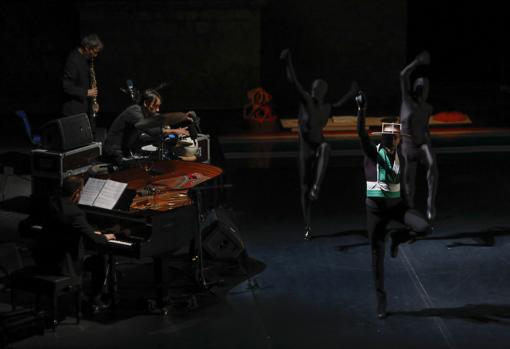 Andrés Marín is many things, but above all he boasts of being free, as if he sometimes left the Fregenal fandango where he lives to walk around a Sevillian woman from Salmarina. "That that is the avant-garde: practicing freedom with awareness. Not just anyone does this, because it takes a huge effort. Before deconstructing you must have the wickers well tied. I have soaked myself in everything before starting this process in which I have been immersed for years. I deconstruct on firm pillars, following a continuity. Today's world goes very fast and does not understand this slow cooking. Let me explain: my montages are like paintings that only make sense when they are done. 'Ecstasy / Ravel' makes sense now, but it wouldn't have made it ten years ago, because it's a consequence of other works. Slowly, children, slowly, otherwise things do not have the specific weight they should have. AND if the avant-garde crosses a fine line it falls into the merely anecdotal. Is not easy".
In the 90s, «while we were immersed in the revolution of Paco de Lucía y Camarón, I went to Pepe Marchena and other greats from the beginning of the last century to interpret them from dance and project them into the future. A critic told me that he danced por seguirillas as he would do in 30 thirty years, that I have also received good comments … But I don't care anymore. I don't even do flamenco. I do something else. I take themes to make montages, I put together concepts. I am looking for silence, subtlety, fleeing from the baroque and suggesting. Be minimalist. Express all that diffuse world that I carry inside with the elements that I consider and can. But, be careful, I know how to dance to follow you».
Against mediocrity
He left flamenco at 14 and returned after a long retirement, just when no one remembered his parents' academy anymore. He then had to fight ghosts before advancing alone. Who was that boy. Where did it come from? «I was only clear that I was not going to be mediocre. In that then Antonio Canales stood out. I saw him and I told myself that I wanted to be where he was. Among the top ten. With what I already knew, I invented my own ways. I have no fixed formula and my shows are always unfinished. They are living sketches, which change. And I've been able to carry them around the world for a long time. That is the greatest recognition: stay, they can count on me ». Also, I add, some young people treat him as a teacher, but on this subject, which ages him, he does not want to recreate either.
He has raised postings at the Teatro de la Maestranza in Seville with a chicken on his head and won the Giraldillo in that same setting, that of La Bienal, with 'The perfect vigil'. His works have been presented at Sadler's Wells in London and the Maison de la Danse in Lyon. Also at the Opera Lille. In his latest montage, he poses an unusual journey through the music of the French composer Ravel. Unusual because it outlines the idea of ​​the loss of identity and because it finds it with a particular conception of the Andalusian. «You are not going to listen to any cante, but to high-quality instrumentalists. Spectators will see a choreography that goes through different spaces around Ravel's music: the fair, a garden, a hospital during World War II through which a leak emanates … They are images. Snapshots The original recording of ravel bolero it sounds remixed and the musicians play on it while the others dance in a delirious space. Women, without identity, like dim souls, overwhelm. Everything is mutating around the melody while I am the conductor. You hear what seems like a soleá, which Ravel was inspired by the soleá, and we leave behind a cluster of pieces that are establishing a universe of their own ». Remember: Marín likes fish without sauce and hates what is unfounded. It is disruptive because it breaks something it knows, changes its foundations, but it cannot stand the smoke that others waste in these parts. So weird it seems that it has turned around. It is, what do I say, avant-garde and quite the opposite, as all the classics begin.

www.abc.es