Updated:
save

Antonio Banderas has changed the big screen for television and cinema, for platforms. But he remains in what he defines as his vital project: the soho theater. A place where the Malaga native found his refuge and to which he invited an unexpected ally, María Casado, together with whom he has created his first television format. It is not just any one, of course. Collect his obsessions and summarize his aspirations: «Black & White Scene», In which he approaches six artists who, between song and song on the theater stage, talk about their vision of the world and of art.
Vanesa Martín, David Bisbal, Pablo Alborán, Pasión Vega, Rozalén and Pablo López will be the six guests of the seven episodes, of one hour each, which from December 15 they will be available on Amazon Prime Video. The seventh protagonist will be Banderas himself, who as an epilogue will sing some pieces of the musicals he has performed and of those he will do in the future.
"The program was born in my head with the name of" Intimate Music "in order to have a closer image of the artists," confesses the actor, now in a creator's suit. «I did not have the feeling of doing television, but something more akin to theater, an intimate concert … even something cinematographic because it was shot in an unorthodox way. I am throwing a hook to attract people who want to find something different on screen. Because getting out of uniform today is very important, "he celebrates.
The theater of his life
With their new production company, Teatro Soho Televisión, both María Casado and Antonio Banderas promise to "dream big." "Antonio has ideas to fill 70 television grids for 70 networks in the world," says the presenter. Its ideal horizon is to create a debate program in the style of this «Black & White Scene» in which philosophers, heads of state, great intellectuals converse … But first it is the turn of these «private» concerts to which the Banderas himself introduces with a monologue as a reflection on the essentiality of the arts, music or theater, and that closes with a poetic portrait written by himself. In the middle, between song and song, María Casado will discover the less known face of the guests.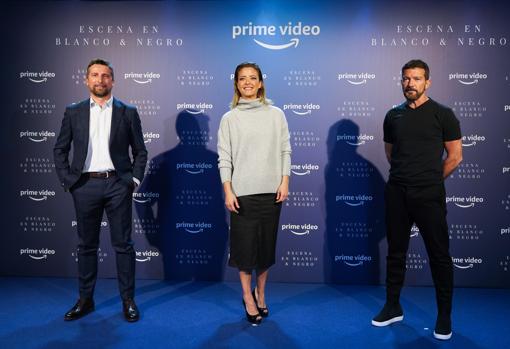 Everything in that theater that is his life today. "Much more than Hollywood," he asserts. "We only seek excellence, and then you can crash, but it is the only objective, because we are not looking for money. If capital comes in, great because we can do more and better things. And I wanted that to be reflected in our first program, "he concludes. It will be the viewer who decides if he meets his objective. That of the production company and that of "Scene in Black & White", which is to "bring the stars closer" and "present them at short distances." «When you see the series, it seems that you are here. That is the differential experience ", sentence.
See them
comments

www.abc.es