As you step inside, to the right of the hall, the first thing is a six-foot tobacco machine, just like the one in the bars, and when you try to focus in the dark with your eyes still insolate from the street, there at the end A sign of little LED lights is revealed to you on the altar like in a Marian hallucination. "Virgin of Covadonga" puts in capital letters, above the Santina of scarlet and gold.
As you move forward, a Life-size foam board Pope Francis he does not take his eyes off you, but they go to that transcript of the Ikea pantry that is there in the middle, between the prayer benches -spaghetti, 'thon entier' cans, diapers …-, to the outlined niches of fluorescent lights, to the locket hanging in the corner with the remains of Valentine himself. Yes, the one with lovers. Gift from the Crown, he says. Screens to the sides fire non-stop advertisements in teleshopping mode.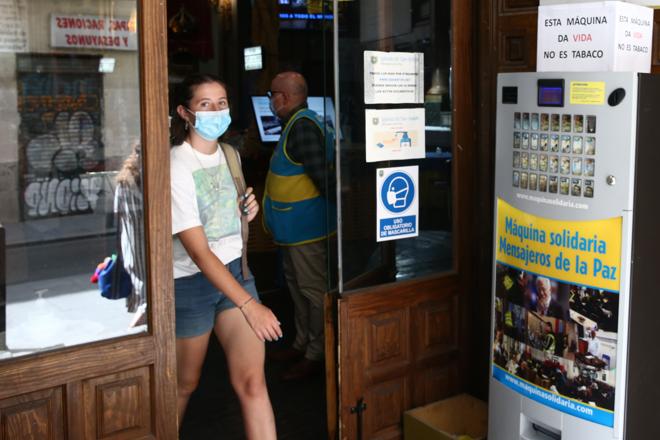 It is a matter of a nanosecond, no more, but one wonders if he has been in the wrong place and instead of entering Father Ángel's church, he has accidentally sneaked into Lewis Carroll's lair in an Almodóvar movie with La Lupe singing "theater, yours is pure theater …". At the end of the day, this is Malasaña, the heart of the Madrid scene, and nobody assures that the psychotropic effluvia of the barbarian years do not continue to be theirs.
But it turns out that in this oratory of San Antón not everything is what it seems, but in some cases, much more. Starting with the machine is the entrance, which sells nothing but cigarettes but "life," he says. In other words, you put one euro in and the symbolic box of a shower comes out in the Ambassadors public bathrooms for those who need it, you put ten and pay for a menu. Continuing through the central grocery store, which is a charity grocery store so that whoever needs to pick up, without questions, or whoever wants to bring. And ending with the media priest with the lopsided tie. That these days ago I was returning to the couché in style, as it has to be, putting words of mourning on behalf of the national porcelain socialite on the occasion of the painful death of her mother.
—Father, you don't lose a celebrity, you have to see how he moves in high society, those marquesas …
"Relationships are a bit like the image of the missionaries of Jesus of Nazareth …. Cantinflas used to say: 'I don't want the rich to end, but the poor to end.' All that legend that I am with the rich and with what they advertise is true, but I am also with the poor. Let the one you have share with others. Money does not come in God's best or bad sense, it comes from people … ».
Digital alms
It must be true, and that the aristocratic companies with which the father takes tea or communion have it. Or they know who has it … Do not lose sight of it. But here everyone is invoked. Thus calculating above, between mailboxes, offerings that light electric lamps and piggy banks on the columns, there are in the small temple of San Antón no less than fifteen fixed brushes. Hulking slot machine, no acrimony, including one as you head down the central aisle for digital handouts. In case you are not wearing loose. Accept card or mobile and the currency that best suits, yuan, pounds, dollars … «We need to give opportunities to do good. There are many people who love and don't know how … », Don Ángel will say.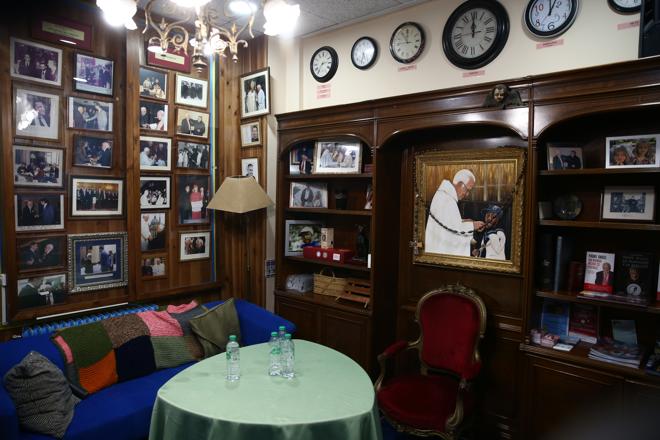 It appears to be amazingly fragile. The opposite of the stars of the spotlights, a minimal thread of voice, it is not known if of exhaustion or of confessional. In fact, he has gone to sit us in one, not in the latticework, closed by the pandemic, but next to it, on a tiny stretcher table that does the same. It asks to turn off the volume of the background music, which is there, and also the background noise of a live place, where the spirit is comforted, the heat is relieved, one falls asleep – armchairs, on benches, sometimes he too – or one is resurrected when one can no longer, as in the cathedrals of antiquity.
Separated by a sheet of methacrylate, he is facing the door and does not lose detail of what is moving while he relates very quietly that this is the church – which "not parish, church" corrects without containing a certain vanity – of his dreams. Lto the church of your dreams. Open 24 hours, although in reality now cut out at night by the virus, he says he got it when he was already 78 years old. That was six because now he is 84 and his emblematic work,
Messengers of Peace, is about to turn 60. It is said soon, from 1962. The Generalissimo formed his ninth government and the Second Vatican Council began, the one in which it was decided that the liturgy would be better for the faithful and fewer priests from behind.
Only in the three months of the confinement of the end of the world, in this church of San Antón and Messengers that is almost on its anniversary, of the 4,000 people who regularly help in such a period, it went to 80,000. More than 150 daily breakfasts –in a picnic bag, we must keep our distances–, that dignified dinner with authentic cutlery and cloth tablecloth that they have given since 2016 at the Robin Hood restaurant, served to dozens every night in paper bags. A 'hair bus', as they read it, fixing those who do not reach, 600 tablets delivered to 104 nursing homes for the same, so that the elderly could in turn reach their own, even if it was virtually. And shelters, homes, children, mistreated and 12,075 calls on the Golden Telephone, where they listen to you.
Without taking big accounts, yes, it takes a fortune for this. «What I never thought was going to happen again: after 50 years Spain went hungry again and needed soup kitchens, cheese and milk, as they gave when I was a child and brought it from America or Argentina … ", the Mint. He remembers the queues, in particular those of people with nothing that were in the state of alarm to fill the bottles with water to drink because in Madrid street fountains were cut off due to contagion. And what about the candles, since mass could hardly be celebrated, they took them to light up. There is no food, why are you going to pay the electricity bill.
There, overflowing with an intimate regret, – «the worst has been loneliness, that you die without a grandson, a child by your side who takes your hand … not even those who died in the war died so alone» -, It is difficult to decipher if Father Ángel is a saint or, as his detractors accuse, a television junkie who takes advantage of the cassock. "Between God and Belén Esteban", Alfonso Ussía wrote about him.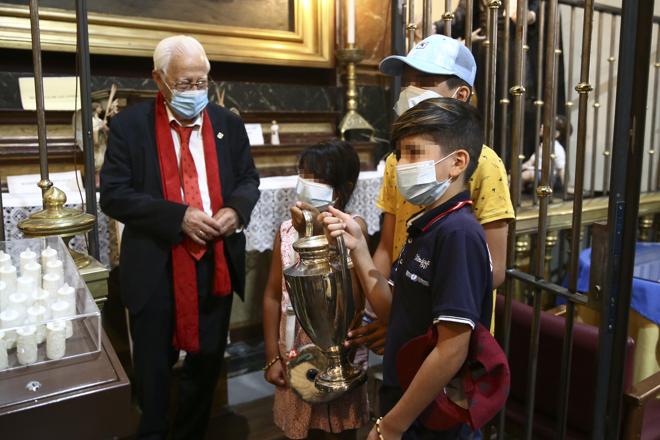 It must be recognized that sense of the scene does have. The morning that we have arranged, he has called on time to wait in a private room – an egotheque with dozens of his portraits with prelates, kings, leaders … – for a family with no possible newcomers from Venezuela, whom in two days they have found a floor. To the three neatly groomed sons, the comb stripes still in the bangs, made a beauty, Don Ángel takes them to a little chapel, opens the gate and puts in their hands a replica of the Champions Cup. Florentino gave it to him. Pérez, it is understood, that of Real Madrid no less. Eyes widen. All three of them are so small, you have to admit it: ten in marketing, there is nothing like it for a photo …
Blessings for all
On the sidelines, and it must be said, with heart in hand, Mr. and Mrs. Díaz Rojas, that they discovered father Ángel on YouTube, You know, children's things, they sincerely appreciate the help without stopping. They bring little more than what they are wearing and it is shocking to hear them tell what they have left behind on Isla Margarita, their home, so this starting over has something of a miracle. The excited adventure couple that if they won the lottery, they would dedicate it to saving others as they have saved themselves.
No, it is not the work of Don Ángel that is in question. What has been unhinging the religious, more than his 'superstar' facet or precisely because he is part of it, are those tweeting frivolities of his like "Jesus would now be killed by bishops and politicians before he turned 30", that red tic, of podemita, that Pablo Iglesias «is the mainstay of the political regeneration of Spain» … Oh, almost worse than that I bless you, Pablo, you bless me too from the letter that in the middle of the covid, Vice Presidency of the Government rushed to filter to give importance. And the priest to clarify that it was traced to another 300 that he had sent. To all. It was said of him that in the late Francoism he was very much to Carrero Blanco's taste.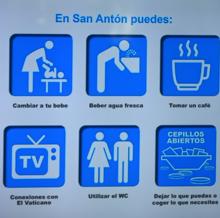 But where we're going, blessing the unexpected has always made headlines. For instance, homosexuals. But not in 2021, like anyone else, but to do it a decade ago. «Bless junk, a gas station, if I bless the dogs, how can I not bless two who love each other? –That's one of the great rhetorical hits of his career–, be they man and man, woman and woman … in which country are we? Who dares to say that I can't? Well, someone has dared», He defends himself,« here hundreds of gays, lesbians and single mothers have come because this is one of the churches in which we have the most baptisms, of people who have not wanted to baptize them because they need papers or have the godfather make the confirmation . Not here. When someone who wants to be baptized comes, I tell them when and if you want, you can send it to me in a taxi, I will baptize it for you and I will give it back to you ». He complains: "Many times we put a lot of obstacles."
Not in San Antón. This oratorio with a 'kitsch' imprint, Catholic psychedelia, becomes an extension of himself, with that wayward air, a bit quirky, perhaps irreverent and let them say what they want. Here you come to pray, mass at twelve and seven, rosary at five, but not alone. Less pomp and pageantry, as explained by these teleshopping aesthetics screens –which are nothing but a collection of services–, you can come and have a hot coffee -No need to pay- connect to wifi, recharge your mobile, –22 outlets in sight–, change the baby, bring the pet –there is a pot with welcome water at the door–, use the bathrooms … «In a pandemic they would take the rolls of toilet paper and the next one would complain and I said that instead of just one, put a whole bag. It is nothing less than a sandwich. No one here steals unnecessarily. Sometimes the donation drawer was missing, but he was right because it says 'donation for the poor' and whoever did it would say 'I'm poor, then I'll take the drawer' … ha, ha, ha … what are you going to say? ».
In the heights, Gloria Fuertes smiles from the railings of the choir. Images of Vicente del Bosque with Luis Aragonés, Ernesto Cardenal, Pablo VI, the earthly gospel of the father. Why not. Don Ángel also smiles all the time, you know, and conveys the unconcern of someone who has an end that is worth everything. If they talk about him, let them talk. The Machado. Morbidity exudes curiosity and charity.
—Let's see if we're going to end up seeing him on a 'reality show'
-I hope not.
He jokes, he does not shy away from anything.
And the Conference, the purple … «I've been very lucky. Tarancón, Don Gabino, Don Carlos, They know that I am not a bad person, but a naughty person who sometimes makes trouble but sometimes I solve them. Others don't.
"How is the government treating you, better than others?" Does Pedro Sánchez pick up the phone?
"In the pandemic I spoke to him." It is true that the politicians did what they could. Nobody can think that they did because people died. Everyone has treated me well, I can't say one better than the other. But if you ask me who I love the most, I say Felipe González, who was there when Messengers started, All this. With Aznar then we have gotten along well. But I have understood with everyone. They have never told me no …

www.abc.es